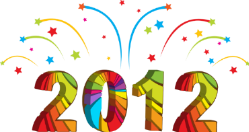 As 2012 goes to the history books, Jazz History Online celebrates its first full calendar year on the web (As most of you know, we started in July of 2011, but this is our first January-December cycle). So, in keeping with the traditions of our fellow jazz publications, we offer our first set of year-end lists. I must admit a certain hesitation about such compilations. To my mind, music is not about competitions. Also, due to our  limited resources and editorial policy, anything discussed on these pages is worthy of merit. Nonetheless, such lists give us the chance to recognize outstanding music and give you the opportunity to revisit our original reviews. All of the links below (except for the obituaries) will take you to our original pages, and everything will open in a new page so you won't lose your place in this article. So, here we go…
Concerts:
Jazz History Online's main office is located in Denver, so as a consquence, many of our reviewed concerts took place in and around Colorado. Denver audiences were treated to several fine performances this year, including a four-night January engagement with Roberta Gambarini and Convergence. Later in January, Greg Garrison's Improvised Roots offered the inspired pairing of trumpeter Dave Douglas and folk singer/violinist Aofie O'Donovan. This performance led to an acclaimed recorded collaboration between Douglas and O'Donovan,  "Be Still". As Rare Silk veteran Marylynn Gillaspie was preparing for her appearance at Lannie's Clocktower Cabaret, one of the vocalists from that legendary group, Todd Buffa, passed away. The concert at Lannie's became a tribute to Buffa with a spirited performance of the original Rare Silk chart of "Red Clay". It also led to an ongoing jazz series at Lannie's on the first Sunday of each month. The early months of the year also included brilliant performances of original material by Lauren Kinhan and Peter Eldridge of the New York Voices, two nights of music from pianist Lynne Arriale, and a powerful set by the John Scofield Trio with Steve Swallow and Bill Stewart. Also this past winter brought unreviewed but memorable concerts by Gretchen Parlato (with Taylor Eigsti) in Boulder, Ann Hampton Callaway saluting Ella Fitzgerald in Crested Butte, and the Swingle Singers in a solid performance in Santa Fe, New Mexico. Our first non-Colorado concert reviews came with Chris Coulter's coverage of Ryan Truesdell's Gil Evans Project at New York's Jazz Standard, Stacey Riley's reportage of Kenny Washington in Oakland, and Nicky Schrire's essay on a live recording with Gretchen Parlato. We've also shared our views on a splendid Carmen McRae tribute by Denver musicians Eric Gunnison and Ellyn Rucker, a tremendous Swingle Singers performance at Metro State University, and a roof-raising concert at the Jewish Community Center by Anat and Avishai Cohen. Of special note was this year's Vail Jazz Party, which featured outstanding performances by the Clayton Brothers Sextet, Wycliffe Gordon, Terell Stafford, Cyrille Aimee, James Carter, Houston Person, Jeff Hamilton Trio and many others.
Best recordings, books and videos of the year:
Listed in alphabetical order by artists, top 3 picks for all but instrumental and vocal CDs, for which the sheer number of releases dictates a dozen choices each:
Books:
Ted Gioia, "The Jazz Standards" (Oxford)
Timme Rosenkrantz, (edited and translated by Fradley Garner), "Harlem Jazz Adventures" (Scarecrow)
Ricky Riccardi, "What A Wonderful World: The Magic of Louis Armstrong's Later Years" (Vintage)
DVDs/Films:
"Anatomy of a Murder" (score by Duke Ellington) (Criterion)
"The Girls in the Band" (directed by Judy Chaiken; DVD forthcoming)
"The Zen of Bennett" (Sony Music/RPM)
Retro Reviews (new releases):
Bill Evans Trio, "Live at the Top of the Gate" (Resonance)
Wes Montgomery, "Echoes of Indiana Avenue" (Resonance)
Ben Webster, "Soho Nights, Volume 2" (Resteamed)
Best Instrumental CDs:
Clayton Brothers, "The Gathering" (ArtistShare)
Anat Cohen, "Claroscuro" (Anzic)
Chick Corea/Eddie Gomez/Paul Motian, "Further Explorations" (Concord)
Jeff Hamilton Trio, "Red Sparkle" (Capri)
Fred Hersch, "Alive at the Vanguard" (Palmetto)
Virginia Mayhew, "Mary Lou Williams: The Next 100 Years" (Renma)
James Morrison, "Snappy Too" (Morrison)
Lewis Nash, "The Highest Mountain" (Cellar Live)
Arturo O'Farrill, "The Noguchi Sessions" (Zoho)
Houston Person, "Naturally" (High Note)
Ryan Truesdell/Gil Evans, "Centennial: Newly Discovered Works of Gil Evans" (ArtistShare)
Kenny Werner, "Me, Myself & I" (Justin Time)
Best Vocal CDs:
Cyrille Aimee, "Live at Smalls" (Smalls)
Amy Cervini, "Digging Me, Digging You" (Anzic)
Dena DeRose, "Traveling Light" (MaxJazz)
Kurt Elling, "1619 Broadway: The Brill Building Project" (Concord)
Sara Gazarek, "Blossom and Bee" (Palmetto)
Stacey Kent, "Dreamer in Concert" (Blue Note)
Claire Martin, "Too Much in Love to Care" (Linn)
Kate McGarry, "Girl Talk" (Palmetto)
Sara Serpa & Ran Blake, "Aurora" (Clean Feed)
Nicky Schrire, "Freedom Flight" (Circavision)
Luciana Souza, "Duos III" and "The Book of Chet" (Sunnyside) (tie)
Esperanza Spalding, "Radio Music Society" (Heads Up/Concord)
(Nicky Schrire's CD was picked on its musical quality alone, and was reviewed before she joined the staff of Jazz History Online).
Farewells:
We lost many great jazz musicians in 2012, including two outstanding composer/pianists who were early supporters of this website, Dave Brubeck and Clare Fischer. Others who will be missed, but long remembered include trumpeters Ted Curson and Abram Wilson, trombonist Eddie Bert, clarinetist Joe Muranyi, saxophonists Von Freeman, Red Holloway, Hal McKusick, John Tchicai, and David S. Ware, pianists Richard Rodney Bennett, Jodie Christian and Austin Peralta, vibists Teddy Charles and Marjorie Hyams, bassist Don Bagley, drummer Pete LaRoca, vocalists Etta James, Carrie Smith and Jill Seifers Walsh. Our condolences also go out to Jimmy Greene and his family, whose 7-year old daughter Ana, who was one of the victims at the Sandy Hook Elementary School shootings in Newtown, Connecticut.
On a personal note, I say goodbye to Frank Sitchler. Frank was not a jazz musician, nor even a big jazz fan, but he appreciated the music. On less than 12 hours' notice, he drove me down to Santa Fe for the Swingle Singers concert, and after the concert, we spent a delightful two hours with the Swingles' outgoing bass singer Tobias Hug. Frank offered financial support for Jazz History Online because he saw the value in our work. He was my friend for over 30 years. I will miss his ribald sense of humor, his strong bass voice and his companionship for the rest of my life.
Finally…
Thanks to all of our fine writers, our loyal readers, and those who have donated money, time and services to this site. We hope to continue for many years to come, and we trust that we will continue to receive your support and readership.
Best,
Thomas Cunniffe.