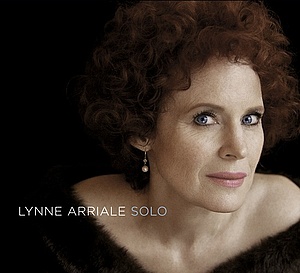 As a musician and critic, I always hope to experience live performances where the music takes on a transcendental meaning. These moments, which are neither predictable nor executable, act as my spiritual cleansing. They renew my love for this music and make me grateful to be part of the musical universe. As you might imagine, those moments don't turn up at every concert, but this week, it happened twice. Last Sunday in Beaver Creek, I attended Ann Hampton Callaway's multi-media tribute to Ella Fitzgerald. After a video clip that talked about Ella's death, Ann sang a heartfelt rendition of Cole Porter's "Ev'ry Time We Say Goodbye". Ann's elegant variation on the melody was matched by Wycliffe Gordon's beautiful trombone solo where every note was infused with deep feeling. The emotion leapt off the stage and straight into my soul. The same thing happened Thursday night at Dazzle when pianist Lynne Arriale performed an achingly-slow arrangement of Hoagy Carmichael's "The Nearness of You". In a pre-concert talk, Arriale spoke of phrasing a ballad with the lyrics in mind, and on "Nearness", it was clear that Ned Washington's words held a special meaning for her. Arriale built a piano solo that built gradually, elaborated on the song's melody, and soared to an overwhelming emotional climax. Hearing Arriale play this standard was like hearing it again for the first time.
While Arriale's appearance was designed to promote her new CD "Solo", she came to Denver with her trio of Omer Avital on bass, and Anthony Pinciotti on drums, and the selections displayed several aspects of Arriale's wide musical interests. Surprisingly, "Nearness" and a wistful solo version of "Wouldn't It Be Loverly" were the only classic standards played. Dizzy Gillespie's "A Night in Tunisia" was treated to an ingenious new arrangement, removing the traditional solo break and revising the bebop harmonies. Arriale opened the first set with the Rolling Stones' anthem, "Paint It Black", and followed it with Blondie's 70s hit, "Call Me", and in both cases, the songs were completely transformed into jazz vehicles. Arriale's modal original "Dance of the Rain" featured Avital on the oud (an 11-string Middle Eastern instrument) and subtle hand drumming by Pinciotti. On Arriale's "Yada, Yada, Yada"—which she called "a song about nothing"—the trio was highly interactive, bouncing ideas across the bandstand and defining the eventual direction of the performance. The trio practically roared through Arriale's "La Noche" with Pinciotti punctuating the music with several sharp rimshots. Avital created soulful improvisations on several tunes, and moved effortlessly between walking bass patterns and freely conceived melodic ideas.
Arriale has a encyclopedic knowledge of piano styles. With the trio, she ranged from a powerful quartal harmonic style to a rhapsodic lyric feeling. Each set featured about 15 minutes of solo piano, and as she performed music from her CD, her finely nuanced touch, subtle pedaling, and rich musical imagination made each song into a delicately wrought piece of art. The CD, beautifully engineered by Gary Baldassarri, was recorded from a live performance in Tampa.    Arriale's intense lyricism enriches her originals "Arise" and "Will o' the Wisp" and her sly humor aids her "deconstructions" (her term) of the Thelonious Monk standards "Bye-Ya" and "Evidence". "Yada" is also on the solo disc, in a version less complex, but every bit as fascinating as her live trio rendition. The CD is a fine introduction to her work, but one should also hear her trio music (as on the excellent disc, "Inspirations") to get the full range of Arriale's talents. She is astonishing in either context.