The Brazilian vocalist Luciana Souza has been absent from the American jazz scene for the past few years. In 2009, she completed her two-album contract with Verve, and since then her only appearances on record have been as part of Bobby McFerrin's virtual choir on "Vocabularies", a guest appearance on Vince Mendoza's "Night On Earth", and most recently, her luminous reading of "Look To The Rainbow" on Ryan Truesdell's "Centennial: Newly Discovered Works of Gil Evans". Souza is back with the independent label, Sunnyside, and she marks her return with the simultaneous release of two new—and considerably different—albums, "Duos III" and "The Book of Chet".
"Duos III" continues the tradition begun ten years ago with Souza's Grammy-nominated album "Brazilian Duos". Like its predecessors, "Duos III" is sung entirely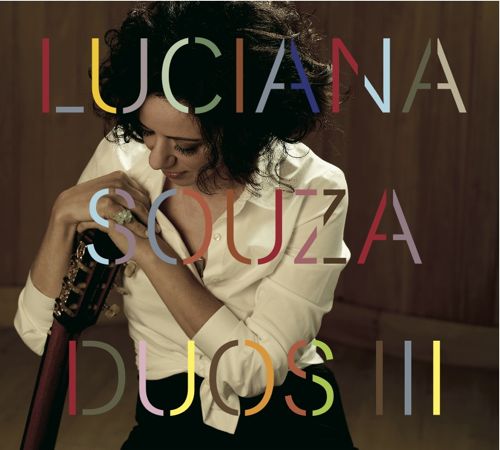 in Portuguese, and features performances with several fine Brazilian guitarists. Of the three guitarists on the new album, Toninho Horta is the only one who has not played on the previous CDs. However, Horta's compositions were included on those albums, and here he contributes two lovely songs, "Beijo Partido" and "Pedra da Lua" (adding his expressive tenor to Souza's rich alto on the latter). Marco Pereira also brought one of his tunes in for the album, the wordless "Dona Lu". Souza is amazing on this track, with technically perfect and musically daring scat that sounds closer to Portuguese than English (listen to her soft opening consonants that could be either d's or t's, and the vowels that somehow sound idiomatic to Portuguese). The third guitarist is Romero Lubambo, one of Souza's finest collaborators. Lubambo provides the most varied accompaniments of the bunch, including a broken time intro to Dori Caymmi's "Doralice" and a sassy blues-inspired obbligato to Tom Jobim's "Dindi". And Souza and Lubambo's perfectly synchronized rubatos are not only highlights of this album, but of their total discography together. The CD includes an embedded PDF liner booklet which includes all of the Portuguese lyrics but no English translations. Potential listeners should not be put off by this oversight, though—like a great classical vocalist, Souza's art lies in her beautifully sculpted melodic lines and her intensely dramatic delivery. Even though some of the songs will be unfamiliar to American audiences, it is easy to grasp each song's messages by listening to Souza's masterful performances.
"The Book of Chet" is Souza's first album of English-language standards, but more importantly, it is an intense, sustai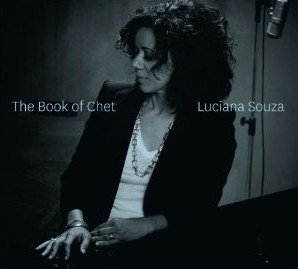 ned tribute to the vocal artistry of Chet Baker. In contrast to the brightly-colored cover of "Duos III", the artwork of "The Book of Chet" is monochromatic and tinted in blue. The album's feel echoes the cover: all of the tunes are taken in slow tempos, and the background arrangements are quiet and understated. Souza sings in half-voice throughout, emulating "the quiet loneliness" she attributes to Baker's voice. I don't know that Baker's music was ever this relentlessly funereal (even in his later years), but Souza and her instrumentalists, Larry Koonse (guitar), David Piltch (bass) and Jay Bellerose (drums) capture the same type of musical hypnotism that Baker could create. I suppose this atmospheric album will find its way into late-night jazz radio playlists, and will be used to accompany cozy romantic evenings, but it really deserves closer attention than that. Souza's impeccable renditions of the lyrics bring out all kinds of internal meanings, and musically, she takes great chances with the material as she stretches out the lines, expanding them across bar lines and phrase endings without losing the integrity of the original composition. Her greatest example of this technique remains "Never Let Me Go" from "North and South", but her version of "You Go to My Head" rivals the earlier recording for Souza's daring reconstruction.
One of the reasons that Souza has been off the scene is that she's been raising her infant son. That lucky young fellow, and Souza's husband and producer Larry Klein, have probably heard Souza singing around the house for the past few years. Thankfully, she is once again gracing our homes and concert halls with her superb musicianship and unforgettable interpretations. Let us hope that are no further gaps in the recording career of this supremely talented artist.