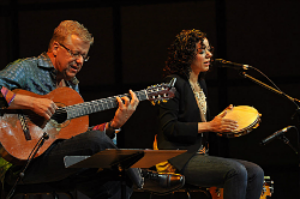 My timing in life has been good, but it hasn't been perfect. Somehow, I managed to move to New York City to attend the Manhattan School of Music only after Luciana Souza had left her teaching post at the institution and moved to the West Coast. While this will surely bother me for years to come, my remedy is to jump at any chance to hear her live on the East Coast. Hot on the heels of her recent Grammy nominations ("The Book of Chet" as Best Jazz Vocal Album, and "Duos III" as Best Latin Jazz Album), Souza performed for three nights at New York City's the Jazz Standard in duo with guitarist Romero Lubambo. The pair has worked together since 1996 and their mutual respect is evident both in their ease on stage as well as their musical affinity.
Born in São Paulo, Brazil, and the daughter of singer/songwriter guitarist Walter Santos (who was featured on Souza's album "Brazilian Duos"), Souza's knowledge of the language and nuances of the genre give her a distinct advantage in delivery and interpretation. Her understanding and approach to the Brazilian songbook are hard to match. She opened the set with the oft-sung "Doralice". The Dori Caymmi and Antonio Almeida composition has rarely sounded better. She injected new life into the tune by playing with the phrases, stretching them decadently over the bar line, and then delivering them ahead of time, short and sharp with crystal-clear enunciation. She exhibited a freedom and playfulness that only one who is completely at ease with the language can inhabit. It was mesmerizing. Souza's clarity and intention were matched, note for note, by Lubambo's virtuosic playing. Although I have seen the duo in concert before, Lubambo never fails to amaze me with his dexterity, creativity and sheer joyfulness. He effortlessly balances showmanship, emotion and thoughtfulness. In her introduction, Souza referred to Lubambo as "one of the best musicians on the planet", and her declaration could not be truer.
Throughout the evening, Souza paid homage to the musicians that inspired her most recent albums: João Gilberto and Chet Baker. And since it was the week of Valentine's Day, she told the audience that she was going to "sing love songs because that's what singers do." The ensuing song choices included works by Antonio Carlos Jobim, Gilberto Gil and Marco Pereira (also a featured guitarist on "Duos III"). Jobim's "Chora Coração" and "Dindi" perfectly showcased Souza's talent for redefining the traditional "ballad tempo" by pushing the boundary of how slow one can go. The latter was also a wonderfully original take on a song that risks being over-performed.. In fact, Souza mentioned she was wary of singing the tune because, like many other Brazilian songs, it was made famous by a particular singer (in this case Sylvia Telles whose nickname was "Dindi") and it seemed untouchable, even sacred. It was only when she heard Lubambo's fresh approach to the song that she considered performing the wistful tune.
She applied the same "Souza ballad" treatment to two songs from the American Songbook, "You're My Thrill" and "The Very Thought of You", both of which were featured on her Chet Baker album. While Souza and Lubambo's sensitivity and restraint were admirable, Souza's singing style didn't engage me. Her phrasing over "The Very Thought of You" was a master class in musicianship and risk-taking, but the delivery lacked warmth. Souza favors a straight tone, with a slow vibrato sometimes present in the middle of notes. I am a huge advocate of vibrato-less singing and I tout Souza as being, in many ways, the epitome of the modern jazz voice. Her sound is clean, without affect and her stage manner is always devoid of facial contortions and excessive body movement. She demonstrates a completely natural, healthy vocal production and her authenticity shines brightly. That said, when it comes to singing ballads, I believe there's a way to balance subtle vulnerability with a rounder, more emotionally compelling approach.
Souza really shines when singing in faster tempos, as was evident on the contrasting and subsequent "So Danço Samba." The strength of her no-frills delivery is astounding in this context. The rapid-fire lyrics were delivered like bullets whistling clean through the air and the audience's rapture was palpable. This Jobim/Vinicius de Moraes tune as well as a medley of "Lamento Sertanejo (Forró do Dominginhos)" and Djavan's "Maçã do Rosto" also provided the perfect platform for Souza to showcase her deft percussion skills. On the medley, her turn at the triangle during Lubambo's solo created a dizzying, dazzling polyphony that only added to the excitement of the speedy song. She also exhibited polished, effective skill with brushes on a mounted snare drum during several other songs in the set. Her versatility serves to remind listeners that she is not only a superb vocalist but also a true musician with vast knowledge and musicality.
The evening celebrated, by and large, songs from Souza's most recent albums but her parting offering, a medley of "Garota de Ipanema" ("The Girl from Ipanema") and "Águas de Março" ("Waters of March"), further exhibited her generous nature. While both tunes, like "Dindi", are very much at risk of becoming the "Summertime" of the Brazilian songbook, Souza's renditions allowed the audience to delight, once again, in her consummate handling of the Brazilian language as well as the genre itself. The sterling performance also allowed me, once again, to mourn not having moved to New York sooner so I could imbibe Luciana Souza's finesse and sophistication more than twice a year.