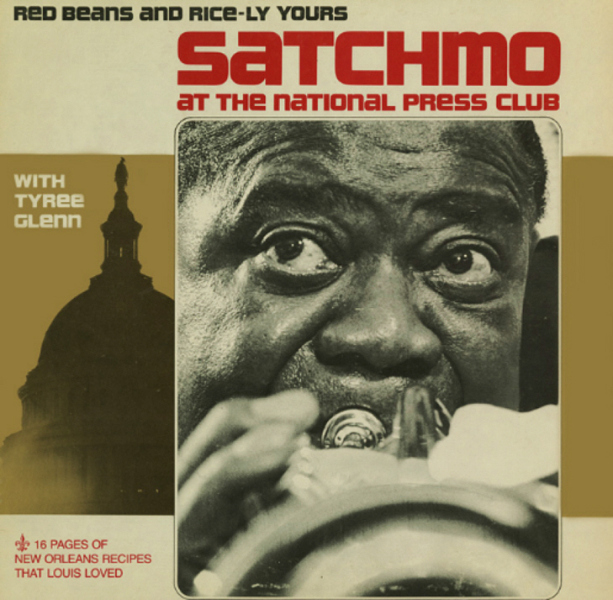 On January 29, 1971, Louis Armstrong and his All-Stars took the stage at the National Press Club in Washington, DC for a performance honoring its new president (and fellow Louisianian) Vernon Louviere. The concert was short—less than 30 minutes—not because of time restraints, but because Armstrong's doctor had given orders for him to limit his trumpet playing and performing. It would be Armstrong's next-to-last public appearance: he passed away just  six months later. The next year, a band led by Armstrong's trombonist Tyree Glenn, and featuring clarinetist Tommy Gwaltney played a jam session in Armstrong's honor. The complete Armstrong performance and excerpts from the Glenn tribute were issued on a limited edition LP that was later distributed to the 300 audience members. That album has now been reissued as a CD and digital download by Smithsonian-Folkways as "Red Beans and Ricely Yours: Satchmo at the National Press Club".  
While the Armstrong concert is brief and far from profound, it is an interesting glimpse at his performing style during this twilight period. His trumpet solos come early, but they are well-played, and quite remarkable, considering his frail health. He sings everywhere else, never flubbing the lyrics, and doing his best to entertain the audience (even telling an off-color joke as an introduction to "Rockin' Chair"). While "Hello Dolly" has two more endings than it needed, and "Mack the Knife" seemed to be the inevitable encore, Armstrong's most poignant moments come in the autobiographical "Boy from New Orleans". In that piece, based on "When the Saints Go Marchin' In", Armstrong sings a heartfelt history of his own life, and it's hard to keep your composure while hearing him sing That's the reason I was born; to play jazz on this old horn.
It's easy to write off the rest of the album as filler, but Glenn's plunger-muted feature on "Mood Indigo" is worth a listen, as is his vocal on "A Kiss to Build a Dream On". Through both of these pieces (and in his spoken introductions), it's clear that Glenn missed his old boss, and wanted to do him justice at this tribute. Most of the songs feature Glenn on trombone or vibes, but the first track from this concert is a long jam session on "Royal Garden Blues". Unfortunately, we don't know who is playing, as the personnel was not listed on the album liner, and no one has seemed able to identify the musicians on either this set or on Armstrong's original concert. The poorly recorded mono sound does not help matters.
The CD version comes in a gatefold digipak with a paper-pasted-over-cardboard cover that resembles the old Folkways LP jackets. Inside, there are two pockets, but only the CD side is filled. While there is space for a printed booklet, you must print it out yourself using the PDF file on the CD or by downloading the same file from the Smithsonian website. The file is not in a standard CD booklet size, nor will it print that size without making severe adjustments in the print menu. However, you'll probably want to split this booklet up anyway  and keep most of it in the kitchen as it contains several original recipes for Armstrong's favorite Creole food. These recipes are not for the diet-conscious, but they could be the basis for a delicious Armstrong-inspired dinner. There are recipes for red beans and rice, jambalaya, frog's legs, dirty rice, fried chicken, three kinds of poor boy sandwiches and a gumbo recipe designed to feed 25 people, because as the instructions say, "If you're going to make a gumbo, you might as well make plenty of it".  
The media hype surrounding this reissue has far exceeded the album's musical value. It is not a lost masterpiece, and its widespread release will not change our perceptions of Louis Armstrong. But take another look at the front cover, and notice that Armstrong's name does not appear. His best-known nickname and a closely cropped photo of him playing the trumpet were all the identifications necessary back in 1972. It's still the same forty years later.