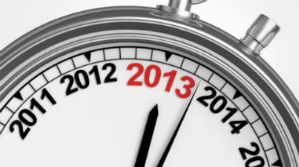 2013 was a wild year! There were many superb new CDs, but there were far fewer jazz DVDs than in years past. We received fewer CD reissues than we expected, but the flow of books (especially biographies) was fairly steady. We reviewed fewer concerts this year, but there were several noteworthy events which played on TV and online. We were very proud to share an unedited Paul Desmond solo, which had only been heard in its shortened form since the days of the 10-inch LP. We were also happy to offer an interactive profile of British jazz vocalist Anita Wardell.
There was also plenty of weirdness to go around. With the backing of established jazz musicians, Wilford Brimley, Molly Ringwald and Dominic Chianese (better known as Uncle Junior from "The Sopranos") all made vocal jazz albums. I listened to them all, and while they weren't as bad as they could have been, none of them were good enough to merit reviews on this site. Social media continued to break news about the deaths of jazz musicians, but the information was not always accurate: word of Donald Byrd's passing had been circulating on Facebook for a week before the family confirmed it; there were several premature reports of Mulgrew Miller's death before he actually succumbed; and last month, social media was flooded with rumors about Horace Silver's passing before someone from NPR called Silver's son for a confirmation and heard that Horace was alive and currently eating his breakfast! And while we were certainly happy to hear that Herbie Hancock would be a Kennedy Center Honoree, the CBS broadcast proved that the networks are utterly clueless about presenting jazz on TV. What else can be said about a jazz segment introduced by Bill O'Reilly (!) and which gave more air time to Snoop Dog than Wayne Shorter?
So, here we go… I must admit a certain hesitation about year-end lists. To my mind, music is not about competitions. Also, due to our  limited resources and editorial policy, anything discussed on these pages is worthy of merit. Nonetheless, such lists give us the chance to recognize outstanding music and give you the opportunity to revisit our original reviews. All of the links below will take you to our original pages, and everything will open in a new window so you won't lose your place in this article.
Best concerts, recordings, books and videos of the year:
Listed in alphabetical order by artists, top 3 picks for all but instrumental and vocal CDs, for which the sheer number of releases dictates a dozen choices each:
Books:
Paul de Barros, "Shall We Play That One Together?: The Life and Art of Jazz Piano Legend Marian McPartland" (St. Martin's)
Chuck Haddix, "Bird: The Life and Music of Charlie Parker" (University of Illinois)
Rick Kennedy, "Jelly Roll, Bix and Hoagy: Gennett Records and the Rise of America's Musical Grass Roots" (University of Indiana)
DVDs:
Ella Fitzgerald: "Live from the BBC Vaults" (Verve)
Erroll Garner: "No One Can Hear You Read" (First Run)
Thelonious Monk: "Paris 1969" (Blue Note)
Concerts:
Ann Hampton Callaway with the Colorado Symphony
Manhattan Transfer at the Oriental Theatre
Luciana Souza and Romero Lubambo at the Jazz Standard
Retro Reviews (new releases):
Charles Mingus: "The Jazz Workshop Concerts" (Mosaic)
Modern Jazz Quartet: "Lost Tapes" (JazzHaus)
Sarah Vaughan: "Sophisticated Lady: The Duke Ellington Songbook Collection" (Pablo)
Best Instrumental CDs:
Marc Cary: "For the Love of Abbey" (Motéma)
3 Cohens: "Tightrope" (Anzic)
Brad Goode: "Chicago Red" (Origin)
Tom Harrell: "Colors of a Dream" (High Note)
Fred Hersch/Julian Lage: "Free Flying" (Palmetto)
"Hush Point" (Sunnyside)
Tom Kennedy: "Just Play!" (Capri)
Ron Miles: "Quiver" (Enja/Yellowbird)
Ken Peplowski: "Maybe September" (Capri)
Scott Robinson/Frank Kimbrough: "Afar" (ScienSonic)
Chip Stephens: "Relevancy" (Capri)
Frank Wess: "Magic 101" (IPO)
Best Vocal CDs:
Cyrille Aimée/Chicago Jazz Orchestra: "Burstin' Out" (Origin)
Caswell Sisters: "Alive in the Singing Air" (Turtle Ridge)
Jay Clayton: "Harry Who?" (Sunnyside)
Bob Dorough: "Duets" (COTA)
Nilson Matta: "Black Orpheus" (Motéma)
Cécile McLorin Salvant: "WomanChild" (Mack Avenue)
Gretchen Parlato: "Live in NYC" (ObliqSound)
Gregory Porter: "Liquid Spirit" (Blue Note)
Carline Ray: "Vocal Sides" (Carlcat)
Nicky Schrire: "Space and Time" (Nicky Schrire)
Janis Siegel: "Nightsongs" (Palmetto)
Swingle Singers: "Weather to Fly" (World Village)

A few more CDs:
Anita Wardell's "The Road" (Specific) is certainly one of the best vocal CDs of the year. It was discussed in our profile, but not as a separate review. Also, Maria Schneider's collaboration with soprano Dawn Upshaw, "Winter Morning Walks" (ArtistShare) is not a jazz album, but we reviewed it in our Sidetracks column. On a personal note, I'd like to mention two albums on which I wrote the liner notes: Lisa Ferraro's "Serenading the Moon" (Pranavasonic) and Houston Person's "Nice 'n' Easy" (High Note). These albums have not been reviewed here (the links will let you purchase the albums), but I was very proud to be part of these superb recordings.

Farewells:
We lost many jazz giants in 2013, including Donald Byrd, Mulgrew Miller, George Duke, Cedar Walton, Marian McPartland, Chico Hamilton, Jim Hall, Stan Tracey, Herb Geller, Yusef Lateef, Frank Wess, Sathima Bea Benjamin, Carline Ray, Dwayne Burno and Albert Murray. Heaven's all-star jazz band keeps getting bigger and better, but our loss is profound.
Finally…
Thanks to all of our fine writers, our loyal readers, and those who have donated money, time and services to this site. We hope to continue for many years to come, and we trust that we will continue to receive your support and readership.
Best,
Thomas Cunniffe.