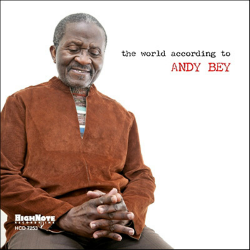 "THE WORLD ACCORDING TO ANDY BEY" (High Note 7253)
As a vocalist, I am in awe of Andy Bey. At 73 years old, his voice remains flexible and expressive. Not since the passing of Shirley Horn have I heard a singer who can mine a lyric's deeper meaning as well as he. The first two tracks of his new album "The World According To Andy Bey" find him singing sotto voce and in short clipped phrases. But then, on the second chorus of "But Not For Me", he suddenly brings his voice to full volume and his heart-wrenching delivery evokes anger and frustration at being without a mate. However, this album is not just about slow, agonized ballads. There are light-hearted romps through Fats Waller's "The Joint Is Jumpin'" and the Gershwin's "S'Wonderful" and a delightful scat version of Charlie Parker's "Cheryl" (here called "Dedicated To Miles" and credited as a Bey composition). Three of the tracks are genuine Bey originals, and they are the most challenging pieces in the set. They feature pointed verbal commentary on demons, the blues and politics. Judging from their unpredictable forms and thorny harmonic progressions, the music for these pieces may have been improvised in the studio, with Bey working from a preset lyric. Throughout the album, Bey's solo piano accompaniment uses silence effectively, and intimates more than it reveals. If you've not had the chance to explore the music of Andy Bey, there is no better example than the present album.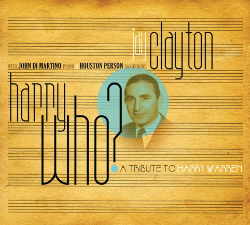 JAY CLAYTON: "HARRY WHO?" (Sunnyside 1360)
Harry Warren can't be called an unsung composer, because everyone has sung his songs. Yet despite a catalog that includes evergreens such as "At Last", "There Will Never Be Another You", "September In The Rain", "I Only Have Eyes For You" and "You're My Everything", Warren is usually overlooked among the great American songwriters, mainly because his songs were written for movies rather than Broadway shows. On her latest album, "Harry Who", Jay Clayton salutes Warren with impeccable renditions of the above songs and five other Warren classics. While Clayton is best known as a member of the jazz avant-garde, her performances here are very accessible, and the spare but rich accompaniment of pianist John DiMartino and tenor saxophonist Houston Person gives the album a relaxed after-hours feel. While the focus is on Warren's melodies, Clayton offers sensitive readings of the lyrics of Mack Gordon and Al Dubin. She includes the verses for most of the songs, and performs her pointillistic—and technically demanding—scat throughout. And in an unusual change of pace, she whistles in unison with DiMartino's piano on "Shadow Waltz"! This beautifully modulated tribute is a constant delight, and at 55 minutes, it is over all too quickly. However, the good news is that Clayton, DiMartino and Person have barely scratched the surface of Warren's prolific output. With so many great Warren songs left to sing, perhaps this trio might be persuaded to record a sequel. Harry Warren certainly deserves the extra adulation.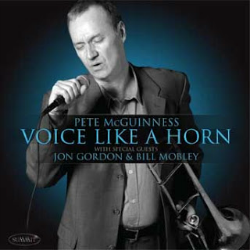 PETE McGUINNESS: "VOICE LIKE A HORN" (Summit 609)
Established as a trombonist in the New York area, Pete McGuinness has branched out as a vocalist. The winner of the 2010 Jazzmobile vocal prize and a semi-finalist at the Thelonious Monk Institute's vocal competition, he has brought his clear tenor voice to CD with his newest album, "Voice Like A Horn". When singing lyrics, his voice sounds like a refined version of Chet Baker, but as a scat singer, he has the vocal flexibility of Frank Rosolino and a harmonic acuity like Anita Wardell (we will introduce you to Ms. Wardell in the coming months). While McGuinness does not plumb the emotional depths of a lyric like Bey or Clayton, he makes up for it with unerring pitch and perfectly executed improvisations. McGuinness is also a professor of jazz arranging at William Paterson University, and he has outfitted seven of the eight selections with fine combo arrangements. Performed by a tightly swinging ensemble featuring trumpeter Bill Mobley, reed man Jon Gordon, pianist Ted Kooshian, bassist Andy Eulau, and drummer Scott Neumann, they offer great support and excellent solos. McGuinness also plays his horn throughout (both in the ensemble and in solo), but as proficient as he is instrumentally, it is his vocal skills that will certainly turn heads. "Voice Like A Horn" may be just the beginning of a promising vocal career for McGuinness. Seek this disc out!