Every month, Jazz History Online receives several new vocal jazz releases. Here are capsule reviews of a half-dozen CDs, contributed by principal writer Thomas Cunniffe and our newest staff member, Stacey Riley.
STACEY KENT: "DREAMER IN CONCERT" (Blue Note 38484)
Without sacrificing the attractive lightly-swinging style that first attracted her fans in the 1990s, Stacey Kent has transformed herself into one of the finest musical storytellers of our day. While there was evidence of her renewed emotional depth in her later recordings for the British Candid label, her true breakthrough came when she signed with Blue Note. Her first album, "Breakfast on the Morning Tram" featured four collaborations between Kent's husband, saxophonist Jim Tomlinson and the novelist Kazuo Ishiguro (best known for his books "The Remains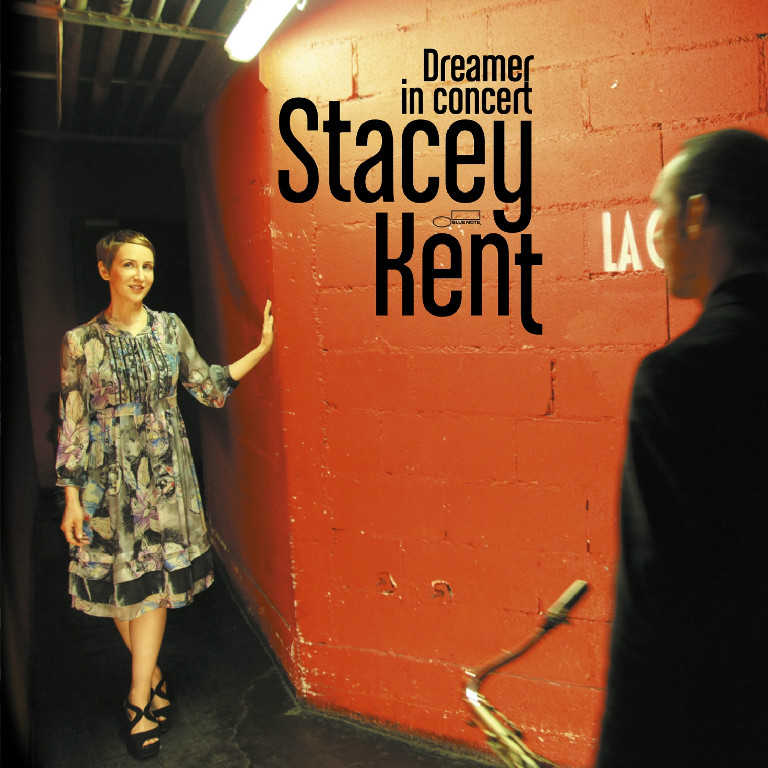 of the Day" and "Never Let Me Go"). These songs, including the album's delightful title tune, provided Kent with contemporary material that was as sophisticated as the songs from Gershwin, Porter and Arlen. Her second Blue Note release, the exquisite "Raconte-Moi", included songs by French vocalists Keren Ann and Michel Jonasz, and French-language adaptations of songs by Jobim and Rodgers.
As her recordings evolved, so did her live performances. A few years ago, I heard her in London at Ronnie Scotts, and I was amazed at Kent's ability to quiet a normally boisterous club with her subtle vocals. Her latest Blue Note album "Dreamer in Concert" is her first live recording, and while the location, Le Cigale in Paris, is a much bigger venue than Scotts, Kent shows the same talent of focusing her audience's attention on her music. Half of the selections reprise songs from her first two albums (including two of the Ishiguro songs) and the remainder includes a pair of bossa nova standards (featuring Kent on acoustic guitar), a few choice Tin Pan Alley standards, and a new collaboration from Tomlinson and Antonio Ladeira. Kent's intimate vocals express a wide range of emotions, from the vulnerability of her opening chorus on "It Might As Well Be Spring" and the wistfulness of "Postcard Lovers" to the utter joy of "If I Were a Bell" and the teasing sexiness of "The Best Is Yet to Come". Tomlinson's tenor sax style is unapologetically indebted to Stan Getz, and when the band goes into a samba, it's like revisiting the classic bossa recordings of the 1960s. The rhythm section of pianist Graham Harvey, bassist Jeremy Brown and drummer Matt Skelton all shine in solo and ensemble work. But the album centers on Kent and her sensitive interpretations. As she continues to refine her art, Stacey Kent may one day rival Shirley Horn in her singular ability to tell a story. THOMAS CUNNIFFE
CLAIRE MARTIN: "TOO MUCH IN LOVE TO CARE" (Linn 390)
Any jazz lover traveling to London would be well-advised to seek out that city's many fine vocalists, many of whom are little-known in theUnited States. Anita Wardell has re-defined the standards of scat singing, Jacqui Dankworth has expanded and developed the legacy of her mother, Cleo Laine, Norma Winstone combines an adventurous spirit with an amiable musical persona, and Clair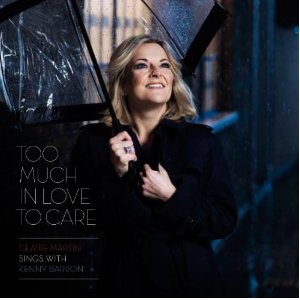 e Martin has explored a wide range of musical styles. Martin's latest release, "Too Much in Love to Care", is her fifteenth album to date, but only her first to focus entirely on standards. Recorded on a recent trip to New York City, Martin performs with the supremely tasteful pianist Kenny Barron, woodwind specialist Steve Wilson and the redoubtable rhythm team of Peter and Kenny Washington. Martin's husky sound is reminiscent of June Christy, but her loose rhythmic and melodic concept is all her own. Her melodic paraphrase on "Weaver of Dreams" is remarkable in its freedom and execution, and she enlivens her versions of the Gershwin standards "Embraceable You" and "How Long Has This Been Going On" with rarely-heard alternative lyrics and heartfelt delivery.
Martin has recorded several albums with the composer/pianist Richard Rodney Bennett, so it's no surprise that several tracks on the current album find her in duet with Barron. I especially enjoyed Barron's accompaniment on "Time After Time", where he keeps the piece moving with a shifting rhythmic base and rich harmonies. Barron shared arranging duties with Martin's long-time collaborator Lawrence Cottle, and throughout the album, the settings are perfectly modulated to bring out the strengths in Martin's voice. Both Peter Washington's subtle bass countermelodies and Wilson's flute obbligato enrich Martin's interpretation of "A Time for Love", and Martin and the band glide like a Cadillac on a swinging version of "I Only Have Eyes for You". Martin has recorded for the Scottish audiophile label Linn for many years, and like several of her previous releases, the current album is an SACD-hybrid disc. It will play on all CD players, but the price is generally a little higher than standard discs. However, the quality of this music more than justifies the additional cost. Pick up this album and you're sure to become a fan of Claire Martin. THOMAS CUNNIFFE
MARTI MENDENHALL: "AN EVENING OF LIVE JAZZ" (AM Victor 44454)
Marti Mendenhall is a classical and jazz vocalist from Portland Oregon, who has been working towards her first solo CD for many years. That CD, "An Evening of Live Jazz", was all recorded from a single live performance. A true soprano, she flies on high notes through improvised jazz solos with ease and inspiration, her voice beaming like a trumpet. Mendenhall's classical roots and vibrato come through during her lyrical delivery. Her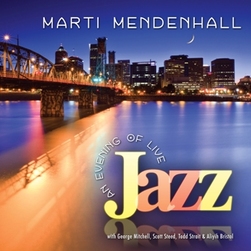 expression is akin to a pop or musical theatre style, which is especially evident when she belts in her high range. The CD has the feel of a variety album with a wide range of styles. "Halloween Spooks" has a relaxed groove, resting on walking bass, paired with a quirky spookiness. The incorporation of sound effects, coming from the band and the audience, adds flavor and fun. The key works with Mendenhall's high voice, bringing the cackling witch-like character to life. I appreciate Mendenhall's openness to fun and silly subject matter, which makes her accessible, likable, and playful.
"Brasilia" is a Latin tune written by Mendenhall. The lyrics are generally unsophisticated, but it contains the exceptional line, I have so many memories of someone I've yet to meet. This poetic moment simply and eloquently expresses how our imaginations can be so vivid that the images and scenarios they conjure are like actual memories. Drawing from her childhood memories, Mendenhall and arranger Adrian Baxter created the haunting marriage of two children's songs, "Hushabye Mountain" and "Sarah's Theme."  It is an entrancing change-of-pace. Mendenhall truly shines on "Angel Eyes." Her improv juices are flowing, and she executes her solos with tasty note choices that work well in her high tessitura. George Mitchell provides solid accompaniment and a melodic solo on piano. This is the longest tune on the album, but feels like the shortest, and it is also my favorite track on the album. "Everybody's Boppin'" gets us dancing in our seats, and includes another winning scat solo. Scott Steed's bass solo was also strong—melodic, clear, and interesting. The drum solo by Todd Strait is exceptional. He grooves hard without pushing, and maintains an easy sound. This recording is a promising debut by Mendenhall, including a wide range of moods.  I look forward to her future endeavors. STACEY RILEY

JOHN PIZZARELLI: "DOUBLE EXPOSURE" (Telarc 33221)
"Double Exposure" is a gift of pure creativity and innovative adaptations from guitarist and vocalist John Pizzarelli. It is full of insightful associations and fresh perspectives on familiar tunes from pop and jazz genres. "I Feel Fine/Sidewinder," combines the Beatles tune performed over the changes to Lee Morgan's Blue Note funk classic. They are both riff-driven tunes from different genres of the same era, and were released within a year of one another ("Sidewinder" in 1963, "I Feel Fine" in 1964). The medley stays true to the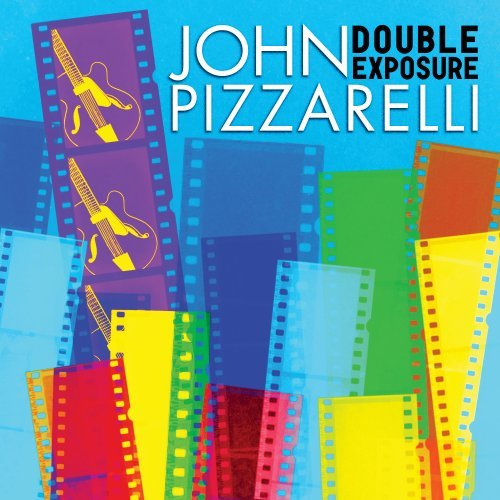 style and feel of Morgan's piece, diverting only to accommodate the changes for the bridge of "I Feel Fine." Improvised solos are solid all around, with Pizzarelli scatting along with his guitar lines. Pizzarelli gives Neil Young's "Harvest Moon" a simple, intimate interpretation, giving the tune a subtle, folk/jazz treatment. Pizzarelli's warm, gentle voice serenades in a sincere, artless fashion, and his use of harmonics on classical guitar is like a delicate sprinkling of fairy dust. His brilliant quote of the early-1900s Tin Pan Alley song, "Shine on, Harvest Moon" at the intro and coda brings romance from two eras into one timeless piece. I love this track.
In "Drunk on the Moon/Lush Life," Pizzarelli juxtaposes songs by Tom Waits and Billy Strayhorn, Both songs illustrate solitude amid nightlife, and Pizzarelli weaves the two together in a way that retains the identity of each, but unifies them into one sad, sullen expression. The arrangement is seamless, and the marriage of the two pieces is an informed endeavor. The only thing lacking is the vocal delivery, which sounds more polite than woeful, betraying the lyrical message. In contrast, Kenny Berger's saxophone solo is soulful, beautifully phrased, and ends too soon. Another highlight is the super-fun coupling of James Taylor's "Traffic Jam" and Joe Henderson's "The Kicker." Pizzarelli's wife Jessica Molaskey provides quirky, humorous lyrics to the fast and furious notes of the Henderson line. Pizzarelli and Molaskey's voices dance all over this tune in unison, harmony and conversation-like duet. Molaskey's vocal accuracy and agility is inspired and impressive. Larry Fuller's piano solo flies with a light touch and clean execution. It's a romp! John Pizzarelli has outdone himself in delivering a work that brings new life to familiar favorites, offering both nostalgia and discovery in one sensational package. STACEY RILEY
TESSA SOUTER: "BEYOND THE BLUE" (Motéma 87)
Tessa Souter has been fond of words for most of her life. Growing up in London, she wrote songs with her brother, and when she moved to San Francisco in the 1990s, she worked for two years as a professional journalist. When she moved to New York, she began singing in clubs and challenged herself to find unusual repertoire. In addition to writing lyrics to jazz and pop music, she created a lyric to the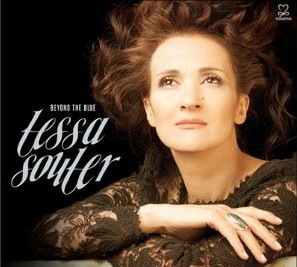 slow movement of Joaquin Rodrigo's "Concierto de Aranjuez". Her newest album, "Beyond the Blue" includes the Rodrigo piece and eleven other themes from the world of symphonic music. Most of the themes feature Souter's lyrics, but she has also included familiar classically-inspired songs of the past, including "The Lamp is Low" (originally the "Pavane" by Ravel) and "Baubles, Bangles and Beads" (from Borodin's String Quartet in D). Another Borodin theme was borrowed from the "Polovetsian Dances" and is well-known in pop music as "Stranger in Paradise", but Souter has substituted her own romantic lyrics, renaming the piece "Dance with Me". The title composition is based on Chopin's E Minor Prelude, and was previously recorded in an instrumental version by pianist Steve Kuhn, who leads the instrumental ensemble on this recording.
Souter shows great respect for the themes, but eschews complex arrangements for simple frameworks that allow creative interpretation by her and her sidemen. Her soulful, expressive voice caresses this music, and her flexible rhythmic sense enhances the lyrics. There are wonderfully nuanced solos from Kuhn, vibraphonist Joe Locke, saxophonist Joel Frahm and accordionist Gary Versace throughout the album, and the rhythm section is a marvel, with stunning percussion work from Billy Drummond, and sensitive accompaniment from bassist David Finck. The music is understated from beginning to end, with the Rodrigo providing the most dramatic moments. Thoughtful but not preachy, and musically satisfying without flash, "Beyond the Blue" is a beautifully modulated album that celebrates the music of the old masters. THOMAS CUNNIFFE
CAROL WELSMAN: "JOURNEY" (Justin Time 244)
Carol Welsman's new CD, "Journey," is her ninth disc, and floats to us like a warm, dreamy breeze. The overall theme encompasses emotional and physical travel. Welsman's 14-song set brings us along with her, journeying around the world and into the h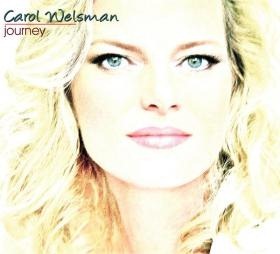 eart. Though the selection is somewhat varied, there is a through-line of laid back smoothness that comes from Welsman's warm, smoky voice and her light, drifting piano. Her style lends itself well to Latin jazz tunes, of which several are included. "Where Can I Go Without You" speaks of travel dreams that are unfulfilled without love. The song is at once about romantic adventure and loss. The former comes through in the wistful instrumental expression, but the latter is not clear in the vocal expression. Though the lyrics tell the tale of one who is let down, I don't get that feeling from the vocal.
Welsman communicates the message beautifully, however, in the Jobim tune, "Samba Do Aviao." Her tone and phrasing transport the listener to Rio de Janeiro. Singing in both Portuguese and English, she first captures the listener with the authenticity of the composer's native language, and then invites the listener to participate, singing in English. Jimmy Branly's percussion has us swaying our hips, and Pierre Coté's guitar soothes the soul. Welsman saves the best for last with her hypnotic interpretation of Marian McPartland's "Twilight World." What a masterpiece this tune is— open, dreamy, romantic, hopeful… a beauty that pinches the heart and makes us believe in love. Welsman's delicate touch on piano is perfect, and her voice is as rich and velvety as a twilight sky. Branly's gentle rolling percussion seduces, while Marc Rogers' bass is steady and tasteful. This album is as a precious, sandy pearl, ideal for romancing, dreaming, and celebrating the journeys of our lives. STACEY RILEY