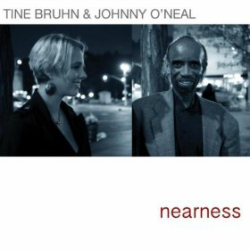 TINE BRUHN & JOHNNY O'NEAL: "NEARNESS" (Burner 11225)
Born in Denmark and raised in Germany, Tine Bruhn (pronounced "Tina Broohn") has been part of the New York jazz scene for the last dozen years. Her latest album, "Nearness" celebrates her ongoing partnership with pianist Johnny O'Neal, with whom she plays weekly at the Robert Restaurant. Bruhn has an unusual voice: husky in the low register and slightly strained in the middle and top ranges. However, her vocal placement is quite consistent, and her diction is superb (especially since English is probably her third language). She does not scat on any of the 10 standards on this CD, but she displays a profound gift for melodic variation, creating subtle inventions which enhance the classic lyrics. O'Neal, who played Art Tatum in the biopic "Ray", is an elegant player who favors lush harmonies and single-note improvisations in the right hand and smooth walking tenths in the left. He is a skilled accompanist, never getting in Bruhn's way and offering just the right amount of support. On four tracks, the duo is joined by tenor saxophonist Stacy Dillard, whose warm sound reminds me of Zoot Sims and Sonny Rollins. He fits perfectly into the retro feel of this album, with solos and obbligatos that offer more soul than flash, and less notes than most of his contemporaries. The three are at their best in a glorious version of "But Beautiful", with a lovely opening eight bars for voice and tenor, beautifully-sculpted improvisations by tenor and piano, and an often-surprising vocal variation. Thankfully, the rest of the tracks maintain this high standard of taste and quality. Highly recommended.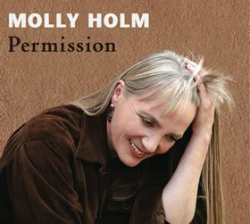 MOLLY HOLM: "PERMISSION" (Rinny Zin 1)
The musical world of Bay Area vocalist and educator Molly Holm draws on a wide range of influences, from modern jazz, minimalist music, North Indian ragas, African-American roots music and the choral experiments of Bobby McFerrin. Holm's debut album "Permission" offers examples of all these styles and more, with frequent mixes of genres and approaches. For example, the title track functions like a progressive jazz tune but in the middle of the performance, there is an improvised duet with Holm scat singing against the Indian vocal percussion of Antonia Minnecola. And to introduce a version of Chick Corea's "Sea Journey", Holm improvises a raga to the electric bass accompaniment of Marc van Wageningen. Holm is an adventurous improviser with a pure soprano voice and admirable flexibility. Near the end of her version of "Afro-Blue", she engages saxophonist Larry Schneider in a spirited duet that finds her popping out isolated short notes in the style of Jay Clayton (Schneider is the same saxophonist who played on several late Bill Evans albums, and then spent several years in Europe. It's good to have him back in the States). Then, two tracks later, she sings a soulful (and near-definitive) version of "You Don't Know What Love Is" with pianist Bill Bell. In addition to the above mentioned sidemen, the album features the Art Ensemble of Chicago's master percussionist, Famoudou Don Moye, arranger/pianist Frank Martin (both of whom play spectacular solos on an extended version of "74 Miles Away", here retitled "Go There Now"). There are also two virtual choir pieces in the style of McFerrin's Voicestra (of which Holm was a charter member): "The Bear" includes ten of the Bay Area's top vocalists in a wordless performance, while "Secret Words" is all Holm, via overdubbing. While this music is quite challenging, it is also very accessible and very well-played.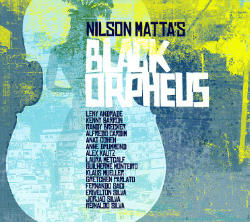 NILSON MATTA: "BLACK ORPHEUS" (Motéma 103)
This newly-recorded collection of music from the play "Orfeu da Conceição" and its film adaptation "Black Orpheus" is not entirely a vocal album. However, the two vocalists that appear truly conceptualize this album. The dramatic Brazilian singer Leny Andrade brings great emotional depth to versions of the standards "A Felicidade" and "Se Todos Fossem Iguaisa Você", while New York jazz singer Gretchen Parlato offers a light and airy approach to "Valse de Euridice" and the medley of "Eu E O Meu Amor" and "Lamento No Morro". As these two vocalists represent vastly different—yet completely authentic—approaches to Brazilian music, so does this album represent a mix of the American and Brazilian treatments of the samba style. The leader of the album, bassist Nilson Matta was born and raised in Brazil, but now works in New York, and he selected from some of the finest musicians of Rio and NYC for this recording. Randy Brecker, Anne Drummond, Anat Cohen and Kenny Barron are the best known of the American players, and all provide spirited solos that work well within this unique mix of genres. The rhythm section includes the superb guitarist Guilherme Monteiro (who appears on most of the tracks) and a team of Brazilian percussionists including Fernando Saci, Jorjão Silva and Reinaldo Silva (who, in the spirit of the film, provide short improvised interludes between the longer selections). Ultimately, what makes this effort so successful is the approach to rhythm. Generally speaking, Brazilians tend to play on top of the beat, and Americans play behind the beat. There are abundant examples of both rhythmic approaches here, but these musicians seem equally comfortable in either style. Most of the tracks settle into one groove or the other, but there are a few places where the two approaches seem to meld into one. In those moments, we can hear that the marriage between jazz and samba is alive and well.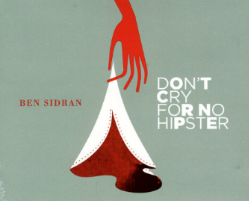 BEN SIDRAN: "DON'T CRY FOR NO HIPSTER" (Nardis—no catalog number)
If Ted Gioia's theories about the death of cool are true, then it follows that the hipster is a dying breed. Ben Sidran doesn't seem willing to let him go without a song—or fourteen. On his CD, "Don't Cry For No Hipster", he offers a funky tribute to the hipper-than-thou cats who had all the answers and knew the best music. While Sidran plays all the keyboards on the album, the focus is clearly on his vocals and his original songs. His quirky voice and lyrics are reminiscent of Bob Dorough, and many of the words are delivered in a non-rap rhythmic speech instead of on pitches. The lyrics are quite funny and loaded with inside jokes (see if you can catch all of the jazz references in "Back Nine"). The album includes an offbeat look at religion ("In the Beginning") and the semi-obligatory celebration of drugs ("Take a Little Hit"). Several of the tunes are set in deep funk grooves, and part of the fun of this album is Sidran's cheeky recreations of classic instrumental sounds, including surf guitar and chiffy Hammond organ. Sidran's  backup group includes guitarist Will Bernard, bassists Tim Luntzel and Orlando Le Fleming, drummer Leo Sidran, percussionist Moses Patron, saxophonists John Ellis and Mark Shim and the intriguingly named (and under-recorded) Trixie Waterbed on background vocals. After awhile, Sidran's witty but ultimately self-conscious lyrics get a little tiring, but he provides relief with a pair of superb instrumentals: a shuffle blues called "Hooglin'" and a fine duet version (with Shim) on Thelonious Monk's "Reflections".