KARRIN ALLYSON: "MANY A NEW DAY" (Motéma 183)
Continuing with the concept albums that have worked so well for her in the past, Karrin Allyson's new recording "Many a New Day" is a collection of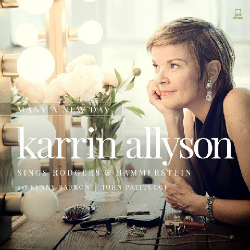 songs from musicals by Richard Rodgers and Oscar Hammerstein. The R&H catalog has been ridiculed in recent years for being corny and old-fashioned, but Allyson, pianist Kenny Barron and bassist John Patitucci mine gold from this rich (and at its time, revolutionary) mother lode of songs. They generate a soulful groove on the opening "Oh, What a Beautiful Morning" and a happy, skipping swing on the title track (which leads to a very effective ritardando at the coda). Allyson adds a wordless intro and a lesser-known lyric to the lively "Happy Talk" and via a slow, sexy version of "I Cain't Say No", she adds psychological depth to the usually comic character of Ado Annie—a role which Allyson admits she'd love to play. Barron plays a gorgeous solo on "I Have Dreamed," which also features a warm vocal (and the rarely-heard verse). It's good to hear Patitucci on acoustic bass, where he displays a rich tone and solid support on solo turns during "Out of My Dreams" and "Bali Ha'I". The earnestness that Allyson brings to this repertoire makes Hammerstein's lyrics and Rodgers' music contemporary, especially when dealing with eternal topics like young love ("Hello, Young Lovers") or continuing social problems like forbidden love ("We Kiss in a Shadow") and racial prejudice ("You've Got to Be Carefully Taught"). Still, Allyson, Barron and Patitucci have a little fun with "The Surrey with the Fringe on Top" where each phrase modulates to a new key, and Allyson sings her only scat solo on the entire CD. Overall, "Many a New Day" is more restrained than Allyson's previous albums but the intimacy of the ensemble and Allyson's moving performances make this recording a welcome addition to her discography.
LAURIE ANTONIOLI & RICHIE BEIRACH: "VARUNA" (Origin 82698)
Varuna is a dwarf planet located near Pluto, and although it was only discovered about fifteen years ago, it has already become the subject of an original song by vocalist Laurie Antonioli and pianist Richie Beirach. The lyrics touch upon the mythological and astronomical meanings of both the planet and its namesa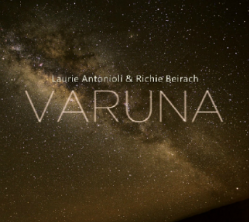 ke, and the song's mystical, out-of-time setting is a perfect opener for the second duet album by Antonioli and Beirach. "Varuna" (the album) displays a wide range of music styles from the straight-ahead swing of Harry Warren's "Summer Night" through the free-form "Resolution Suite". The suite (which also includes bassist Pepe Berns) is probably the most challenging piece on the album, but it is still accessible: "Revelation" includes an intensely whispered poem over instrumental improvisation; "Transformation" starts with a whisper but grows into full voice; "Exaltation" is a trance-like wordless improvisation which sounds like it might have part of a longer track. Another echo of the avant-garde appears on a further track: In a brief interpolation of Scriabin's "Prelude in E-Flat Minor", Antonioli borrows a technique from composer George Crumb, as she sings into the piano as Beirach plays and holds down the damper pedal, allowing the combined vibrations of voice and piano to accumulate. This episode leads into a stunning rendition of "My Funny Valentine" which shows that this old standard still has a lot of life within it. The final three tracks of this album are quite special. Antonioli brings a world-weariness to the standard "Haunted Heart". Beirach plays remarkable solos on this track and the following "Impressions", both standing as fine statements in their own right, but quite striking in their differences of style and execution. The album concludes with a unique version of "Over the Rainbow" which re-defines the nature of both the music and the lyric. It is a total reconstruction of the song, similar to the classic 1961 version of "Laura" created by Jeanne Lee and Ran Blake, where all previous renditions seem trivial and out-dated. "Varuna" is a challenging program, but it is also a fascinating disc that will reward repeated listening.
SINNE EEG & THOMAS FONNESBAEK: "EEG-FONNESBAEK" (Stunt 15082)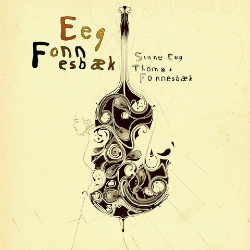 Danish vocalist Sinne Eeg (whose name is pronounced SEE-neh EE) has built a strong following across Europe and Asia, but she is virtually unknown to American audiences. Her new CD, "Eeg-Fonnesbaek" is the first of her albums to be issued in the US, and with any luck, it should stir greater interest in this superb musician. Eeg's soulful delivery, flawless pitch, exceptional diction, and impressive scat stand in strong relief to the sole accompaniment of Thomas Fonnesbaek's bass. While the promotional materials note that Eeg is also a fine songwriter, on this brief but satisfying album she focuses on standards and jazz originals. She truly understands the marriage of lyrics and melody, which is clearly evident in her stark rendition of "You Don't Know What Love Is". In that extraordinary track, every note seems to be perfectly placed with just the right inflections to bring out the hurt embedded in the lyric. Fonnesbaeck's open arpeggiated chords on electric bass are quite effective here, as is his overdubbed acoustic arco line in the introduction and coda. On the other hand, Eeg seems willing to take risks with the phrasing of songs like "Body and Soul" and "Come Rain or Come Shine", as she alternatively rushes and stretches the phrases of the lyrics to fit her conception of the melodies. This technique causes a few odd breaths within the phrases, but overall, these are still remarkable and fresh interpretations of these great standards. While there is no shortage of female jazz singers on the US scene, Sinne Eeg deserves to be heard by American audiences, and if she supports this new CD with a nationwide tour, the chances of greater recognition could easily become a reality.

ELISABETH LOHNINGER & WALTER FISCHBACHER: "BALLADS IN BLUE" (JazzSick 5085)
Procrastination is the enemy of art. There are numerous examples of projects never started because of schedule conflicts or misaligned priorities. Sometimes fate steps in and forces the action in spite of it all. Vocalist Elisabeth Lohninger and her husband, pianist Walter Fischbacher had talked about an all-ballads album for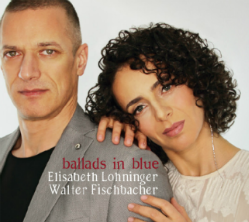 years, but for one reason or another (and Lohninger lists several of them in her liner notes) the project didn't become a reality until early this year, when the building which held their recording studio was sold, and the area had to be vacated. "Ballads in Blue" was the last recording made at Lofish studios, and it represents the end of a highly productive period for this couple. Whether or not they felt ready to tackle the challenge, Lohninger and Fischbacher have created a wonderful program covering songs from three generations of American Popular Song (plus one of Lohninger's originals, the lovely "I Remember Christmas"). Lohninger's previous recordings have been edgy and progressive, but here the innovations are turned inward as on "You Don't Know What Love Is" and "When I Fall in Love", where Lohninger creates subtle melodic variations over the tender sounds of Fischbacher's piano. Near the end of "So Many Stars", Lohninger gently enters with a wordless background to Fischbacher's solo. It sounds like something that might happen when the two were making music in their living room; it rarely occurs in the confines of the recording studio. And while the two have reharmonized songs like "All the Things You Are" and "Skylark", both Lohninger and Fischbacher embrace these new harmonies as readily as if the songs had been sung in this manner for decades. While there are no lyric changes to "I've Grown Accustomed to His Face", I wonder if this song is actually a farewell to the studio. Despite the unfortunate circumstances that caused this CD to be made, I'm glad that fate intervened. To my ears, it's the best album that Lohninger and Fischbacher have ever made.
NEW WEST GUITAR GROUP: "SEND ONE YOUR LOVE" (Summit 659)
Although the album "Send One Your Love" is credited to the New West Guitar Group (Jeff Stein, John Storie and Perry Smith), it actually spotlights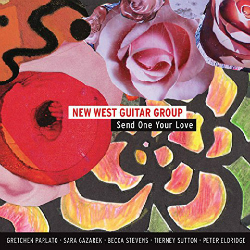 the work of five singers: Gretchen Parlato, Sara Gazarek, Becca Stevens, Tierney Sutton and Peter Eldridge. Parlato leads off with the title track (composed by Stevie Wonder) and her delicate vocal is set off with a broken-time background which allows plenty of interplay between voice and instruments. Stevens sounds a little tentative on "Detour Ahead" but she expertly navigates the strong syncopations within the arrangement. Eldridge's version of Joni Mitchell's "Black Crow" builds in intensity with each succeeding verse, and Gazarek breaks your heart with her understated reading of "I Fall in Love Too Easily". The quick paced Sutton version of "You'd Be So Nice to Come Home To" features impressive unison lines by the guitars at the outset, joined by Sutton at the midpoint before she launches into a well-crafted scat solo. The guitars provide a gentle backdrop for Parlato's take on "Like Someone in Love" which features several intriguing note choices as she creates variations on the melody. Stevens sounds much more comfortable on Elliott Smith's "Waltz No. 1", but as with Parlato, she would have benefited from a little more presence in the overall mix. The biggest surprise on the album might be Eldridge's finger-snapping version of Kurt Weill's "My Ship", but the arrangement works due to the ingenious backbeat which sounds like water lapping on the side of a boat, and the rippling effects used in one of the bridge sequences. Sutton gets the penultimate spot with a touching version of Randy Newman's "When She Loved Me" and Gazarek's earnest version of James Taylor's "Secret o' Life" caps off the album on a philosophical note. My only criticism of this album falls with the packaging. While the arrangements are duly credited, there is no indication of the audio placement of the three guitars, nor any solo credits. Despite all of their guest stars, this is still the New West Guitar Group's album, and they deserve credit for their superb solo work.