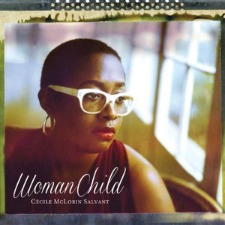 CÉCILE McLORIN SALVANT: "WOMANCHILD" (Mack Avenue 1072)
The Thelonious Monk Jazz Institute's vocal competition has produced several excellent singers over the years, including Gretchen Parlato, Jane Monheit, Roberta Gambarini, Sara Lazarus and Cyrille Aimée. The latest winner, Cécile McLorin Salvant is a 23-year-old Miami native who studied music and law in France. Her debut album, "WomanChild" contains an intriguing mixture of music spanning three centuries, including rarely performed songs like J. Russel Robinson's "St. Louis Gal" and Bert Williams' "Nobody". McLorin Salvant balances these obscure songs with choice standards like "I Didn't Know What Time It Was" and "There's A Lull in My Life" and three of her original songs. What is even more impressive than the broad repertoire is the way that McLorin Salvant makes these songs her own. Regardless of a song's age or origin, she finds the essence of the story and makes that the focus of her interpretation. She shifts meter and speed to echo the rush of emotions on a kaleidoscopic "What A Little Moonlight Can Do" and she portrays weary dancers with deliberately unsteady time on "Jitterbug Waltz". There are times where her voice is reminiscent of a young Sarah Vaughan and on the astonishing (and hilarious) version of Sam Coslow's "You Bring out the Savage in Me", she shifts her vocal timbre with amazing speed and precision. Her accompanists, pianist Aaron Diehl, guitarist James Chirillo, bassist Rodney Whitaker and drummer Herlin Riley, are all well-versed in several genres, and they play the arrangements accurately and with superb ensemble. Like annotator Ted Gioia, I wonder which stylistic direction McLorin Savant will take in her future recordings. Perhaps she'll take them all. This impressive debut shows that she has the ability to coalesce a wide range of materials into her own musical voice.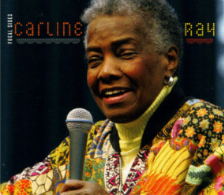 CARLINE RAY: "VOCAL SIDES" (Carlcat—no catalog #)
This past April, Carline Ray celebrated her 88th birthday. That makes her a year older than Tony Bennett. I wouldn't go on about Ms. Ray's age except that she has just released an album, "Vocal Sides", all recorded (save one track) between 2008 and 2011, and her voice is simply magnificent. Her deep, resonant tone delves far into the tenor range, but extends up to a mezzo-soprano. Her diction and pitch are remarkably sure, and she still takes risks as she paraphrases melodies. The program includes a few time-worn standards, several lovely ballads, and five sacred songs at its center. The latter pieces are the most powerful in the set, with a stunning version of Duke Ellington's "Come Sunday", two selections from Mary Lou Williams' mass settings, and two duets with Ray's daughter (and album producer) Catherine Russell. While Ray is an accomplished bassist, guitarist and pianist, she leaves those roles to others on this album (namely Yuka Aikawa and Mark Shane on piano, Greg Skaff on guitar, Atsundo Aikawa on bass, Mark McLean on drums and Akua Dixon on cello). A bonus track from 1961 finds Ray and organist Frank Anderson on a demo recording of "Lucille", a song dedicated to Louis Armstrong's wife. The song was written by Ray's husband, Luis Russell with the hope that Armstrong would sing it in concerts and on a record. Ray sounds stiff and formal on this vintage recording, and that only highlights the relaxed and delightful nature of the other tracks on this disc. Highly recommended.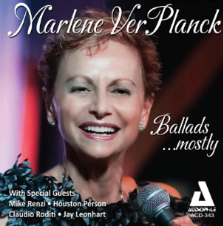 MARLENE VERPLANCK: "BALLADS…MOSTLY" (Audiophile 343)
I've never been a big fan of Cy Coleman's music. It always seemed rather glib and superficial to me. But the seven Coleman tracks on Marlene VerPlanck's new CD, "Ballads…Mostly" has made me reconsider my objections. The tracks were arranged by VerPlanck's late husband, Billy, and she found them while looking through her music room. It's obvious from her heartfelt performances that these songs are very special to her and she gives songs like "It Amazes Me", "I'm Gonna Laugh You Right out of My Life" and "Why Try To Change Me Now" the emotional depth that they need and ultimately deserve. Aside from some weak high notes, VerPlanck is in fine voice with superb diction and subtle melodic variations. And as usual on her albums, she includes a bevy of fine accompanists, including Claudio Roditi, Houston Person, Mike Renzi, Tedd Firth, Jay Leonhart, Boots Maleson and Ron Vincent. VerPlanck also includes four Harry Warren evergreens, and Person accompanies her to perfection on all of them, playing just the right fills to enhance VerPlanck's interpretations. The album is filled out with originals by Billy VerPlanck and Ronny Whyte, Ivan Lins' "Love Dance". Through it all, VerPlank's sunny delivery and the buoyant medium-tempo settings keep the album from being heavy or maudlin.  The only sour point is the liner booklet, which has several typos (especially well-known names), and personnel identifications that conflict with the information in the promotional material. VerPlanck is one of Audiophile's most prolific artists—certainly her albums deserve better treatment than this.