Stan Getz was from the Bronx, but he sure was happy on the West Coast! He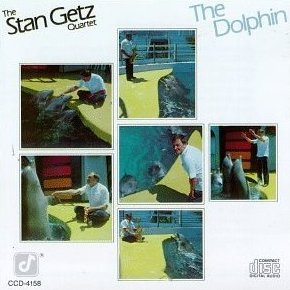 loved to practice outdoors in the Hollywood Hills, sit on the beach, and swim in the Pacific Ocean. It's not a surprise that he made such wonderful music in California. One of my favorite Getz records is Concord's "The Dolphin". Award-winning engineer Phil Edwards recorded this 1981 live date at the legendary Keystone Korner jazz club in San Francisco. There were 13 tunes released total from the gig. "The Dolphin" was issued while Getz was still alive, and it contains the six tunes originally approved by the saxophonist. Concord released the rest of the date posthumously (with approval by the saxophonist's son Steve) on a CD entitled "Spring is Here". Later on Concord re-packaged both CDs as a set called "My Old Flame".
Getz's band included two West Coast veterans, pianist Lou Levy and bassist Monty Budwig. "The Dolphin" marked Victor Lewis' first recording with Getz, and the saxophonist was so impressed with Lewis that he became Getz's first-call drummer.  The acoustic quartet was Getz' favorite setting in which to play, and the taste and empathy of this group is of the highest order.  This recording was a return to what Getz termed "a compact, classical-jazz quartet, one that is right for me" after having played in almost every conceivable setting (with guitars, strings, electric instruments, voices, etc.)
The opening tune "The Dolphin" is a gorgeous medium-up bossa by Luiz Eça, and it is more complex in form and harmony than some of the Jobim tunes Getz usually played. There are two Johnny Mandel tunes on the record, "A Time for Love" and "Close Enough for Love". On the two Mandel ballads, and Sam Coslow's "My Old Flame", Getz reveals a big, beautiful, passionate sound and a rich vibrato. On "A Time for Love", Getz plays a rubato version of the melody, and Levy follows with a series of delightful variations. On this tune and on "Spring is Here" from the later set, Getz does not return for a recapitulation at the end of the performance, rather letting Levy play an understated final chorus.
Getz tears into Clifford Brown's "Joy Spring" utilizing the tenor sax's upper register and showing his rhythmic mastery playing phrases off every part of the beat. He brings his solo to a high point in the last chorus where he includes a quote of "Jeanie With the Light Brown Hair". The album also includes an exciting up-tempo version of "The Night Has a Thousand Eyes". This is a tour de force for Getz, who excelled at all tempi. When he launches into his solo, he builds part of his statement on a quote from "Surrey with the Fringe on Top".
The songs on "Spring is Here" are of equal quality to those on "The Dolphin". The highly swinging "How About You" gets an aggressive, growling Getz treatment. The relaxed "You're Blasé" is played at ballad tempo, providing Getz another setting to allow the listener to bask in his glorious tenor sound. "Easy Living" and "Sweet Lorraine" are both performed in a medium slow swing. An exciting "Old Devil Moon" has Getz playing in a similar style as he did on "1000 Eyes" with alternating the Latin to swing feel on the head and in his first solo chorus. "I'm Old Fashioned" builds in fine fashion, starting off quietly and mellow with Levy playing the Jerome Kern tune by himself, out of tempo. Getz joins in with the rest of the rhythm section with a medium swing. Lewis starts off playing tasteful brushes and then switches to sticks to propel Getz and give the tune additional dynamic lift.
The oft-quoted John Coltrane remark, "We'd all sound like Stan if we could" is certainly felt by many saxophonists. But Getz was also a marvel in his expression through dynamics. So many saxophone greats would play with a fairly uniform dynamic level, but Getz was, especially in his later recordings, a consummate master of dynamic contrast, creating excitement and beauty within his solos. These live Keystone Korner recordings are essential to any jazz lover who enjoys great classic tenor quartet recordings, and to any Stan Getz fan.