It's easy to be obsessed with new things. No matter if it's cars, restaurants, computers or movies, there's a natural tendency to be drawn to objects that reveal intriguing concepts and directions. Music—in all of its forms—reflects this obsession, and dedicated artists can be considered out-of-style if they don't follow the latest trends. In jazz, it is becoming increasingly common to hear entire nightclub sets of music that doesn't swing, and wasn't meant to. While swing used to be omnipresent in jazz, it is no longer a defining character of the music (if improvisation goes away, that's another matter!). But swing is far from dead, nor is it old-fashioned. The new CDs reviewed below display musicians of all ages focusing on straight-ahead swinging jazz, and offering several musical surprises as well.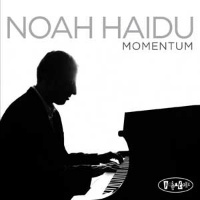 Noah Haidu is a 40-year old pianist from Brooklyn who has played in a wide range of ensembles, including hip-hop and funk groups. His jazz chops are very strong though, and on his new Posi-Tone release "Momentum", he reveals a lean piano conception based on powerfully accented single lines, and an overwhelming rhythmic drive. The title track starts out in a Latin feel, but when it moves into straight four, the trio of Haidu, bassist Ariel de la Portilla and drummer McClenty Hunter becomes a juggernaut. The power of the groove inspires Haidu through a marvelous solo with seemingly inexhaustible melodic ideas. On another Haidu original, "Juicy", each of the three musicians seem to be following their own rhythmic direction. But the unstated ground beat is still obvious throughout, and when they unite about halfway through the track, the groove is immediate and stunning. The interplay between the players is arresting throughout, but is especially fiery on the closing blues, "Cookie Jar". Among the album's several jazz and song standards are a delicate version of Keith Jarrett's "Rainbow", a funk transformation of Thad Jones' "A Child is Born" (which retains the song's innate tenderness, but completely changes the fabric of the melody) and tautly swinging versions of "I Thought about You" and "The End of a Love Affair".
Chip Stephens' piano style is even more aggressive than Haidu's, and the urgency of his approach is apparent on every track of his n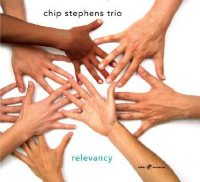 ew Capri CD "Relevancy". Stephens and his two sons were seriously injured in a car accident in 2008. The album is dedicated to his parents, who nursed Stephens back to health. He musically recounts the accident and his recovery in the multi-genre composition "A Day in May". What makes the entire album special is its sense of immediacy: Stephens seems to lean into the keyboard, intent on getting the sounds out now, rather than risking another unfortunate turn of fate. Stephens has turned this tragedy into a revitalizing force, and his music swings mightily. Even the old sentimental Mario Lanza hit, "Be My Love", is taken in a jaunty tempo, and Stephen's solo rendition of Rodgers and Hart's "This Funny World" is reflective, without delving into the deep cynicism of the lyrics (quoted in Stephens' liner notes). There are several superb blues tracks on the CD, including Carla Bley's energetic bitonal "Syndrome", Stephens' own blues-with-a-bridge "Somewhere Before the End" and his deeply grooving "C Hip's Blues". The latter track also offers solos from bassist Dennis Carroll and drummer Joel Spencer, both of whom provide outstanding support throughout the album.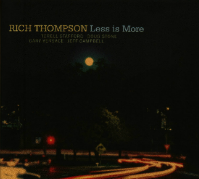 The title of Rich Thompson's new Origin CD, "Less is More" was one of Count Basie's favorite adages, and as a former drummer for the Basie band, Thompson has taken those words to heart. He is quite concise behind the drums, playing just what is needed to propel the rhythm and support the soloists. For example, trumpeter Terell Stafford is featured on most of the tracks, and what Thompson doesn't do is to overplay behind him. Stafford still plays with plenty of fire on swinging versions of "Lotus Blossom" and "I've Never Been in Love Before", but he also displays his lyrical side on a glorious version of "It's Easy To Remember" and on Wayne Shorter's delightful "This Is For Albert". The album has an attractive late-night groove, which is maintained through widely varied repertoire and changes in personnel. Tenor saxophonist Doug Stone replaces Stafford for an exploratory trio version of "I Didn't Know What Time It Was" with bassist Jeff Campbell and on Joe Henderson's aptly-titled "Step Lightly" featuring Gary Versace on Hammond B3. Versace switches between organ and piano throughout the disc, and his spindly, inquisitive lines are a highlight of the title track.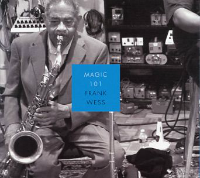 The most traditionally swinging album of the lot is Frank Wess' IPO release, "Magic 101". Wess was 89 when he recorded this album, yet his playing retains all of the vitality of men who are a fraction of his age. He has an instinctive sense of just how much to play and how much to suggest (he learned Basie's "less is more" creed firsthand), and the same can be said of the rhythm section of Kenny Barron, Kenny Davis and Winard Harper—all generations younger than Wess, but all eligible for AARP membership!  Wess and Barron shine brightly on duet versions of Wess' original "Pretty Lady" and Harold Arlen's soulful "Come Rain or Come Shine", and Wess closes the album with a stunning solo rendition of Duke Ellington's "All Too Soon". On the rest of the tracks, Barron, Davis and Harper provide all could desire in a rhythm team: solid and propulsive time, rich, dependable support and creative, inspiring solos. The album has an unhurried feel that is all too rare in current recordings. Swing is indeed alive and well, but we could surely use more albums like this one.