In the early years of jazz, the clarinet was an essential ingredient in any jazz ensemble. New Orleans and Chicago style bands would have been unthinkable without the clarinet's high filigrees, and in the swing era (when two of the most popular bandleaders were clarinetists Benny Goodman and Artie Shaw) virtually every big band saxophonist doubled on clarinet. When bebop emerged after World War II, a few clarinetists tried the new style, but were unable to compete with the blazing new ideas coming from the horns of Dizzy Gillespie and Charlie Parker. The clarinet's legacy as a solo jazz instrument has been maintained through modern players like Buddy DeFranco, John LaPorta, Stan Hasselgard, Jimmy Hamilton, Jimmy Giuffre, Phil Woods, Gene Quill, Bill Smith, Phil Nimmons, Perry Robinson, Eddie Daniels, Tony Coe, Paquito D'Rivera and Don Byron. The three CDs reviewed below were all released within the last few months, and they feature musicians with a special dedication to the straight horn.
Oddly enough, the youngest of these clarinetists is the one with the closest ties to the old school. 29-year-old Dave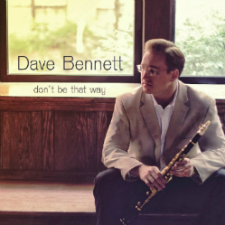 Bennett is a self-taught player weaned on swing era classics. His debut album, "Don't Be That Way" (Mack Avenue) is filled with tunes associated with Goodman, Shaw, Bob Crosby and Woody Herman. Not satisfied to perform copies of the original versions, Bennett has collaborated with Toronto arranger Shelly Berger to create updated settings of pieces like "Slipped Disc", "Begin the Beguine" and "Running Wild". I am particularly impressed with his charts for "Don't Be That Way" (reset as a gentle samba with surprising modulations and intricate ensemble melodies) and "St. James' Infirmary" (a dark, brooding setting on which Bennett supplies a Roy Orbison-toned vocal followed by a dramatic, wailing clarinet solo). The longest track is the inevitable "Sing, Sing, Sing". Bennett and his quintet race through the essential themes of the Goodman arrangement before getting to the main event: an extended duet between Bennett and drummer Pete Siers. While the new duet goes on about twice as long as the original Goodman/Gene Krupa duet, it only generates about half the heat. Bennett breaks up the duet with a long and pedantic cadenza, and the final push after Siers returns seems forced and unnatural. Bennett and his bandmates Tad Weed (piano), Reg Schwager (guitar), Paul Keller (bass) and Siers (drums) are all fine players who can play the contemporary lines scored by Berger, but they can't seem to integrate similar ideas into their solos. In the press release for this album, Bennett says he wanted to break free from past styles, and that Berger's arrangements helped him do it. But if Bennett really wants to move forward, he needs to expand his harmonic vocabulary as a soloist, and explore newer repertoire.
Bennett might be encouraged to hear Ken Peplowski's newest CD "Maybe September" (Capri). On it, Peplowski and a stellar trio of Ted Rosenthal (piano), Martin Wind (bass) an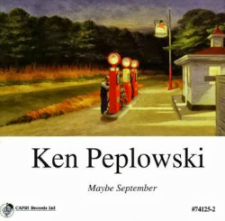 d Matt Wilson (drums) tackle a wide-ranging repertoire including standards by Irving Berlin, Harry Warren and Duke Ellington, songs associated with the Beach Boys, the Beatles and Elvis Presley, a Peplowski original and a movement from Francis Poulenc's Clarinet Sonata. In the liner notes, Peplowski writes that he wants to "capture the pure emotion of the songs I've chosen". That approach is evident from the opening track, Berlin's "All Alone". Peplowski takes the basic motive of the melody and creates a series of simple variations as his solo. It's not an academic exercise, though: Peplowski gets a lot of emotional mileage out of the long sustained notes in his improvisation, and he brings out the meaning of the song without offering lyrics. I was quite surprised at how well the Poulenc and the rock songs integrated with the jazz standards, and Brian Wilson's "Caroline, No" might become a new favorite ballad vehicle based on Peplowski's smoky tenor sax interpretation. In addition to his fine duet with Rosenthal on the Poulenc, Peplowski plays short but lovely duets with Wind on Lennon and McCartney's "For No One" and Harry Nilsson's "Without Her". Peplowski and Wilson engage in a burning duet in the middle of Peplowski's original "Always a Bridesmaid", and Wilson—one of jazz's great wits—adds delightful commentary through his brushes on "A Fool Such As I". This album was recorded at a single three-hour session with all of the musicians playing in the same room with minimal isolation. Peplowski calls it a "warts and all" album, but there's very little wrong and much that is right with this fine recording.
Anat Cohen is certainly the most acclaimed of all contemporary clarinetists, and with good reason. Her innovative mixture of jazz and klezmer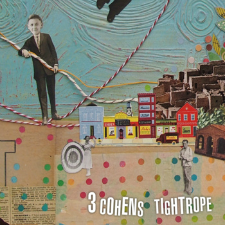 styles has given her a unique instrumental voice, and she is able to adapt her style to fit into a wide range of ensembles. Those wanting to fully explore her clarinet artistry may want to pick her most recent solo release "Claroscuro" (reviewed here), but she also plays clarinet on several tracks of the latest 3 Cohens album "Tightrope" (Anzic). Most of this album features just the three horns of Anat (doubling tenor sax and bass clarinet) and her brothers Avishai (trumpet) and Yuval (soprano sax) without accompaniment.  On these pieces—including 5 free-form "Conversations"—the solos are rather short and there's lots of collective improvisation. The Cohens have done this kind of group performance for years and they've rejected the old roles from Dixieland jams and give each instrumentalist free reign to play in whatever range they wish. And without a rhythm section behind them, they have lots of freedom to add quotes from unusual sources (as in one of the conversations where Avishai and Anat both quote Prokofieff). Anat's clarinet is also featured on three pieces with guest Fred Hersch. She takes the lead on the Italian ballad "Estate", adds pithy comments during a wild free-for-all on Thelonious Monk's "I Mean You" and soars above the ensemble on Hersch's gorgeous "Song Without Words # 4" (The empathy between Anat and Hersch is especially strong; they should consider making a duet album). Yuval makes strong statements in several spots, but the normally adventurous Avishai makes a greater impression as he continually pushes the limits of tonality (he hints at Ornette Coleman's "Lonely Woman" while playing the Yiddish lullabye "Ai Li Lu Li Lu"!).
When bebop took over the jazz scene, some critics claimed that clarinets were somehow "unsuited for modern jazz". Anyone with knowledge of the instrument knows that such assertions are pure nonsense (and if evidence is needed, listen to Anat Cohen's flawless rendition of "Donna Lee" on "Tightrope"). Nonetheless, the clarinet's demise as a solo instrument was accepted as part of the changes in the jazz scene. Now that trend is starting to reverse. The clarinet may never again be the dominant jazz voice it once was, but its strength and viability have been re-established for all to hear. It was worth the wait.