It should not be surprising that I count several professional jazz musicians as my friends. Whenever I go to hear one of them perform, I try to request a song that is not one of their specialties, or a regular part of their concert repertoire. There's both a creative spark and an increase in focus when a jazz musician revisits a not-quite-familiar song, and in many cases, I find that my request was one of the highlights of the night (not only in my opinion, but in the reactions of strangers). Of course, changing repertoire is a good way to revitalize a performing artist (even if it is for an isolated project), and the following three CDs feature established vocalists who have shifted their repertoire to reflect their own artistic development.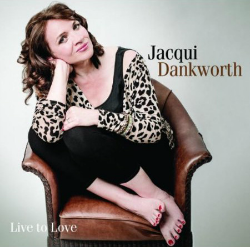 Jacqui Dankworth is the daughter of British jazz legends Cleo Laine and the late John Dankworth, and while she is a superb vocalist in her own right, her family ties are very strong. Her last album, "It Happens Quietly" (reviewed here), was a tribute to her father, and while her newest album, "Live to Love" (Specific) also contains a song co-written by the father/daughter team, the majority of the pieces are originals co-written by Jacqui with either her husband pianist Charlie Wood, her former pianist and musical director Malcolm Edmonstone, or bassist Geoff Gascoyne. All of the songs celebrate love as concept or experience (and frequently both). Stylistically, some of the music veers closer to soul and pop than to straight-ahead jazz, but like her mother, Dankworth is such a strong singer that her voice transcends stylistic boundaries. She is especially effective on the three pieces which feature the Brodsky Quartet where her rich, full-bodied sound is a good match for the strings. And on the aforementioned collaboration with her father, "It's Tomorrow's World", Jacqui offers a delightful set of lyrics that refer to quantum mechanics! Dankworth's accompanists (including Wood, Gascoyne, saxophonist Ben Castle, guitarist Chris Allard, alternating drummers Mike Smith and Ralph Salmins and percussionist Paul Clarvis) form a tight ensemble which easily navigates a wide range of styles and excels in solo roles. With the UK-based Specific Records now offering more of their releases to worldwide audiences, "Live to Love" may be the first opportunity for some listeners to appreciate the music of Jacqui Dankworth. For those new listeners as well as Dankworth's established fans, this album is a superb addition to her recorded works.
When I caught Stacey Kent's performance at Ronnie Scott's in London back in November 2009, she had just taken up the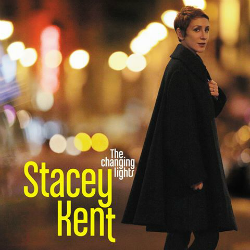 acoustic guitar, and along with her husband Jim Tomlinson, had just completed a Portuguese immersion course. It was all part of Kent's new focus on Brazilian music. It has taken four years—and two intervening releases—for Kent to record the results, but it has been worth the wait. The album "The Changing Lights" (Parlophone) is presently available as an import, but an American release has been promised within the coming months. Kent and Tomlinson have shifted the repertoire to spotlight the music of Tom Jobim, Roberto Menescal, Dori Caymmi and Marcos Valle. Kent, one of the most intimate singers on the scene today, caresses the lyrics of the Brazilian songs, and according to liner note author Zuza Homem de Mello, her Portuguese is letter-perfect. The album also includes three more collaborations of Tomlinson and Kazuo Ishiguro. Ishiguro is best-known as the author of "The Remains of the Day" and "Never Let Me Go", but he is a superb lyric writer, and these thoughtful collaborations—written especially for Kent—have added immeasurably to her repertoire. Kent's sensitive, understated readings offer further proof that she is growing into the role left vacant by Shirley Horn. Tomlinson's tenor sax retains deep ties to his idol, Stan Getz, but his solos on soprano sax and flute allow him to stretch his own wings. The rhythm section of pianist Graham Harvey, bassist Jeremy Brown and alternating drummers Matt Home and Joshua Morrison, play with subtle precision. They are augmented with the guitars of Kent (on one track), Menescal (two tracks) and John Paricelli (most of the remaining tracks). The album is generally low-key, but full of small delights, and it comes highly recommended.
For her stunning new Joni Mitchell tribute album "After Blue" (BFM), Tierney Sutton has not only moved away from her standards-based repertoire,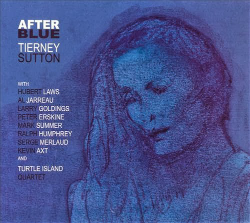 but also her long-established band. Here, she is accompanied by the Turtle Island String Quartet, and an all-star ensemble including Al Jarreau, Hubert Laws, Larry Goldings, Serge Merlaud, Ralph Humphrey and Peter Erskine. While the arrangements are generally more complex than on Mitchell's original recordings, they are significantly looser than Sutton's usual backings. Sutton sings Mitchell's multi-layered lyrics without sacrificing the freedom she regularly employs as a jazz vocalist. At times, Sutton's performances compare favorably to Mitchell's originals, particularly her sly grooving take on "The Dry Cleaner from Des Moines", and her duet with Humphrey on "Big Yellow Taxi". I also prefer the intimacy of Sutton's versions of "Don't Go to Strangers" and "Answer Me, My Love" to the over-orchestrated versions on Mitchell's "Both Sides Now" album. Sutton comes closest to Mitchell on a beautifully-modulated version of "Woodstock" and furthest away on "Both Sides Now" where Mark Summer's bowed cello evokes the sound of a Bach prelude (which truly elevates Mitchell's original melody) while his pizzicato work sounds like a string bass. The combination of Goldings' B3, Erskine's irresistible backbeat, Laws' soulful flute and the sweetly swinging vocals of Jarreau and Sutton brings a deeper meaning to the lyrics of "Keep Cool". Over the years, Sutton has developed a nearly telepathic communication with the members of her touring band. However, she sounds quite comfortable in these new surroundings, so while I gladly await further recordings of the Tierney Sutton Band, I hope that she will occasionally step away from the group to record albums that are as compelling and satisfying as "After Blue".