THE INVENTIONS TRIO: "LIFE'S A MOVIE" (Chiaroscuro 400)
Formed in 2005, The Inventions Trio is a cooperative group featuring trumpeter Marvin Stamm, pianist Bill Mays and cellist Alisa Horn. Horn started improvising under Mays' encouragement, and while she improvises less than the other members, she is an integral part of the ensem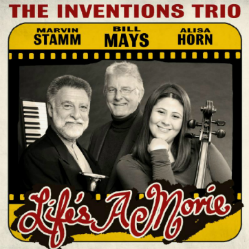 ble. "Life's a Movie" is the group's third album, and it is one of the first CDs on the newly-resurrected Chiaroscuro label. Mays arranges all of the music for the ensemble, and his settings sound as if there are more than three musicians present. For the most part, Horn alternates between pizzicato bass lines and arco melodies, Stamm is the principal improvising soloist and Mays covers harmony and rhythm. However, Mays doesn't always stick with those roles: on Chick Corea's "Spain", he plays a magnificent solo that starts unaccompanied, and then adds cello and trumpet in an intricate countermelody. When Stamm takes over, Mays continues to cover the bass parts with highly rhythmic comping, so that Horn is free to play guitar-like counterpoint to Stamm. In addition to "Spain", the album includes three separate suites. "Life's a Movie" is subtitled "4 Cues in Search of a Film" and was inspired by Mays' work in the LA studios. The "Chase" movement is the most interesting, set in 12-tone style with a freely improvised section at the end. It is reminiscent of 1970s action films with Mays playing angular motives in the lowest register of the piano. "Homage to Bill Evans" comprises four of the late pianist's 1960s compositions. Mays starts it out with a lovely solo version of "My Bells" and later, Horn's rich sound enhances "Turn out the Stars". The "Monk Tribute" that closes the disc is not as successful. Stamm, who creates beautifully-crafted middle register solos throughout the album, plays a marvelous improvisation on "Trinkle Tinkle" but Horn's legato playing sounds out of place on "Pannonica" and her interpretations of two Miles Davis solos on "Straight No Chaser" sound wrong without Davis' unique trumpet sound. Nevertheless, "Life's a Movie" is an intriguing album worthy of repeated listening. 
JONATHAN MORITZ TRIO: "SECRET TEMPO" (Hot Cup 126)
In the brief liner notes to his debut album, "Secret Tempo", saxophonist Jonathan Moritz lists the orchestral works of Anton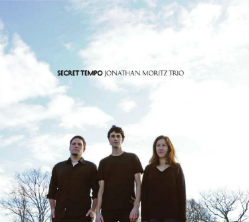 Webern as one of his inspirations. That explains quite a lot about the music within. Like the serial composer, Moritz values space. In the opening of "Melody", there is an extended silence in the early bars of the composition, which makes the listener wonder just when the music will begin again. Moritz' original melodies contain as many odd intervals as Webern's and the interaction between the instruments is the key element of this music. Not all of the music on the CD is atonal, but it is free, and it is highly reminiscent of jazz's avant-garde experiments of the late 1960s. Moritz (playing both soprano and tenor), bassist Shayna Dulberger and drummer Mike Pride act as three equal voices with virtually no time-keeping present until midway through the final track "7779". Moritz gets a yearning sound on his tenor (somewhat similar to mid-period Sonny Rollins) when he's not exploring multiphonics. Dulberger alternates between arco and pizzicato playing, and her rich tone helps to ground the ensemble. Pride is an explosive drummer, accentuating the music with unexpected hits, but elsewhere offering unusual delicacy with brief passages on glockenspiel. Moritz has programmed this music in three separate sets: Tempos ("Medium", "Fast" and "Ballad"), Fundamentals ("Melody", "Harmony" and "Rhythm") and Meter ("7779"), but these divisions are not immediately clear upon first listening. Until the listener has the chance to decipher Moritz' prickly originals, it is quite difficult to determine just what is written and what is improvised. The quality of this music only reveals itself through gradual familiarity. It's not music that will stick in your head, but for those willing to give it a chance, "Secret Tempo" provides many challenges and rewards. 
SCOTT ROBINSON & FRANK KIMBROUGH: "AFAR" (ScienSonic 4)
Multi-instrumentalist Scott Robinson and keyboardist Frank Kimbrough have worked together since 1980, and over the past two decades, they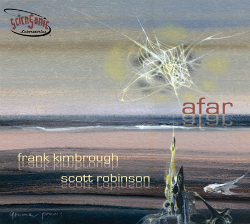 have been members of Maria Schneider's orchestra. Schneider considered them such key members that she included improvised and written parts for them in her orchestral composition "Winter Morning Walks". On their newly-released CD, "Afar", Robinson and Kimbrough create 19 wildly varied improvisations on 14 different instruments. The pieces include a witty 11-second (!) dialogue between sopranino sax and electronic harpsichord called "Iota", a tumultuous tenor and piano exchange on "Vista" (with Kimbrough creating a roaring background in the left hand), a delightful alto clarinet and piano chase called "Hither" and a retro sci-fi piece called "Advance" with Robinson's contrabass sax pitted against the swirling sounds of Kimbrough's Farfisa organ. While this music is certainly adventurous, the virtuosity, diversity and wit of these pieces make them easier to digest. And for every oddity like "Whorl" (with Kimbrough strumming and plucking the strings inside the piano and Robinson playing a rare zither called a tremoloa), there is a contrasting piece like "Solace" where alto sax and Hammond organ create a heart-wrenching mood. Those who know Kimbrough and Robinson from their performances with the Schneider orchestra may be surprised by the free jazz style of this album. Like the Moritz album above, the music bears some resemblance to 20th century classical music, and listeners who appreciate the randomness and unusual sounds of that music will certainly find common ground here. Similarly, anyone who enjoys the free exchange of musical ideas (in its purest sense) will discover a wealth of delights within this album.