Jazz History Online receives several promotional CDs every month, and due to our limited resources, we aren't able to review every notable album in the month of its release. Here are 3 superb recordings released in the last 6 months that were just too good to leave on the shelf.
TOM HARRELL: "COLORS OF A DREAM" (High Note 7254)
In his own unassuming way, Tom Harrell has developed into one of the most compelling bandleaders and composers of this generation. His latest album "Colors of a Dream" premieres a new and exciting ensemble with personnel featuring members of his previous group and new collaborators. Harrell has retained tenor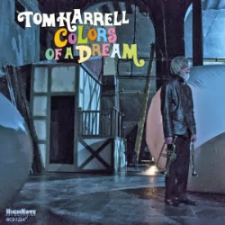 saxophonist Wayne Escoffery, bassist Ugonna Okegwo and drummer Johnathan Blake from his old quintet, and added alto saxophonist Jaleel Shaw and bassist/vocalist Esperanza Spalding. Except on "Velejar" ("Sail Away"), where she sings a set of Portuguese lyrics, Spalding sings without words throughout, adding her breathy sound to the horn line and contributing several fine scat solos. The soloists range from Harrell's concise trumpet style—like Miles Davis, every note is there for a reason—through the more intricate concepts of Shaw and Spalding, to the highly verbose and exploratory improvisations of Escoffery. Harrell takes full advantage of these varied styles by juxtaposing the soloists in various combinations. The expected pairings of the saxophones and bassists turn up, but the more interesting comparisons come when Harrell matches his horn against Spalding's scat or Blake's drums. Blake has played with Harrell for years, and he is especially good at working his lively commentary into Harrell's spare lines without sounding like an intruder (there is a moment in the midst of "Blues 2013" where an after-beat silence turns up unexpectedly; neither man seems thrown by this sudden curveball). In the liner notes, Harrell refers to this project as "eighth-note music" and inspired by R&B. But this is not an album that pulsates rather than swings. In fact, the degrees of swing are another fascinating part of this disc. From the straight quarter notes of the opening "Tango" (which swings due to the subtle placement of the notes just behind the beat) to the overt Mingus-styled propulsion of "Blues 2013" that will lift you out of your chair, "Colors of a Dream" offers a wide variety of sounds that rewards frequent re-listening. Highly recommended!
GEOFF KEEZER: "HEART OF THE PIANO" (Motéma 125)
With surprisingly little fanfare, the small but mighty independent label Motéma has built up an impressive collection of solo piano rec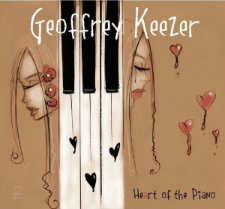 ordings. Several of these albums have been reviewed in these pages, including recitals by Lynne Arriale, Marc Cary and Geri Allen, and the albums have been marked with superb music and outstanding recording quality. Geoff Keezer's "Heart of the Piano" was recorded on a marvelous instrument with strong resonance. Keezer uses this sustaining quality throughout the album, but most notably in the opening two tracks, where he merges Rush's "Limelight" and Robert Burns' "My Love is Like a Red, Red Rose"(!) through a heavily-pedaled arpeggio figure. Keezer's repertoire selections are quite eclectic throughout the album, including pop-rock songs, jazz originals and pieces improvised at the session. Even when the music is not readily familiar, Keezer keeps the listener's attention with kinetic bass lines, dazzling improvisations and imaginative settings. I was particularly taken with the Asian feeling on Alanis Morissette's "Still" and the mix of Brazilian choro and Coltrane on K.T. Tunstall's "Suddenly I See". His bustling counterpoint enlivens his rendition of Donald Brown's "New York" and he brings a delicate combination of light swing and gospel to Christian McBride's "Lullaby for a Ladybug". He saves the best for last, with a moving tribute to his late mentor, James Williams, with a spare reading of Williams' "Take Time for Love". Keezer and his recording engineer Kent Fuqua captured the sound of the piano with a single stereo tube-type microphone, and the recording has a remarkable sense of intimacy. Motéma should inform its listeners of the makes and models of the pianos in these recordings; the detail to the recorded sound makes that information essential.
FRANK POTENZA: "FOR JOE" (Capri 74127)
Although his career coincided with the dominance of rock music, Joe Pass was a guitarist who preferred quiet and intimacy. Pass found his first success in Calif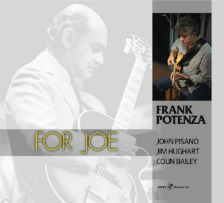 ornia during the early 1960s. As a member of the Pacific Jazz roster, he recorded a series of classic albums including "Catch Me", "Simplicity" and his tribute to his early influence "For Django". Pass died in 1994, leaving few guitarists to follow in his wake, but Frank Potenza, who studied with Pass for twenty years and is now a professor and chair of the studio and jazz guitar department at the Thornton school at USC, has created a tribute to his mentor. Following Pass' example, the new album is called "For Joe" and it features Pass' original Pacific Jazz quartet of John Pisano (guitar), Jim Hughart (bass) and Colin Bailey (drums).  True to the model of the Pacific Jazz recordings, the entire album is understated but swings tightly. There are several repeat appearances from the older records, but there have been a few changes to the arrangements (notably the style change on "For Django" from jazz waltz to samba). Potenza's style is quite close to Pass'—if perhaps a little less virtuosic—and the rest of the group must have enjoyed working with someone who clearly understands and echoes the sound of their late collaborator. Although the focus is clearly on Pass' Pacific Jazz recordings, I'm rather surprised that Potenza did not include an unaccompanied guitar piece on this album. That would have expanded the tribute's scope to include Pass' superb work for Norman Granz' Pablo label, a period that yielded significantly different music, but also gave the guitarist added success in his final years. I wonder if Potenza and Capri are planning a sequel album to salute Pass' "Virtuoso" LPs.