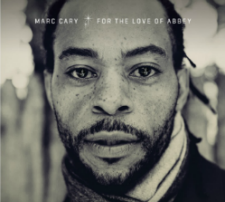 MARC CARY: "FOR THE LOVE OF ABBEY" (Motéma 122)
Before starting his 12-year tenure as her accompanist, Marc Cary had known Abbey Lincoln for several years. Lincoln and Cary's then-employer Arthur Taylor lived in the same New York apartment, and Cary lived only two doors down. Lincoln stopped in at one of Taylor's rehearsals and was duly impressed with Cary's burgeoning talent and promised the pianist a spot in her band. Over the years, the two became very close friends, with Cary learning Lincoln's compositions by hearing her play them on her piano. Although the lyrics were what attracted Cary to Lincoln's songs, his tribute album, "For the Love of Abbey", features these pieces in purely instrumental settings. This is Cary's first solo album, and he is in magnificent form playing on a beautifully maintained instrument. The album collects 11 of Lincoln's best-known compositions, including "Who Used to Dance", "Throw It Away" and "Down Here Below". Cary also includes two brief originals, and Duke Ellington's "Melancholia". Like the lady herself, Cary performs this repertoire with strength and incisiveness, and not a trace of sentimentality. To be sure, his style can be rhapsodic at times, but he keeps his interpretations focused so that the inherent drama comes naturally to each piece. True to his mission, Cary proves that Lincoln's songs are powerful enough to stand on their own without the accompanying lyrics.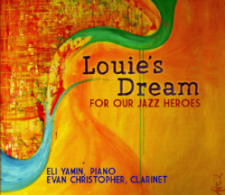 EVAN CHRISTOPHER/ELI YAMIN: "LOUIE'S DREAM" (Yamin Music 37574)
The collective title for these reviews comes from this album, and the duo of New Orleans clarinetist Evan Christopher and New York pianist Eli Yamin have several jazz heroes to salute, including Louis Armstrong, Barney Bigard, Mary Lou Williams, Sidney Bechet, Duke Ellington (and his granddaughter Mercedes), Amiri Baraka, John Coltrane and Mahalia Jackson. But "Louie's Dream" is not a collection of greatest hits by these giants. Instead, Christopher and Yamin have mixed lesser-known works by Armstrong, Ellington and Williams with original compositions to honor the others. The title track has only been recorded once before (by co-composers Armstrong and Marty Napoleon). Yamin and Christopher offer two contrasting interpretations as bookends to the album. When tackling pieces like "The Mooche" or "What's Your Story, Morning Glory", they find new harmonic directions and approaches that amaze the listener with their freshness. While a good portion of the program leans toward traditional jazz, both players are fluent in later styles, as evidenced by Yamin's Monkish "Baraka 75". The original spiritual "Let His Love Take Me Higher" is probably the most successful of the originals in evoking the style of its inspiration (in this case, Jackson) and providing a powerful statement on its own.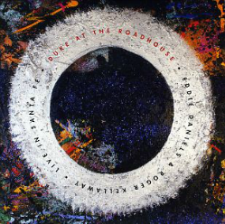 EDDIE DANIELS/ROGER KELLAWAY: "DUKE AT THE ROADHOUSE" (IPO 1024)
Recorded live at the Lensic Theatre in Santa Fe, Eddie Daniels' and Roger Kellaway's "Duke at the Roadhouse" is a delightful foray through the music of Duke Ellington. As on their previous CD, "Live at the Library of Congress", it is abundantly clear that Daniels and Kellaway are inspired by each other. Throughout the album, they take great risks as soloists, and compliment each other's work as accompanists. On several tracks, the duo expands to a trio with cellist James Holland, and while all of the cello parts were written out by Kellaway, they are open enough to allow plenty of interplay with Daniels and Kellaway. The cello adds deep, rich colors to the ensemble, giving "Perdido" a darker cast than usual, adding graceful counterpoint to a samba version of "In a Sentimental Mood" and bringing a luminescence to "In a Mellow Tone". The latter piece also includes a rare appearance by Daniels on tenor sax, and his lean sound on the instrument is a fine contrast to his meaty clarinet tone.  Daniels also plays tenor on the album's best track, "Sophisticated Lady". He plays a magnificent unaccompanied introduction and coda, and in between, Kellaway provides some of his most subtle and tasty accompaniment on record.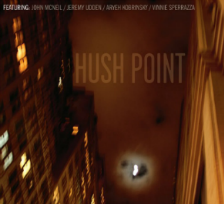 "HUSH POINT" (Sunnyside 1358)
Unlike the recordings above, Hush Point's debut CD was not designed as a tribute album. However, it is clear that trumpeter John McNeil, alto saxophonist Jeremy Udden, bassist Aryeh Kobrinsky and drummer Vinnie Sperrazza are drawing from earlier groups to develop their own unique ensemble sound. One of their models is the Jimmy Giuffre Three, an ensemble which (through a series of lineups), dissected traditional rhythm section roles and modulated from cool jazz to an airy form of free jazz. Hush Point examines the artistic continuum between such seemingly disparate musicians as Gerry Mulligan, Lee Konitz, Giuffre, Bob Brookmeyer, Ornette Coleman and early 60s Sonny Rollins. But Hush Point might be best called a "neo-cool" group, because it also embraces later music and translates it into the language of cool. Indeed, many of the delights of this recording are the places where seemingly incongruous style elements perfectly coexist within the cool context. I truly admire the imagination of a group that includes a loping cowboy song, exuberant free-bop solos, a Coleman-styled ballad and a middle-Eastern tinged version of a cool jazz classic all on the same album. "Hush Point" is an impressive and engaging disc by a quartet that respects and expands on the music of the past.