DENA DE ROSE: "UNITED" (High Note 7279)
At the beginning of her career, Dena DeRose worked solely as a pianist. After a severe bout of carpal tunnel syndrome, she began singing on gigs before a pair of surgeries which allowed her to play piano again. So it should be no surprise that DeRose has strong roots in b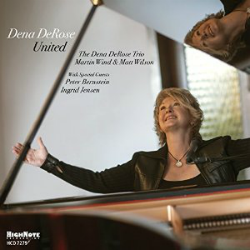 oth instrumental and vocal jazz. "United", DeRose's second CD for High Note, may represent her most successful merger of the two disparate fields. It is not a complete break: for those who prefer DeRose's swinging, crystal-clear vocals, the album offers fine medium-tempo versions of "I'm Glad There is You" and "Sunny", as well as a lovely samba treatment of the Sinatra anthem, "Only the Lonely" (the latter two with Peter Bernstein on guitar). There is also an original ballad by DeRose and her bassist, Martin Wind, "Simple Song of Love", which features glorious arco and pizzicato bass  and a warm, heartfelt vocal. This beautiful song deserves to be heard far and wide, although it will be hard to beat this premiere recording. The rest of the album takes a different tack. The title track is a Wayne Shorter composition originally written for Art Blakey's Jazz Messengers. Here, DeRose adds her original lyrics to this instrumental classic. However, it is the arrangement that draws the listener's attention. It opens with surging rhythm and a fierce trumpet solo by Ingrid Jensen. DeRose delays her vocal entrance until over a minute into the track. After more of Jensen's biting trumpet and a mercurial piano improvisation from DeRose, drummer Matt Wilson offers an explosive solo. Cedar Walton's "Clockwise", also fitted with a DeRose lyric, opens with short, curious piano lines, ponticello sounds from Wind's bass, and Wilson's scraping cymbals before settling into a jazz waltz groove. While the trio plays with restraint under DeRose's vocal choruses, there seems to be a new energy and a fresh spirit of adventure emanating from this long-established group. There are further surprises along these lines later in the album, but part of their effectiveness comes from their unexpected appearances. It will be interesting to hear how DeRose and her trio develop these differing approaches in future recordings.
CAMILA MEZA: "TRACES" (Sunnyside 1439)
Drawing on a wide sphere of musical influences and an abundance of talent, Camila Meza may be one of the most remarkable talents to emerge in recent years. Although her Sunnyside debut, "Traces", is her fourth album overall, it may serve as an introduction for many listeners. Meza is an engaging vocalis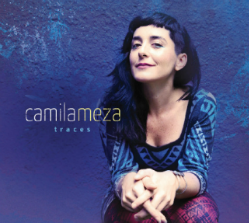 t, singing in both Spanish and English, who offers passionate readings of her original lyrics without any sense of vocal artifice. Her exceptional diction is evident throughout the album, but is especially noteworthy in the complex lyrics of Djavan's "Amazon Farewell" and Stephen Sondheim's "Green Finch and Linnet Bird". She is also a splendid guitarist, simultaneously playing and scatting intricate lines with astonishing precision, and on the title track, playing a superbly constructed solo that soars over the ground beat.  As a composer, Meza embraces the worlds of singer/songwriters and progressive jazz. On the opening track, "Para Volar", a song about her attempt to heal a wounded bird, the arrangement opens with an insistent mixed meter background. The vocal chorus rides that groove for its duration, and then the rest of the group drops out for a brief vocal/guitar interlude. Once the band returns, the groove builds to a joyous peak, sounding like the Pat Metheny Group in full cry. "Away", a duet with Sachal Vasandani, falls into a comfortable folk/rock arrangement with a lovely cello counterline played by Jody Redhage, and another superb solo on Meza's crisply-played acoustic guitar. On "Mar Elástico", the band—which includes Shai Maestro, Matt Penman and Kendrick Scott—swells midway through her vocal chorus, supporting her as she reaches the high point of her original melody. Meza is also very effective when working with minimal background, as shown on her self-accompanied version of "Luchín" and the closing track, "Little Person", a simply-arranged song that will simply break your heart. In recent months, Meza has received a lot of critical buzz in New York. From the evidence of this album, it is well-deserved and only the beginning of greater triumphs.
SOFIA RIBEIRO: "MAR SONORO" (self-released)
Portuguese vocalist Sofia Ribeiro's album "Mar Sonoro" is an engaging mixture of styles ranging from jazz to fado. Accompanied by an international rhythm section—Colombian pianist/arranger Juan Andrés Ospina, Greek bassist Petros Klampanis and Argentinean percussionist  Marcelo Woloski—Ribeiro combines genres with remarkable ease. The opening track, "O Amor Quando Se Revela" ("Love, W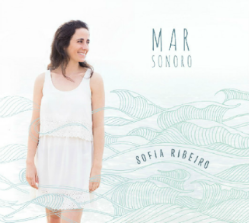 hen It's Unfolding"), sets the stage: Over a gently swaying rhythm background, Ribeiro improvises a soft wordless passage—not really scat—before easing into her setting of Fernando Pessoa's poem. On the second half of the theme, Woloski starts a bossa pattern, but much of the rhythm is implied rather than played. Ribeiro sings with passion, but saves her energy for later.  When Ribeiro starts to improvise again at the end of the chorus, a more insistent double time rhythm kicks in, and that beat continues through a whistled solo by Emily Eagen and Ospina's piano solo. A grandiose feeling takes over as the lyrics reach a peak, but before long, the samba feel returns, followed by a reprise of the double-time, more wordless improvising and another whistled spot by Eagen. That's a lot of styles to pack into a five-minute track, but it is all done with such grace that the listener barely recognizes what has occurred. "Bom Dia" ("Good Morning") is a swift and joyful original that sounds like Brazilian pop music, but includes room for a jazzy Klampanis solo. The mournful title track (to a poem by Sophia de Mello Breyner) adds a small string section, and allows Ribeiro to sing out, both on the words and in her towering improvisation. The genre mixture grows even deeper with "Vai Ficar Tudo Bem" ("Everything Will Be All Right") which includes a Peruvian-style harp (played by Maeve Gilchrist), a chorus in Urdu sung by Arooj Aftab, and backing by the rhythm and strings. Ribeiro shows her jazz chops on the sexy "Última Dança" ("Last Dance") where she sings behind the beat, and sings both a scat solo and an imitation of a trumpet. And like Camila Meza, Ribeiro is quite affecting when singing with minimal accompaniment, as on the passionate fado, "Ó Gente Da Minha Terra" ("People from My Land"), performed as a duet with Ospina. It has been said that the music of the future will be a combination of different styles, rather than a new form of an established genre. If that is the case, the recordings reviewed here may represent the beginnings of a remarkable new age in music.