Discovering new repertoire is an ongoing challenge for jazz musicians, whether they are vocalists or instrumentalists. While there seems to be infinite possibilities within the chord structure of a standard like "All the Things You Are", many musicians are eager to find new avenues for interpretation and improvisation. In their latest albums, vocalists Claudia Acuña, Kellye Gray, Gretchen Parlato and Janis Siegel explore songs that lay outside of the "Summertime"—"Route 66"—"My Funny Valentine"—"There Will Never Be Another You" continuum.
"A Lorca Soundscape" (Sunnyside) is bassist Alexis Cuadrado's suite of eight poems from Federico García Lorca's book "Poeta en Nueva York". Although the album is issued under Cuadrado's name, Claudia Acuña plays an important role interpreting Lorca's words, and she could easily support this album by pe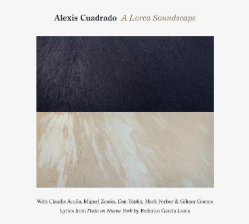 rforming movements from the suite in her own live performances. Lorca wrote the poems in 1929, while on an extended visit to New York City. The Wall Street crash happened shortly after his arrival, and his verse reflects the anguish and solitude of those uncertain days. Cuadrado considers his suite as a form of jazz protest, reflecting current events such as the world economic crisis and Occupy Wall Street. While the suite has several moments of chilling intensity, it is quite emotionally balanced as a whole. Cuadrado's settings display an exemplary marriage of words and music. For example, "La Aurora" ("Dawn") neatly splits into two parts: the opening three stanzas describes the dawn in cynical and graphic terms: hurricanes of black pigeons splashing in the putrid waters. The final two stanzas describe how the new day affects the people of New York—basically as a day when no new opportunities for work or love will appear. Acuña's vocal follows the poetic structure, portending the gloom of the new day in the opening three verses, then after a swaying wordless interlude and Miguel Zenón's explosive alto sax solo, Acuña returns, reflecting both the deep sorrow and anger resulting from another day's disappointments. Zenón was an inspired front line partner for Acuña, and throughout the album, they match each other's passion in their understanding and delivery of the riveting lyrics. The rhythm section of Dan Tepler (piano), Cuadrado (bass and percussion), Mark Ferber (drums) and Gilbert Gomes (percussion) maintains fiery and diverse support, and both Tepler and Cuadrado create superb solos within the suite.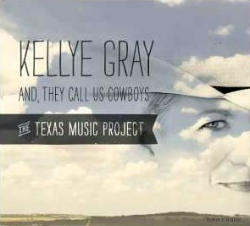 Texas-born vocalist Kellye Gray's new CD, "And They Call Us Cowboys" (Grr8) is a tribute to the Lone Star State's musical heritage. While there have plenty of jazz musicians from Texas, the music on this set draws entirely from the country, pop and rock repertoire of the last four decades. Yet, Gray and a talented group of Austin musicians (including saxophonist John Mills, pianists Pamela York and Kevin Lovejoy, organist Red Young, guitarist Jake Langley, bassist Chris Maresh, drummer Kyle Thompson and percussionist Chris Lovejoy) have transformed this music into jazz. Gray's relaxed rhythmic sense and sensuous delivery make Kris Kristofferson's "Help Me Make It through the Night" and Townes Van Zandt's "If I Needed You" sound like classic jazz ballads, Roy Orbison's "Only the Lonely" becomes a steadily building blues anthem, and Roger Miller's "Dang Me" is nearly unrecognizable as a soulful blues with Hammond B3. Gray's voice is rich in her bottom and middle registers, but gets strained and raw near the top. Time and again, she uses that emotive high register as an expressive device. On Mac Davis' "In the Ghetto", she segues from a mother's wail into an emotional scat solo, and she drives home the lyrics on a remarkable version of Christopher Cross' "Sailing" (accompanied only by Maresh's ostinato electric bass). At 42 minutes, the album seems a little short, and not all of the settings work equally well, but Gray amply demonstrates the flexibility of this music. 
Since her professional debut ten years ago, Gretchen Parlato has filled her band book with contemporary soul, r&b, pop and Brazilian songs. While all of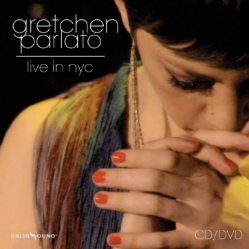 the tunes on her new CD/DVD "Live in NYC" (ObliqSound) have appeared on her studio albums "In a Dream" and "The Lost and Found", the live versions reveal the stunning transformations these songs have made through live tours. The album features Parlato's longtime pianist Taylor Eigsti with two different bass/drum teams, Alan Hampton & Mark Guiliana, and Burniss Earl Travis II & Kendrick Scott. Guiliana's broken time feel gives "Butterfly", "Within Me" and "Holding Back the Years" completely different atmospheres than their studio versions, while Scott's lazy 6/8 groove throughout much of "All That I Can Say" enhances the overall interpretation (The same can be said about Scott's unique push-pull feel throughout "On the Other Side"). Some of the other changes are quite subtle, like Parlato's newly asymmetrical phrasing on "Weak" and the audience-as-ethereal-choir on "Better Than". But the biggest changes come on a song that seems continually in flux: Wayne Shorter's "Juju". Hampton's free-form bass introduction has morphed into an atmospheric rhythm vamp. Guiliana's drums bring a new urgency to the groove, and Parlato's improvisation flirts with Indian scales while delaying the buildup to the solo's climax. Eigsti is more active behind Parlato than in earlier versions and he takes a solo of his own after Parlato finishes. Hampton's interaction seems more active here as well, and he is much more prominent when Parlato comes back for the final melody statement. The ending of the arrangement has also been extended with a repeating vamp and Parlato's chanting of the last line, followed by a gradual dissipation of the sound. Now that Parlato has given us a before-and-after picture of this quartet repertoire, hopefully she and Eigsti will record some of their duet performances for a future album.
Through her long career with Manhattan Transfer, Janis Siegel has produced several fine solo albums. Her latest, "Nightsongs"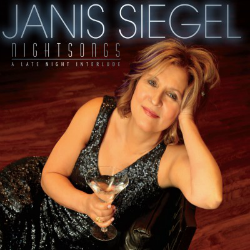 (Palmetto) is subtitled "A Late Night Interlude", and it mixes standards with songs by Jorge Drexler, Ann Hampton Callaway, Brenda Russell, Randy Newman, Bob Belden and Janelle Monae. Siegel originally intended to record a series of duets with pianist John DiMartino, but as the music developed, she decided to invite several talented friends, including Peter Eldridge, Roger Treece, Joel Frahm, Steve Khan, Christian McBride, Martin Wind, Joel Rosenblatt and Luisito Quintero. Although Siegel has produced albums by other singers, this was her first time producing her own album. She was wise enough to let the music evolve in the studio, even when it meant disregarding the written arrangements. The relaxed atmosphere certainly brought out the best in the musicians. And while the personnel changes from track to track, there's an admirable consistency of tone and style which only adds to the late night mood. Siegel keeps everything unified with her sultry voice, and her obvious love for the various musical genres. She includes a few scat interludes here and there, but her main focus is on the lyrics, and she proves anew her unparalleled ability to communicate a story. This is most evident on tracks like "You're Mine, You" and "A Flower Is a Lovesome Thing" where the settings are considerably different than the norm. On the other hand, she turns in a nearly definitive version of the devilishly hard "Midnight Sun" with just a standard jazz quartet backing. This is certainly one of Siegel's best albums, and like the other discs in this survey, it features expressive singing and a fresh approach to repertoire.