GERI ALLE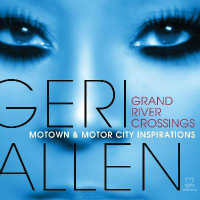 N: "GRAND RIVER CROSSINGS" (Motéma 128)
In "Grand River Crossings", the final volume of a (primarily) solo piano trilogy, Geri Allen explores the music of her hometown, Detroit. Subtitled "Motown and Motor City Inspirations", the album is a musical panorama, weaving short musical cameos alongside longer performances. The title tracks—two short improvisations lasting about a minute each—denotes what Allen calls her first rite of passage: her childhood crossing of a major Detroit thoroughfare. Three duets with trumpeter Marcus Belgrave salute the compositional gifts of fellow Motor City alums Gerald Wilson, Roy Brooks and Belgrave himself. The trumpeter was in his mid-70s when he recorded these tracks, and while his tone is a little airy, his ideas and execution are surprising and daring. Alto saxophonist David McMurray is also featured in a duet on "Itching in my Heart", but the two-minute long track barely gives him a chance to make an impression. The majority of the solo tracks are from the Motown songbook, but they are far from mere covers: Allen re-imagines each song with dense harmonies and mercurial improvisations, and the listener might not recognize some of the familiar melodies at first hearing. I was particularly impressed by Allen's beautifully-paced version of Marvin Gaye's "Save the Children" and by her stunning re-harmonization of the Beatles' "Let it Be", which, as Allen notes, was inspired by Aretha Franklin's cover version. Detroit has been in the news lately for all the wrong reasons, but this fine album by Geri Allen showcases the music that has made it a great American city.
FRED HERSCH & JULIAN LAGE: "FREE FLYING" (Palmetto 2168)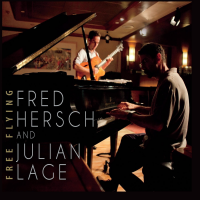 Of the nine compositions on the new Fred Hersch/Julian Lage CD, "Free Flying", seven are by Hersch and five of those are dedicated to his collaborators and inspirations  Bill Frisell, Art Lande, Egberto Gismonti, Jim Hall and Mary Jo Salter. Since Hersch has recorded most of these pieces before—only the Hall piece is new to this recording—one might expect a rather somber, reflective set of interpretations. Instead, this recording (captured live at the New York club Kitano) is one of the most energetic albums I've heard in several years. Lage might be less than half the age of Hersch, but he has listened and learned well, absorbing the music of the masters and finding his own unique path. The sheer musical range of this album attests to both men's knowledge and experience: at times, the duet sounds like a edgy version of the classic Bill Evans/Jim Hall encounters, while the highly rhythmic title track borrows some of the characteristics of 20th century classical music. There are spots where Lage's delicate guitar is almost enveloped by Hersch's rhapsodic piano but careful listening reveals that Lage is right in the midst of things with well-played ideas that complement (and occasionally compete with) the piano lines. Hersch, of course, has made several duet recordings—including "Songs We Know" with Frisell, which Lage studied as a student—and he is a master of the form. He effortlessly mixes prickly rhythmic motives with an unparalleled harmonic sense, and like Fred Astaire, he always lets his partner shine. The lively interplay between Hersch and Lage offers many delights, and this album should garner many new fans for both musicians.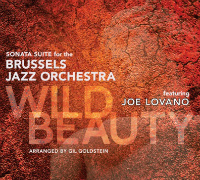 JOE LOVANO & THE BRUSSELS JAZZ ORCHESTRA: "WILD BEAUTY" (Half Note 4556)
"Sonata Suite" is a collection of Joe Lovano small group compositions arranged for Lovano and the Brussels Jazz Orchestra by Gil Goldstein. Lovano's originals are highly autobiographical, inspired by his musical heroes Miles Davis, Ornette Coleman, John Coltrane and Enrico Caruso, and the entire suite is dedicated to Lovano's late mother. Lovano is the main soloist, and he is in prime form. There are few artists who combine passion and rhythmic intricacy as well as Lovano, and it's clear that he inspired the BJO to play well above their already high standard. Goldstein's charts are quite imaginative, using the standard big band instrumentation of the BJO in unexpected combinations. He seems especially fond of dense textures, featuring Lovano's tenor sax over thickly scored ensemble passages, and engaging him in group improvisations with several of the BJO's soloists. Goldstein brilliantly captures the chaotic sounds of "Streets of Naples" with two groups of musicians playing melodic lines in slightly different tempos, and then letting four of the BJO soloists improvise at the same time! On "Big Ben" (dedicated to another of Lovano's heroes, Ben Webster), Lovano solos on the aulochrome, an instrument that is basically two soprano saxes strapped together and pitched slightly out of tune with each other. Anyone who has ever played the soprano sax knows that the horn is notoriously hard to keep in tune, so it was all the more audacious to include a four-way soprano chase in the middle of the same track. Not only did Kurt van Herck, Bart Defoort, Dieter Limbourg and BJO leader Frank Vaganée keep their intonation in check, they also created one of the more exciting portions of this very fine album. Lovano and the BJO have had a long, productive relationship; let's hope that another collaboration will come soon.