Most dictionaries associate the word "creative" with originality. It is a fairly common connection, but the general definition does not allow for instances where artists develop similar concepts independently of one another. For example, Sonny Stitt's alto saxophone style was endlessly compared to Charlie Parker's, but Stitt always maintained that he had created his own style long before he heard Bird. To cite a personal example, jazz vocalist Anita Wardell and I developed similar approaches to scat singing at roughly the same time, even though we did not know each other and were living on opposite sides of the planet. Still, there must be something cosmic in the air when three jazz vocalists release similar-themed concept albums within a week of each other. The albums by Elizabeth Shepherd, Diana Krall and Kurt Elling are all focused on the dramatic recasting of standards. While the approaches of these artists are considerably different, the arrangements on these CDs go beyond simple changes of tempo and atmosphere, and make the listener experience these songs in a vastly different light.
"Rewind" is Elizabeth Shepherd's fourth album as a leader, and her first comprised of all standards. Shepherd started this project shortly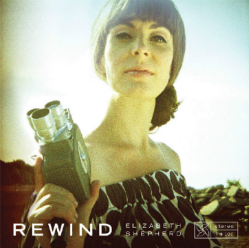 after discovering she was pregnant. She intended the album to counter-balance the physical changes happening in her body, but she discovered that creating the album caused a shift in her musical approach. Her voice is similar to Gretchen Parlato's, in that its basically soft texture conceals a wealth of original ideas. While pregnancy can bring fatigue and make breathing difficult (not having direct experience in this area, I consulted several female friends who shared their experiences) Shepherd's voice is exceptional in pitch, tone and diction. Shepherd wrote all of the arrangements, including a version of Anthony Newley's "Feeling Good" that alternates between a 7/4 funk and straight 4/4 swing. Shepherd doesn't treat this song as an anthem to optimism; instead, her vocal sounds as if she's embracing the idea as the song progresses (listen as she almost sighs after the first word,  Birds…in the sky and compare it to the more straight-forward reading in the final chorus). Shepherd and guitarist Reg Schwager turn "Poinciana" into a very effective samba, and she slows down Cannonball Adderley's "Sack of Woe" with a deep, penetrating groove and a sexy vocal line. The album's stunner is "The Buzzard Song" which, despite considerable overdubbing, is a duet between Shepherd and bassist Ross MacIntyre. The bassist creates a great background of arco lines and rumbling ostinatos, and Shepherd augments her stark, emotional vocal with overdubbed vocals and percussion effects on "tuned mixing bowls and muted pestle" (I dare you to find another album with those "instruments" listed in the personnel!). Not all of the arrangements work—I was less impressed with the up-tempo version of "Midnight Sun" and the beatboxed setting of "Born To Be Blue", and Shepherd's emotional vocal on "Lonely House" didn't need "ghostly" electronic enhancement to achieve its dramatic effect—but Shepherd has a vivid musical imagination, and she should continue to explore the standard repertoire for her future albums.
Most of the songs on Diana Krall's "Glad Rag Doll" were written and recorded in the early years of the 20th century. Krall first learned these songs as a teenager when she listened through her parents' collection of 78s, and most of them have been neglected for years.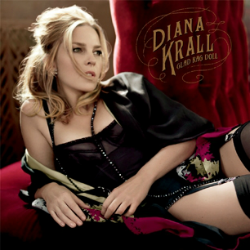 The opening track, "We Just Couldn't Say Goodbye" was a Depression-era standard closely associated with the Boswell Sisters, and "Just like a Butterfly" was one of Art Tatum's favorite vehicles. Krall is in fine form throughout, highlighted by a romping vocal on "I'm A Little Mixed-Up" and a gentle turn on "Prairie Lullabye". Krall's husband Elvis Costello also appears (under the nom du disque, Howard Coward), playing ukulele behind Krall on "You Know, I Know, Ev'rything's Made For Love" and providing an obnoxious carnival barker speech on "When the Curtain Comes Down". Krall also contributes several sparkling piano solos, all played on a 1890s Steinway upright. Krall and producer T-Bone Burnett assembled an ensemble with 5 acoustic and electric guitarists, keyboard, bass and drums, and used them complete and in smaller combinations for the recordings. The group (including guitarists Marc Ribot, Burnett, Bryan Sutton, Costello and Colin Linden, keyboardist Keefus Green, bassist Dennis Crouch and drummer Jay Bellerose) has a great ensemble feel and encyclopedic knowledge of many styles, including rock, country, blues and swing. The arrangements have enough contemporary elements to lift them above simple nostalgia, but there is a definite "down-home" feel to this album in its simple presentation of the music. Some of the elements come off as empty effects (such as the shotgun effect on "There Ain't No Sweet Man" and the strange instrument that clouds the lower register sound on several tracks), but when the band offers its sassy dirge on "Here Lies Love" or its rock ballad transformation of Gene Austin's "Let It Rain", there is little doubt of the recording's recent vintage. Despite a promising beginning with the Django-inspired swing of "We Just Couldn't Say Goodbye", the album gets a little monotonous towards the end with too many pedestrian country waltzes and not enough tonal variety. However, Krall's music tends to develop on the road, and it's very possible that live performances of this material could yield more engaging music that what appears on the album. (A deluxe edition of the album is also available, which includes four bonus tracks sung as piano/vocal solos by Krall. These tracks were not available for review.)
Kurt Elling was a long-time resident of Chicago, but he and his family have lived in New York City for the past four years. He wanted to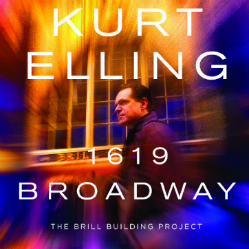 record a tribute to the music of Manhattan without treading through the usual path of a standard songwriter tribute. Instead, his new album pays homage to a famous edifice. "1619 Broadway: The Brill Building Project" collects a wide range of classic pop standards written by composers who worked in this legendary office complex, or at its companion building at 1650 Broadway. Most of the songs come from the rock era, with two tunes each from Carole King and the team of Jerry Leiber and Mike Stoller, but there are also songs by Sammy Cahn, Duke Ellington and Harry Warren. Yet the arrangements (mostly by Elling and pianist Laurence Hobgood) blur the stylistic divisions. Elling is a master of rhythm, and the album opens with two astounding examples: the spoken montage that opens "On Broadway" features a rich mosaic of spoken voices whose natural speech rhythms create an undeniable groove, and "Come Fly with Me", an old Sinatra swinger so thoroughly transformed that its 3/4 meter is hidden until halfway through the performance. Elling the eternal hipster emerges in a very funny cover version of the Coasters' "Shoppin' for Clothes" with Christian McBride as a store salesman, and in a wacky psychedelic remake of the Monkees' "Pleasant Valley Sunday". Elling's expressive voice serves him well on the melodically revised Sam Cooke anthem "You Send Me", the understated version of "I Only Have Eyes for You" and on Paul Simon's simple but profound "American Tune". Fans of Elling's extended vocaleses will love the closing version of Ellington's "Tutti For Cootie" and he grooves with abandon on "I'm Satisfied" (aided by Hobgood's funky organ and Ernie Watts' soulful tenor). Elling's band has gone through a few transitions in recent years, but the present edition is a keeper with drummer Kendrick Scott providing subtle beats and beautiful shading, bassist Clark Sommers mixing standard bass lines with fine counterpoint, and guitarist John McLean revving up the energy with his imaginative solos.
Bill Evans once noted that the problem with the question "What is jazz" was that it was the wrong question, emphasizing that jazz is a how, not a what. In other words, creating jazz is a method of transforming existing material into a new music. The albums by Elizabeth Shepherd, Diana Krall and Kurt Elling show that the songs of the past century is still a fertile ground for exploration, and that jazz can continue to prosper as long as musicians continue to find new ways to interpret the past. Your opinion of the final result may vary, but the journey is always fascinating.