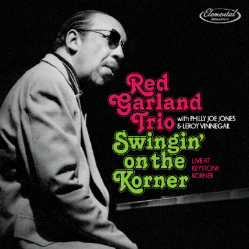 In a photograph taken at Miles Davis' 1958 "Milestones" sessions, Red Garland is seated at the piano, with Davis crouched directly behind him. Davis' arms surround Garland while the trumpeter demonstrates a voicing on the keyboard. Since it would be unlikely that Davis would suggest an alternate bebop chord, he was probably showing Garland a modal voicing. In the frontal version of the photo, Garland looks very uncomfortable, probably because the modal sound was so foreign to his bop vocabulary. At some point, frustrated with Davis' coaching, Garland simply walked out of the recording session. While that action effectively ended his tenure with Davis, the trumpeter was actually quite generous to Garland: the album included a lengthy track featuring Garland and the rhythm section alone, and the band version of "Straight, No Chaser which closed the album, included Garland's stunning re-harmonization of Davis' 1945 solo from Charlie Parker's recording of "Now's the Time". The album liner also neglected to note that Davis doubled on piano for "Sid's Ahead", since Garland had left the building.
Garland had little reason for concern. He was in the midst of a contract with Prestige Records, which produced such memorable albums as "Red Garland's Piano", "A Garland of Red", "It's A Blue World" and several collaborations with John Coltrane. Further, there were plenty of musicians who hired Garland for his sparkling high-register voicings and his rhythmic acuity. In 1962, Garland abruptly left New York to care for his sick mother in Dallas. He remained off the national scene for over a decade. It was said that Garland found less opportunities to play his type of music. That may have been the case in 1965 after his mother's death, but it was not indicative of the still-healthy jazz scene three years earlier. There might have been an elephant in the room: Garland had a history of substance abuse with both heroin and alcohol; if he hadn't kicked those habits by 1962, perhaps he reasoned that a change of scenery might help him get straight for good.
In the early 1970s, Todd Barkan invited Garland to perform at his San Francisco nightclub, the Keystone Korner. The pianist made several return trips over the next few years, and a new double CD set from Elemental, "Swingin' on the Korner", collects sound board mixes from a week-long engagement in December 1977. Garland is reunited with his former Davis bandmate Philly Joe Jones, and the trio is completed by Leroy Vinnegar. While in the Bay Area, Garland also recorded two studio albums for Galaxy: "Crossings", a trio album with Ron Carter replacing Vinnegar, with Jones on drums; and "Red Alert", a band date with Harold Land, Ira Sullivan, Nat Adderley, Carter and Frank Butler. Three of the tunes recorded at Keystone Korner were also included on the studio albums, including the opener of the Keystone set, "Love for Sale". Garland plays brilliant solos on both the live and studio versions, but at the club, he seems hampered by Vinnegar who has trouble keeping up with the fast tempo. Garland interrupts his solo lines with a recurring ensemble figure which seems designed to align the tempo. Oddly enough, the studio version slows the tempo down for the bass solo, but it appears that Vinnegar needed the relaxed tempo more than Carter! Jones is top form with powerful solos and highly resourceful use of the various sounds available from his drum kit.
Things improve considerably with the medium-tempo "I Wish I Knew". Jones lays down an irresistible groove with his brushes, and Vinnegar's fat bass lines lay right in the pocket. Garland's solo shows that his piano skills had fully recouped from his extended layoff, and he tops off his sparkling improvisation with an arresting repeated triplet figure. "It's Impossible" was, in its day, a hit record by Perry Como. Another of the tunes recorded by Garland both live and in the studio, the live version is clearly the superior rendition, with Garland's masterly command of dynamics following the overall contour of the melody. "Billy Boy", which was the trio feature on "Milestones", receives a spirited recreation at Keystone, with the trio digging into the quick-paced groove with gusto. Vinnegar's bass is quite prominent in the sound mix, but it's worth extra-close listening to hear the tight musical communication between Garland and Jones. After another explosive Jones feature on "Dear Old Stockholm", Vinnegar finally gets the spotlight with a lovely unaccompanied solo in the middle of the tender "If I'm Lucky". Garland starts a great solo on "Blues in Bebop", but the rhythm gets unhinged a few choruses in and Garland has to resort to the ensemble passages again to bring everyone together. The first disc's closer "On Green Dolphin Street" is a real treat, with Garland engaging both Vinnegar and Jones in impromptu duets on the opening and closing melody statements.
The second disc includes a spirited "Straight No Chaser" (sans the Davis homage), a splendidly modulated performance of "On a Clear Day" (with a remarkable impressionistic introduction), a dash of holiday cheer with "The Christmas Song", and a version of "The Best Things in Life are Free" which rushes incessantly, despite Garland's diligent efforts to hold the tempo. The live version of "Never Let Me Go" opens with a delicate solo piano chorus, but the remainder of the performance has several abrupt dynamic outbursts that disrupt the mood, rather than sustaining it. When Garland recorded the same song with Carter and Jones in the studio, the sudden fortissimo passages made more sense in relationship to the song. Although "Autumn Leaves" swings mightily, Jones' solo seems quite martial to my ears (in the liner booklet, Kenny Washington speaks of Jones' use of traditional drum patterns, and I feel certain that he was referring to this particular solo). The set closes with energetic versions of "Bags' Groove" and "It's All Right with Me".
Although Elemental is a separate company, this set looks and feels like a package from Resonance Records. (Producer Zev Feldman works for both companies, and he used the same designer on this set as he had on his albums for Resonance). Thankfully, Elemental retained all of the qualities of Resonance's productions: expertly-restored sound, well-preserved photos from the actual gig, and a bounty of thoroughly researched liner notes. The Garland album includes a 44-page booklet with contributions by Feldman, Barkan, Washington, Nat Hentoff, Benny Green, Don Schlitten, Ira Gitler and Doug Ramsey (the latter represented by his superb 1979 article for "Texas Monthly", "Seeing Red"). The "second chapter" of Garland's career was truncated by the pianist's fatal heart attack in 1984, but this fine collection of live performances show that Garland was still a vital jazz force despite years of inactivity.
Thanks to Nick Phillips of Concord Music for providing me with streams of "Crossings" and "Red Alert".