In the lyrics to Dave Frishberg's and Bob Dorough's satirical "I'm Hip", the narrator confidently lists a number of traits which displays that he is not as hip as he thinks. He watches "arty French flicks with his shades on", reads People magazine, "pops his thumbs" while "diggin' the drums" and requests another performance of "Mack the Knife". On Frishberg's 1981 recording of the song, he adds a cute joke near the end: "Better show this to Quincy". I imagine that even the non-jazzers got the reference, as Quincy Jones has long been considered the pinnacle of hipness. Much of that reputation comes from Jones' jazz recordings of the 1950s and early 1960s. Even when working with a big band, Jones' arrangements emphasized the individual line over block chords. His melodies had a relaxed, effortless quality which appealed to both laymen and musicians. Jones' charts allowed the musicians to be cool and hip, rather than striving for the effect like the inept subject of the Frishberg/Dorough song.
When Jones turned 18 in 1951, he joined the trumpet section of the Lionel Hampton band (he had wanted to join the band earlier, but Hampton was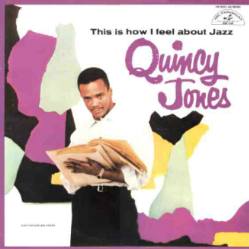 unwilling to take a minor on the road). As a teenager, Jones was already networking with musicians like Ray Charles, Clark Terry and Harry Edison, but his presence in Hampton's band exposed him to many more musicians. In 1953, he toured Europe with Hampton, whose group then included a stunning group of future jazz stars, including Clifford Brown, Art Farmer, Jimmy Cleveland, Gigi Gryce and Alan Dawson. While in Europe, Jones arranged and produced several recording sessions featuring his bandmates and talented local musicians. The Hampton band broke up when it returned to New York, and Jones worked as a free-lance arranger, building up an impressive collection of musical colleagues in the process. He also became the musical director for Dizzy Gillespie's big band for their State Department tour in of 1956.
Jones had led a few isolated sessions in New York, but his first opportunity to record a full album was in 1956, when he created "This Is How I Feel About Jazz" for the burgeoning ABC-Paramount label. The 23-year-old Jones assembled a band of true all-stars: Art Farmer, Clark Terry, Joe Wilder, Jimmy Cleveland, Urbie Green, Phil Woods, Jerome Richardson, Herbie Mann, Zoot Sims, Lucky Thompson, Milt Jackson (listed as "Soul Brother" for contractual reasons), Charles Mingus, Paul Chambers, Billy Taylor, Hank Jones, and many others. Most of these musicians were older than Jones, and many knew about him from working with him in bands or on sessions. While there were many studio musicians who would play any date if the price was right, there was a sense of dedication to this project, especially with Sims, who made a special trip to New York from Washington DC just to play on one track from this album.
The album included six tracks from three separate sessions. The first two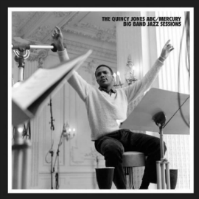 sessions featured small bands of nine and ten members, while the final session was for a more traditional 15-piece big band. The original LP led each side with one big band track. The Mosaic box set of Jones' ABC and Mercury sessions retains the original track sequence, but the GRP Impulse CD puts both big band tracks first, followed by all of the small group sides. My introduction to this album was through a 1970s Impulse double LP reissue (which also included Jones' superb 1961 big band album "The Quintessence"). That set retained the chronological order of the sessions, and remains my favorite way to sequence the album. As a result, the discussions of the tracks follow that running order.
Nat Adderley's soulful "Sermonette" makes a great opening track, as it introduces several of the album's chief qualities. There is the delightful, tongue-in-cheek, two-beat groove set up with Mingus' bass and the band's backbeat handclaps, Farmer's incisive theme statement and solo (played in a Harmon mute at Jones' insistence to emphasize  the trumpeter's striking improvised lines), the warm enveloping sound of Lucky Thompson's tenor, and Jackson's perfectly placed vibraphone solo lines. Woods' solo caps the entire performance with his unique mixture of Charlie Parker and Cannonball Adderley. As a group, the band only plays a brief interlude to usher in Woods, but the lean melodic line and the distinctive scoring of the instruments were traits that made Jones' charts instantly identifiable.  The atmospheric "Evening In Paris" features instrumental combinations that would be endlessly borrowed by "easy listening" arrangers for the next two decades, but Sims' emotional reading of the melody overcomes the now-clichéd setting.
Billy Taylor's funky introduction and Basie-esque responses to the band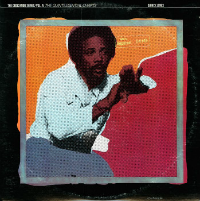 enliven the opening chorus of "Boo's Bloos". Woods plays another emotionally-charged solo here, and while Mann's wimpy flute solo seems a letdown, it is mercifully short and followed by splendid solos by Farmer and Thompson. Mingus and Cleveland have an animated conversation before the bassist takes over for his own solo (This album is a great introduction to Mingus as a virtuoso bassist. Until Scott LaFaro's arrival on the scene a few years later, no one but Mingus could be such a dominant presence.) Jones' charts for this session are a little more intricate than on the previous session. "Boo's Bloos" is the only small group track where the ensemble plays the entire melody, and his setting of Harold Arlen's "A Sleepin' Bee" starts with flute and bass, then gradually blossoms into a superbly played ensemble chorus. Woods' solo on "Sleepin' Bee" is one of his finest on record, and in the liner notes, Jones comments that Woods' solos "contain form enough to become compositions". After a bass and flute passage with each player alternating one bar written with one bar improvised, the band plays Jones' exquisitely crafted variation on the melody, which maintains enough of Arlen's melody to qualify as a recapitulation, but enough of Jones' contributions to display his unique musical voice.
Like "A Sleepin' Bee", "Walkin'" was first recorded in 1954, and both pieces were well-established in the jazz repertoire by 1956. The big band's performance of "Walkin'" just grows and grows from its own momentum, and that owes a lot to Jones, who expertly plots the arrangement. The solos from Chambers' bass, Farmer's trumpet and Thompson's tenor, followed by exchanges by the trombones (an idea Jones also used on a rare 1955 Columbia recording called "Grasshopper") and another brilliant solo by Woods are matched with background riffs designed to sound as if they were improvised. The power of Woods' searing improvisation leads the band into a forceful variation of the melody. Then to ease the tension, Hank Jones plays an elegant, understated piano solo followed by a restatement of the theme and a gradual fade-out.
Jones' big band version of "Stockholm Sweetnin'" was designed as a tribute to Clifford Brown. Had the 25-year-old trumpeter not died in an automobile accident earlier in 1956, he would have been a likely participant on "This Is How I Feel About Jazz". As it is, Brown's warm spirit seemed to permeate all of the music recorded for the album. The closing choruses of "Stockholm" seals the deal with an imaginatively-scored setting of Brown's improvised solo from the original 1953 recording. Unlike most arrangers who simply scored famous solos for unison big band sections, Jones treats Brown's solo like an elaborate composition, moving the solo line from one group of instruments to another, and using the entire ensemble for one particularly emphatic phrase (a portion of Jones' score is reproduced in Leonard Feather's "Encyclopedia of Jazz").
One of this album's most enduring legacies comes from a rather unusual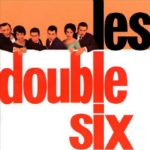 source. In the late Fifties, Jones was living in Paris, where worked at Barclay Records and studied with the legendary composition teacher Nadia Boulanger. He met vocalist Mimi Perrin, who was fronting a sextet called the Blue Stars.  With Jones' encouragement, Perrin formed a new vocal group called Les Double Six, which recreated big band charts by double-tracking parts. Jones offered up some of his own scores for the group to sing (including four of the six pieces from "This Is How I Feel About Jazz"). Perrin set vocalese lyrics to all of the pieces (in French!) and Jones coached the group for its initial recordings. What makes the Double Six versions special is their close alliance to the original recordings. In both the lyrics and the vocal recreations of the solos, the Double Six uncannily matches not only the notes, but the phrasing and contours of the instrumental versions. It is a unique tribute to Quincy Jones and to his remarkable collection of master musicians.