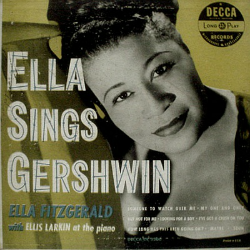 In the late 1940s, record companies had two divisions: classical, which included symphonies, chamber works, operas and art songs; and pop, which included everything else. There really wasn't a "jazz singer" category in those days because jazz had been a major part of pop music since the mid-1930s, and most of the major singers of the time had either sang in big bands, or had been influenced by them. So, even the jazziest of singers were working in the pop division, churning out versions of current songs for 78rpm singles. And while some of these singers were the most popular performers of their day, they weren't held in high regard by the record companies. When Columbia introduced the LP in 1948, a few pop musicians showed interest in creating albums, but most were rebuffed with answers like "LPs are for the classical department; you just stick to singles." Eventually, these artists received permission to create their own albums, and they were sure to include some of their finest work for the new format.
Ella Fitzgerald's 1950 10-inch LP "Ella Sings Gershwin" was her first album project, and the album represents the focused quality of many early pop LPs. Up to this point, Fitzgerald had sung with big bands, studio orchestras, jazz combos and various other singers from the Decca roster. On "Ella Sings Gershwin", her sole accompanist was the elegant pianist Ellis Larkins. The pairing of voice and piano, the focus on Gershwin songs alone, and the intimate quality of the music made the album sound like a jazz version of an art song recital. There seemed to be an unspoken message that Gershwin's songs and jazz were as worthy of respect as Schubert and his lieder. To be sure, this was jazz, even without Fitzgerald's trademark scat singing. Fitzgerald improvises melodic variations on all of the eight selections (notably on "My One and Only", "But Not For Me," "Soon" and "Looking For A Boy"), and her rhythmic flexibility is prominent throughout. Her voice still has the chestiness of her early years, but that does not impair her ability to communicate a lyric directly to the listener. Larkins takes solos on several of the tracks, but his primary role is as accompanist, and it is fascinating to hear his interplay with Fitzgerald, delicately leading the way at times and following her in other spots. He was a master of the sustain pedal and he created a smooth legato sound without blurring the clarity of his right hand lines. Larkins' graceful piano style was perfect for the recital style of this album.
When the pair reunited in 1954 for the 12-inch LP "Songs in a Mellow Mood", there was less for either artist to prove, and more reason to enjoy performing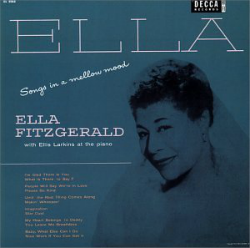 together. This time, the music included classic pop songs and show tunes, and the treatments, while still austere, covered a wider range of tempos than the Gershwin album. Fitzgerald's voice seems a little darker on this set, especially compared to the supreme vocal clarity she developed a few years later, but regardless of her vocal quality, her style is quite light and playful. Her medium-up version of "People Will Say We're In Love" is one of the liveliest tracks on the album, with Fitzgerald making surprising breaks in the line and creating stunning melodic inventions. Larkins moves the tune along by gently pushing the beat with syncopated block chords; but when Fitzgerald makes her last passage through the bridge, Larkins answers the lyric Don't dance all night with me/till the stars fade from above with a lovely countermelody. Fitzgerald could revitalize an old standard like few others, as proven by her splendid version of the much-maligned "Until the Real Thing Comes Along". The track opens with an extended hummed passage, includes an earnest reading of the lyric, and concludes with an extraordinary variation on the melody.
The duo recorded one more time on Fitzgerald's 1973 concert at the Newport Jazz Festival in New York. They performed two Gershwin songs from the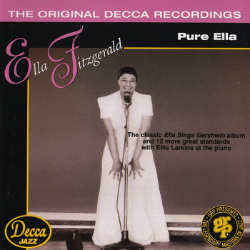 Decca LPs ("Nice Work If You Can Get It" and "I've Got A Crush On You") and a swing classic ("You Turned The Tables On Me"). Despite the years since their last recordings, their special chemistry remained intact. Both found other duet partners: Larkins with the cornetist Ruby Braff, and Fitzgerald with guitarist Joe Pass. And of course, Fitzgerald did a full examination of the great American song composers in her massive collection of "Song Book" albums on Verve.
The Fitzgerald/Larkins duets were reissued complete on the 1994 Decca./GRP CD, "Pure Ella" (not to be confused with a Verve greatest hits collection with the same title). Ironically, the stylistic divisions so prominent when this music was recorded seem to fade away as the music casts its spell. Clearly, this is music that can be appreciated by any listener. To use a phrase favored by Duke Ellington, this music is "beyond category."