Gretchen Parlato made the rounds of the TV talk show circuit this past winter, but you may have missed her if you didn't know where to look. Parlato appeared as a backup vocalist for Esperanza Spalding, and while the band was made up of several established and rising jazz stars (including violinist Sara Caswell and drummer Terri Lyne Carrington), none of the interviewers asked Spalding to introduce the musicians. Parlato appeared on only two tracks of Spalding's CD "Chamber Music Society" (HeadsUp), but one of those tracks was a highlight of the disc: a duet Spalding and Parlato sang on the Jobim classic "Intuil Paisagem", accompanied only by Spalding's bass and Parlato's handclaps. The two never performed the duet on TV, but a studio-made video is embedded below.
While Gretchen Parlato is a rising jazz star in her own right, much of her discography consists of guest performances on other artist's albums. She posts daily on Facebook and Twitter, and while many of her posts deal with her own performances and reviews, she is equally likely to announce the gigs and albums of fellow musicians. With a chorus of rave reviews heralding her latest CD, "The Lost and Found" (Obliqsound), one might expect Parlato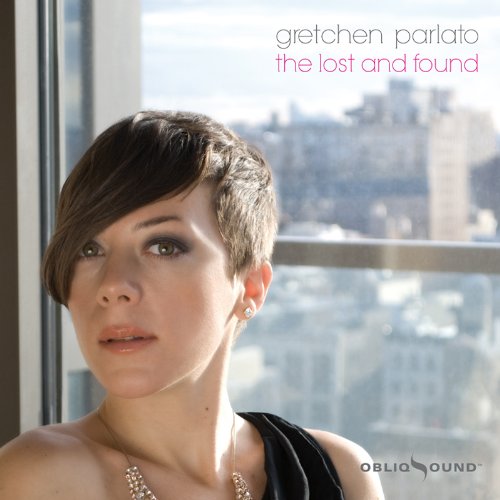 to take on the trappings of celebrity. Yet, that is far from the case. Standing barely over five feet, she dresses in simple one-piece dresses supplied from a New York shop that specializes in clothes by Asian designers. Her hair is styled in a sassy short cut. On stage, she elevates herself with 5-inch closed toe pumps, but admits that when she  performs in her bare feet, she loves feeling the vibrations of the music through the stage. She is soft-spoken, focused on her art, and genuinely appreciative of compliments.
Her singing voice is soft, but her voice (like those of her idols, Billie Holiday, João Gilberto and Shirley Horn) is very flexible and expressive. Her repertoire includes covers of pop and R&B tunes, as well as post-bop jazz classics from Miles Davis, Herbie Hancock and Wayne Shorter. She wrote lyrics to Shorter's "Juju" as a student at the Thelonious Monk Institute, and the arrangement Parlato and the band created back then is a key track on her new CD. While Shorter's original Blue Note recording was fiery and Coltrane-esque, Parlato's version is atmospheric and understated. The lyrics, based on several of Shorter's sayings, are airy and philosophical. Her scat solo starts as a murmur, using open throat sounds and very few percussive consonants. The moaning, trance-like sounds build in intensity, pitch and volume. Before long, her voice is soaring over the propulsive rhythm section with heart-wrenching emotive cries. Then she brings the intensity back down before returning to Shorter's melody. On the CD, she solos in tandem with tenor saxophonist Dayna Stephens, but "Juju" is even more impressive in concert where Parlato solos alone, controlling the dynamics of the band through the singular sound of her voice.
"I like to pare a song down to get to its essence", Parlato told me while preparing for a creativity workshop at the Wichita Jazz Festival. "The best kind of compliment is when people tell me they had never really paid attention to the lyrics of Simply Red's "Holding Back The Years" or Mary J. Blige's "All That I Can Say" until they heard me sing them" (Both songs are on the new CD). For Parlato, paring the song down is more than vocal emphasis on the words—it involves a unique approach by her entire band. While Parlato's rhythm section—pianist Taylor Eigsti, bassist Alan Hampton and drummer Kendrick Scott—can roar as loudly as any jazz rhythm team, more often than not, they play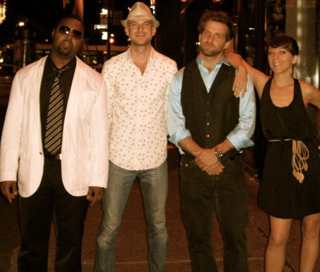 an intimate, stripped-down style behind her, removing any extraneous harmonies or rhythms that might divert attention from the singer's intimate delivery. The resulting music is a virtual melting pot which combines the freedom of jazz, the sincerity of pop, the soul of R&B and the simplicity of hip-hop.
Parlato picks her musicians carefully, and although she has alternates for each member of the trio, the Eigsti/Hampton/Scott team seems to suit her best. They work as a cohesive unit, playing together exceptionally well, and easily adapting to on-the-spot changes on the bandstand. At the concert in Wichita, the opening of "Juju" contained a whole arsenal of sounds: Eigsti rapped on the side of the grand piano and ran his fingers on the inside of the instrument, Hampton pinged high overtones from his acoustic bass and Scott spun his ride cymbal around while striking the edge with a drumstick. At the sound check before the show, there were several technical issues, and during the downtime, the individual personalities of the band members came out: Scott sat quietly in a theatre seat reading a paperback biography of Malcolm X, Hampton was onstage playing every instrument in sight (including a borrowed acoustic guitar that he played on "Still", a song written with Parlato) and Eigsti was a bundle of energy, capturing all of the happenings on a camcorder. Parlato loves to hang with these guys, joking and talking with them and occasionally grabbing Eigsti's camcorder to help with the taping. However, at one point, Parlato retreated upstage and sat cross-legged on the floor. It was clear that she was aware of everything going on around her, but she was also trying to find a quiet place for herself.
The concert in Wichita was a double bill with Parlato and one of her favorite musical partners, guitarist and vocalist Lionel Loueke. Loueke and Parlato met as members of the Monk Institute septet. African, bald and standing well over six feet tall, Loueke makes an odd-looking partner for the petite Parlato, but as she says "We may not look alike, but Lionel's my bro!" They worked together for many years, and still hope to record a duet CD in the future. Yet, their career paths have diverged recently, and their appearance in Wichita was the first time they had worked together in about a year. On the night before the concert, they appeared at an informal talk and concert at the Fisch Haus, an art gallery converted from an old warehouse. After telling of his childhood and musical apprenticeship in Benin (formerly Dahomey), Loueke told the audience of his admiration for Parlato. "She's not afraid! She has an excellent ear, a great rhythmic sense and she's willing to follow where the music takes her."
Being fearless is an important attribute, especially when performing Loueke's rhythmically complex music. One of Parlato and Loueke's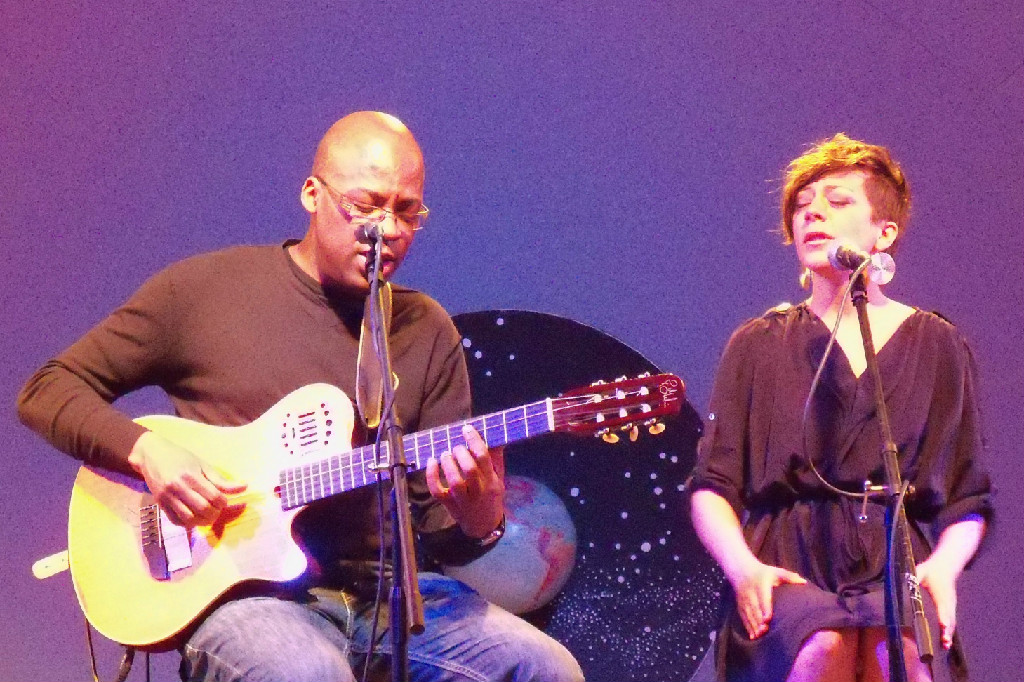 favorite duet numbers is "Nonvignon", a song Loueke composed in about 15 minutes but never wrote down. Parlato learned the French-African dialect phonetically, and grasped the song's unusual rhythmic structure. In Wichita, they performed the song three times over two days, and at the creativity seminar, Parlato opened the session not by telling about the song's rhythm, but by asking the group of 20 participants to clap along with a simple quarter note rhythm : CLAP, CLAP, CLAP, rest; CLAP, CLAP, CLAP, rest, etc. After the song was over, Parlato offered her challenge: "OK, where's [beat] one?" Most of us thought we were clapping on beats 3, 4 and 1. Not the case—the downbeat was actually a beat and a half before the first clap, so the claps that seemed so squarely on the beat were usually on the off-beats (that is, when Loueke's tune stayed in 4/4 time!).  Even for trained musicians, finding an oddly-placed downbeat over such a background is a challenge, and when Loueke performed the song with Parlato's band at the concert that evening, those audience members who had attended the seminar picked up the clapping rhythm as before. Parlato invited Hampton to take a solo and the bassist improvised a brilliant statement over the offbeat rhythms.
A self-described "Valley Girl", Gretchen Parlato was born in Los Angeles in 1976. Her grandfather, Charlie Parlato, was a trumpeter and singer with Lawrence Welk, and her father David Parlato is a respected jazz bassist. Her mother, Judy, also has a musical background, but currently works as a web designer (she created Gretchen's impressive website). There was plenty of recorded music around the Parlato household, and Gretchen's keen rhythmic sense was already evident by the time she was two—excerpts of home recordings from that time appeared as introductions and transitions on her second CD, "In A Dream". She attended high school at LACHSA, the Los Angeles arts school, and then earned a bachelors degree in Ethnomusicology with a specialty in Jazz Studies from UCLA.
Two separate musical experiences seem to have molded Parlato's approach to band leading. One was a Ghanan drum ensemble that was part of her UCLA curriculum. "There were drum, bell and shaker parts, choreographed dance, and call and response song to each piece, and every member of the group had to learn all of the parts before performing." Also, around this time, Parlato began studying jazz singing with the renowned West Coast vocalist, Tierney Sutton. Like Sutton, Parlato works on an equal musical footing with her band, collaborating with them to create the sound and repertoire of the group. In concert, Parlato rarely strays away from her book of arrangements, but she assured me that even with the pared-down rhythm section style she prefers, she can call a tune on stage that's not in the book and the style of the band is deep enough that the music still sounds like the Gretchen Parlato band, and not Gretchen Parlato sitting in with the local rhythm section.
Between her graduation from UCLA and her acceptance into the Monk Institute, Parlato worked as a straight-ahead jazz singer mixing Brazilian music with jazz standards. She felt that she was still finding her voice during this period. When she started recording after her graduation from the Monk Institute, standards were a small part of her repertoire. Her eponymous self-released debut CD and "In A Dream" had only one jazz standard each (Hoagy Carmichael's "Skylark" and Duke Ellington's "Azure" respectively), and her latest disc has none at all. Parlato  occasionally performs standard jazz ballads in her live shows, such as "Spring is Here", but states, "I don't think it's as effective for me to sing standards in a standard way. That has been done before, and extremely well, by Billie, Ella, Sarah, Betty, and others. It's important for me to breathe new life into music, keep it moving, find and tell my own story, and sing a song in a way that no one has before."
Should you wonder what a possible Parlato all-standards album might sound like, the clues may be in some of the arrangements she performs on "The Lost And Found". With producer Robert Glasper, she co-arranged the Miles Davis/Bill Evans classic "Blue In Green", and like "Juju", Parlato's concept is radically different from the original recording. An aggressive vamp in 7/4 matching the melody of the iconic track came to Parlato one evening, and—as is her usual practice—she recorded it on her phone. The album's opener, "Holding Back The Years" reduces the song's harmony to a four-chord vamp and offers another example of Parlato's phone as recording device: the track opens with a recording made at Kendrick Scott's apartment as he and Parlato worked out the basic beats for the arrangement. The Brazilian standard "Alo, Alo" is a 105-second tour de force, as Parlato sings over her own overdubbed percussion tracks, creating a rich texture of rhythmic and melodic counterpoint.
For now, Parlato's focus is on composition. Four of the songs on "The Lost and Found" feature music and lyrics by Parlato, and another six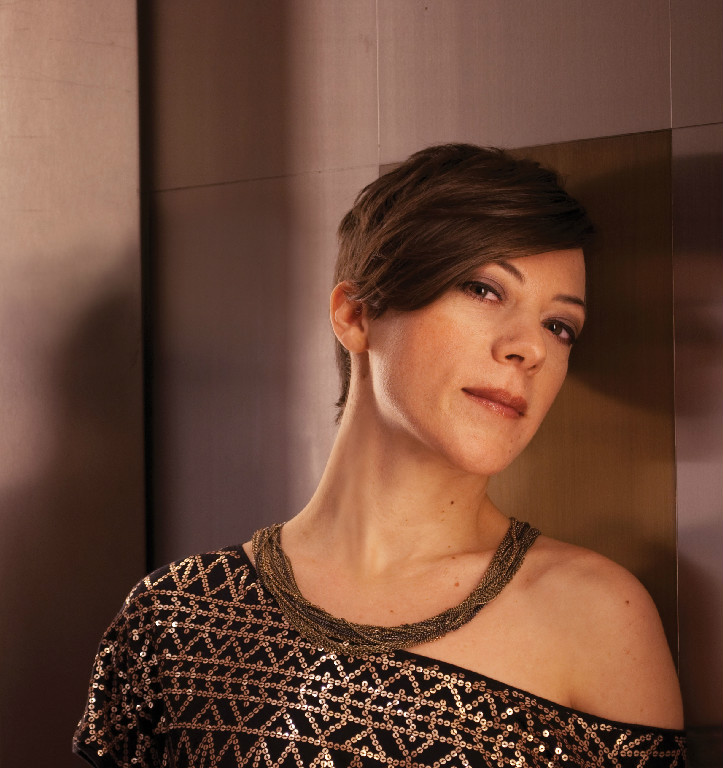 feature her lyrics with music composed by her band members. One of Parlato's originals, "Winter Wind" combines a catchy melody with a stark whole-tone scale before moving into an exuberant vamp coda. Each section of the music corresponds to a different mood of the text: the opening melody tells the metaphoric storyline of a winter wind that destroys a summer flower, while the ascending whole-tone scale paints the words floating up beyond the moon. The coda represents the moral of the story, the uplifting Now is the time of your life to hold on!  Parlato's penchant for positive messages continues in "Circling" which explores the idea of cyclical time: Just like the earth revolves around the sun/Our life's in circles, never to be done. The arrangement also displays one of Parlato's favorite formal devices: placing a second chorus of the song between an instrumental solo and her own scat, then finishing the performance with a short coda instead of a full reprise of the song. While the approach is especially appropriate to the lyric theme of "Circling", she has also used this approach to other songs, including "Juju".
Two months after Wichita, Parlato appeared at the Denver jazz club, Dazzle. Eigsti and Hampton were still touring with her, but Scott, who was working with vocalist Sachal Vasandani, was replaced by Mark Guiliana As might be expected, there was a subtle change in the band's dynamic. While both Scott and Guiliana are superb creators of beats and atmosphere, it was clear that Guiliana was focusing on beats, and the resultant rhythmic energy pushed the band into different territory. Guiliana's powerful drumming elevated the group's version of "Circling" and his solo introduction to "Weak" was a stunning display of lightning-fast technique and a mastery of both jazz and pop styles. Throughout the evening, the creativity flowed non-stop with improvised ideas bouncing around the band, and new elements added to the existing arrangements. "Juju" came up in both sets, and the transformations happened in front of our very ears. In the early set, Parlato's solo intensified in terraced dynamics instead of a gradual crescendo. An instrumental spot followed which brought down the intensity and gave Parlato a quick breather before returning to the melody. When they played it again two hours later, even more changes emerged. The first melody statement was quieter, with Hampton dominating the rhythm section, and barely any percussion at all. Parlato's solo went back to the gradual crescendo, but this time, the solo built for a longer time and the resulting climax was as intense as on Wayne Shorter's original recording. The instrumental interlude was also extended, so much so that Eigsti played a substantial solo before Parlato re-entered with a short scat solo that melded back to the melody. Then Guiliana kicked into a funky backbeat which led to an extended vamp with Parlato, Eigsti and Hampton all contributing improvised ideas.
The growing musical chemistry between Parlato and Eigsti was evident throughout the show. Near the end of the first set, the two performed a duet on the Monk classic, "Ugly Beauty". While the song has not appeared on Parlato's CDs, it is one of the staples of her concert repertoire. She's performed the song with several different pianists, but even the versions with Eigsti are quite different from one another. There's a video of the two performing the song in Stuttgart that runs about 9 minutes, but the Dazzle version was about half that length, with Eigsti's playing more classically-influenced than before (some passages sounded like they were straight out of Robert Schumann) and Parlato creating unexpected variations on the melody. In the same spot in the second set, Parlato surprised Eigsti by proposing a duet on the title cut from her CD, "The Lost and Found". It was an inspired suggestion: in both music and lyrics, the piece tells of being suspended between two emotional extremes, and thus the free-form nature of the duet allowed Parlato and Eigsti to explore further dimensions of the song.
The metamorphosis of Parlato's music reminded me of a quote from Michel Legrand. It may just be the most eloquent description of jazz ever written:
Jazz is the greatest of all nourishments. It feeds the creative spirit like nothing else can. It is a fantastic adventure, an exciting game of giving and taking and exchanging musical ideas with brothers and friends. When the conditions are right, it is possible to achieve a level of rapport that is nowhere else to be found in music—or for that matter—in art.
In many ways, Gretchen Parlato's music embodies the qualities in Legrand's quote. She rightly calls herself a jazz singer, even though her music is not bound to traditional vocal techniques, Tin Pan Alley standards or even swing rhythm. She improvises and creates, and her music changes from performance to performance—not for the mere sake of change, but because it is the natural course of her musical spirit to do so. And in her quiet, unassuming way, this former Valley Girl has not only found the essence of jazz, she re-explores it every night.
Legrand quote from album liner to "After The Rain" (Pablo 2312 139). All other quotes from personal interviews with the author.
Top and bottom photos by David Bartolomi.
Band photo (L to R: Kendrick Scott, Alan Hampton, Taylor Eigsti, Gretchen Parlato) by uncredited photographer
Middle photo (Lionel Loueke & Gretchen Parlato at the Fisch Haus, Wichita) by Thomas Cunniffe.
Thanks to Craig Owens, Jordy Freed, Maria Lucoff, Steve Denny, Karen Kennedy, Lionel Loueke, Taylor Eigsti, Alan Hampton, Kendrick Scott, Mark Guiliana. Extra-special thanks to Gretchen Parlato!