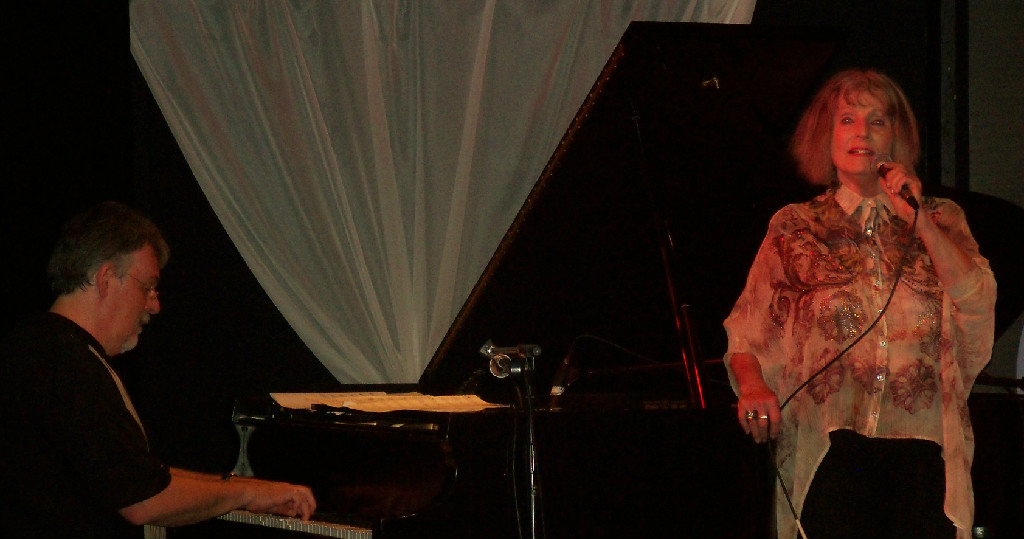 Carmen McRae was a tough boss, especially for pianists. McRae was a pianist herself, and she had an acute knowledge of harmony. She knew exactly what she wanted to hear behind her voice, and heaven help the accompanist who couldn't comply. So there's a certain amount of pride involved when Eric Gunnison tells an audience that he was McRae's accompanist for four years. McRae's book of arrangements was loaded with charts by McRae's former pianists, including Jimmie Rowles and Norman Simmons, and Gunnison called it "a graduate course in harmony". No one followed Gunnison as McRae's pianist—his job ended when McRae's medical problems forced her to retire from performing—and so he was allowed to keep the book of arrangements. Those original arrangements were the basis of Gunnison's tribute to McRae at the Denver nightclub, Dazzle.
The band included bassist Mark Simon, who worked with McRae and Gunnison for the last eighteen months of McRae's career, and drummer Paul Romaine, who never worked with McRae, but who would have been an energetic force in the McRae trio. To sing McRae's part, Gunnison thought of only one musician: Ellyn Rucker. It might have seemed an odd choice at first: Rucker's soft delivery is a long way from McRae's intense and hard-edged style. But Gunnison recognized that McRae had influenced Rucker's style, and as the evening progressed, more and more of the McRae style channeled through Rucker's voice. One could hear the detached phrasing that emphasized individual words, the straight-forward approach to scat singing, and the salty sense of humor. Yet, through all this, it was clear that Rucker had her own sound that incorporated as much influence from Shirley Horn, Sarah Vaughan and Joao Gilberto as from McRae. She didn't try to sound like McRae, because there was no reason for her to do so.
Rucker is also a wonderful pianist, and she's most comfortable when accompanying herself at the piano. Thankfully, there was plenty of room in the McRae tribute for her to work in that setting. Her two solos midway through the first set helped her shake off some early jitters, and when her solo spot came in the second set, she spontaneously added a third tune because she and the audience were enjoying the moment. When Gunnison and the rhythm section returned to the stage, the first selections were compositions by Thelonious Monk, "Blue Monk" and "Round Midnight", music that was comfortable for Rucker's voice, but whose lyrics still kept her focused.
Throughout the evening, Gunnison showed why he is considered the best jazz accompanist in Denver. On the duet version of Tommy Wolf's "I'm Always Drunk in San Francisco", his accompaniment balanced the sweet yet sardonic lyrics that Rucker sang.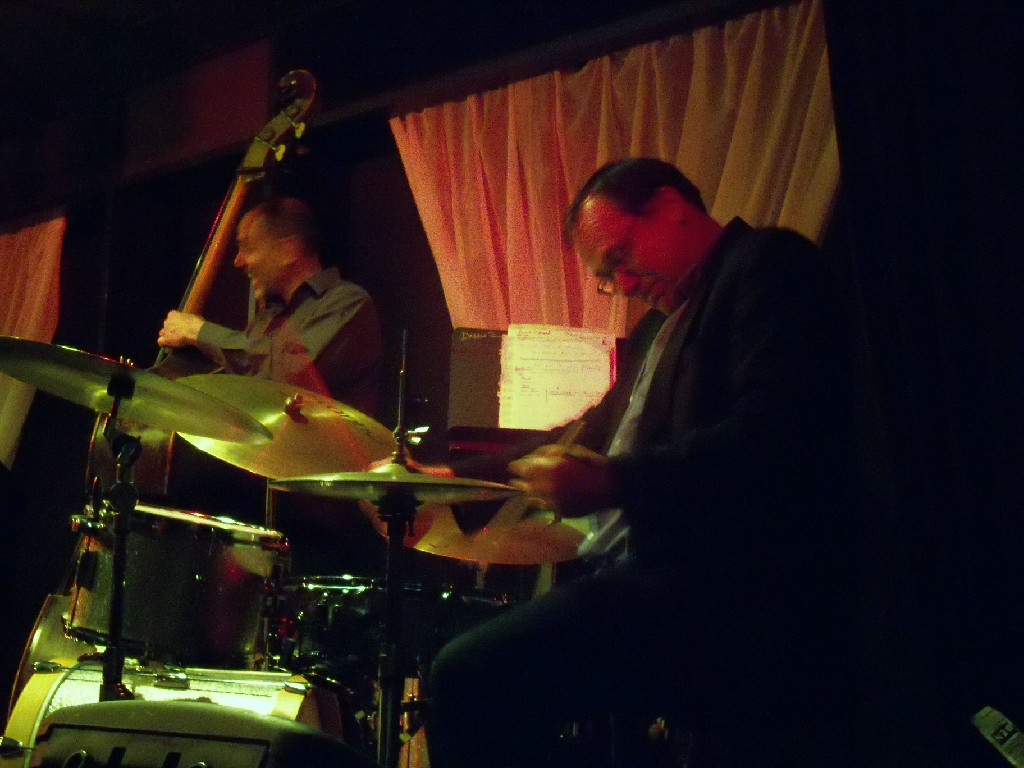 And at the end of another Wolf song, "Spring Can Really Hang You up the Most", Rucker sang a descending line with each note carefully placed. Gunnison knew exactly where she was going and followed her down. Simon had a great part in "Get Out of Town" as his fat double-stops played against Rucker's sexy vocal. Romaine is both a powerful and witty drummer, and both qualities came to the fore in the second set's instrumental opener, "Jive Samba". Romaine's drum solo, which initially sounded like it was in free time, suddenly included the rhythm of the tune's signature motive. Once the audience knew that he was playing on the form, Romaine found several ways to accentuate the tune's recurring breaks, including a sequence of drum thunder that ended with a single cymbal stroke.
Denver jazz fans have one more opportunity to hear this delightful music. The Gift of Jazz is presenting an encore performance on June 17 at 2pm. Details on this special performance are available here. It would be the perfect Father's Day gift for a Dad who loves great jazz.
Photos by Thomas Cunniffe.