In the packaging for his album "An Evening of Indigos", Bill Kirchner writes, Most concerts are, in a sense, variety shows. The standard idea in programming them is to come up with a multiplicity of tempos and moods, usually building to a climax. In this case, we're aiming to explore one mood, though in different facets. While I understand and appreciate Kirchner's point, I would argue that variety is an essential ingredient when creating a program with several ballads. Because ballads can be such a challenge to jazz musicians—Archie Shepp said that you could hear every minute a musician put in on his horn when he played one—many musicians find one or two formulaic approaches to ballads. That method works fine when including an occasional ballad as a mood changer, but it quickly leads to monotony when more ballads are added to the playlist. The albums reviewed below offer several different methods to maintain listener interest on programs where ballads are the main focus.
Chicago pianist-composer Michael Cunningham's CD, "There Was a Time" (Present Tense 105) offers an all-ballads repertoi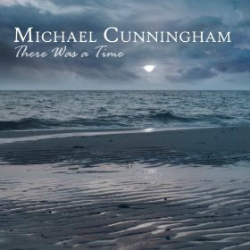 re which combines Cunningham's original songs with time-honored standards. The recording presents the music with a wide variety of ensembles, ranging from Cunningham's solo piano to a full string orchestra with soloists. The mixture works so well that Cunningham presents three of the songs twice, each in substantially different versions. He bookends the album with two renditions of David Raksin's movie theme, "The Bad and the Beautiful", opening the CD by playing Raksin's solo piano arrangement and closing with an ethereal piano/violin duet featuring Sara Caswell. His original songs "There Was a Time" and "Something So Real" appear in vocal and instrumental versions with trumpeter Art Davis, Cunningham, bassist Richard Drexler and drummer Rick Vitek appearing on all four tracks, with Janice Borla's pitch-perfect voice added on the vocal versions. Cunningham's string arrangements enhance the guest spots by clarinetist Frank Glover on the standards "The Masquerade is Over" and "I'm a Fool to Want You". There's even a drum feature for Danny Gottlieb on a brief original called "Progression". Unfortunately, what's sorely lacking on this album is improvisation. With such a fine group of jazz musicians on this album, it seems strange that there are so few opportunities for them to play. Caswell and Borla are both superb improvisers, but neither one gets an open solo spot. Glover gets one solo on "I'm a Fool", and Davis' solos are limited to the vocal versions of the two Cunningham originals. As is, the album is quite lovely, but it could have been better had Cunningham created room in his arrangements to let his talented guest artists create their own commentaries on his songs. 
Bill Kirchner's double CD "An Evening of Indigos" (Jazzheads 1213) was recorded in concert at The New School in New York. Using only four musicians (including two vocalists), and playing a program of half standards and half originals, the ensemble provides variety in spite of Kirchner's written comments! The concert opens with the gently swaying "Theme for Gregory" with Kirchner on soprano sax, Carlton Holmes on piano and Jim Ferguson on bass. Holli Ros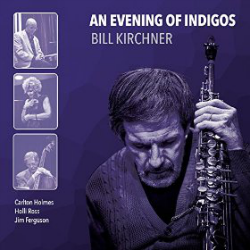 s joins the group for two songs, "The Inaudible Language of the Heart" (words and music by Kirchner) and "Gentle Voice in the Night" (co-composed by Kirchner and Loonis McGlohon). Ross makes Kirchner's angular melody lines sound easy and her rich alto voice enhances the emotion of the lyrics. Holmes performs Kirchner's "Since You Asked" as a solo piano piece, revealing a fine balance between his personal freedom and the original mood of the composition. Ferguson accompanies himself on bass on a gently-sung "Wee Small Hours" with Kirchner supplying a mournful solo in the middle chorus. Ross takes advantage of Kirchner's inventive re-harmonization of the the Burt Bacharach/Hal David pop classic "Close to You" with dramatic variations to the melody, before Ferguson and Kirchner recall the classic Nancy Wilson/Cannonball Adderley setting of Buddy Johnson's "Save Your Love for Me". The second disc opens with two wistful songs, "Foolish Little Girl" and "When You Are Old", both sung delicately by Ferguson. The first piece was the first collaboration between Kirchner and McGlohon, and the second is a recent Kirchner setting of a William Butler Yeats poem. Ross and Ferguson split vocal duties on a Tom Jobim/Gene Lees medley of "Someone to Light Up My Life" and "This Happy Madness", followed by Ross' version of Kirchner's fiendishly difficult "I Almost Said Goodbye". Although CD jacket notes that the latter piece was dedicated to McGlohon, it fails to mention that the original concert was dedicated to  Jackie Cain, who recorded "I Almost Said Goodbye" on Kirchner's CD, "Everything I Love", and who passed away about three weeks before the "Indigos" concert. This exceptionally well-programmed set concludes with an instrumental version of "He Was Too Good to Me" that features an emotionally overwhelming Kirchner solo in its final chorus.
Only about half of the tracks on Houston Person's new CD, "Something Personal" (Half Note 7282) are ballads, but they account for nearly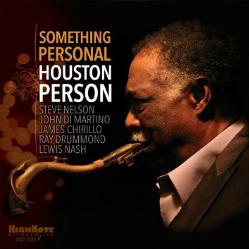 two-thirds of the disc's playing time. Those who have heard Person in recent years know that he prefers slow to medium tempos anyway, and his best surprises come when he sets a well-known standard in a different tempo or style.  For example, the quickest tempo on this CD is on "The Masquerade is Over", which appears in its usual slow ballad tempo on Michael Cunningham's disc. He also uses this concept to break up a sequence of songs that might be normally be played as ballads, such as "The Way We Were" (played in an adapted soft-rock style), "Guilty" (a straight ballad), and "Change Partners" (bossa nova). At 81, Person is still in top form. His warm, inviting tenor sax sound breathes life into old chestnuts like "Crazy He Calls Me" and "The Second Time Around", and his unaccompanied introduction to Benny Golson's "I Remember Clifford" is simply breathtaking. All of the musicians on this album—pianist John DiMartino, vibraphonist Steve Nelson, guitarist James Chirillo, bassist Ray Drummond and drummer Lewis Nash—have recorded with Person on previous albums, and as Person states in the liner notes, "this is a group effort…[I] keep everyone involved." It's clear from the exquisite ensemble work that these fine musicians enjoy working with Person. Yet that does not mean that everyone plays lengthy solos on every track. Instead, they limit their solos—including not improvising on some tracks—in order to keep the tracks at a reasonable length and to keep their listeners engaged. However, for "I Remember Clifford", Person let the track run to nearly 10 minutes so that everyone could express themselves. The heartfelt emotion present in all of the solos make this track a superb, yet understated, finale to the album.