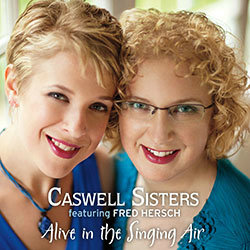 CASWELL SISTERS/FRED HERSCH: "ALIVE IN THE SINGING AIR" (Turtle Ridge 1)
Vocalist Rachel Caswell and violinist Sara Caswell grew up in a musical household where both parents were musical academics. Both studied classical music (with Rachel starting out on cello), but song standards and bebop lines were also part of their musical diet. Sara explains that it took several years and many separate musical experiences before she and Rachel discovered their close musical connection. They've been co-leaders of a jazz quintet for years, but "Alive in the Singing Air" is their first joint venture. Teaming with the brilliant pianist Fred Hersch, and two favorite players from their home state of Indiana, bassist Jeremy Allen and drummer Bryson Kern, the album covers a wide range of repertoire including classic standards, new originals and seldom-heard jazz compositions.
Of the two sisters, Sara is the better known. Based in New York, she is currently part of Roseanna Vitro's band, has toured with Esperanza Spalding's Chamber Music Society, and is a member of a new group called Rose and the Nightingale. She gets an intense, soulful sound by focusing on the lower to middle registers of the instrument. Rachel, who works and lives in Bloomington, Indiana, will be a delightful surprise to many listeners. She has extraordinary pitch and splendid diction, and she brings out the beauties of lyrics and melodies without making big changes to either. One of the highlights of the album is a trio version of Hoagy Carmichael's "I Get Along Without You Very Well".  Hersch brings out his rhapsodic style behind Rachel's sensitive vocal. Rachel deftly balances the vulnerability and false bravado that characterizes the lyric, and behind her, Sara plays a delicate obbligato that adds the perfect texture to the overall sound. When Sara moves into her improvisation, it is a natural extension of what came before. Rachel also shows her fine understated interpretive skills on two Hersch originals, "Song of Life" and "A Wish" (both with lyrics by Norma Winstone), but is her skill as a scat singer that truly amazes. She has a thorough knowledge of jazz harmony and a flexible vocal instrument that lets her stretch for unusual notes and ideas. On Sara's composition, "Stroll", Rachel constantly takes the unexpected musical path without sacrificing swing or feeling. And if you doubt that strings can swing, just listen to Sara play here and on the closing version of Kenny Dorham's "Asiatic Raes". There are lots of wonderful moments on this CD. Get yourself a copy, and get to know the Caswell Sisters.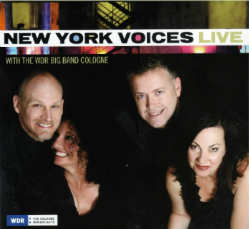 NEW YORK VOICES/WDR BIG BAND COLOGNE: "LIVE" (Palmetto 2160)
It's been a few years since the New York Voices released an album, but the group has continued to tour, performing concerts worldwide, including joint dates with another great vocal group, Manhattan Transfer. NYV has always tried to find their own musical direction by embracing contemporary pop music as much as standards, and by including several original pieces in their repertoire. In celebration of the group's silver anniversary, Palmetto has released "New York Voices Live" a superb 2008 live performance with the WDR Big Band of Cologne.
Performing expertly crafted arrangements by Michael Abene, both groups display precision ensemble work and arresting soloists. The charts allow for a seamless mixture between the voices and the instruments, especially on the multi-tempoed arrangement of "In The Wee Small Hours" (where Kim Nazarian's voice intertwines with the tenor sax of Paul Heller) and the beautifully paced setting of "I Do It For Your Love". Peter Eldridge leads the forces with a powerful vocal on the rocking boogie version of "Baby Driver". On "Stolen Moments", there's a finely crafted vocal part based on a Freddie Hubbard solo, and a remarkable vocal chorus where the four voices delay the rhythms as if they were one solo voice. There's plenty of solo room for both the band and the singers, with the scat vocals of Darmon Meader and Lauren Kinhan standing at the same high level as trumpeters Andy Haderer and John Marshall, trombonist Ludwig Nuss, and saxophonists Karolina Strassmayer and Olivier Peters. On their own, NYV performs a delightful a cappella version of "Almost Like Being In Love" that alternates between strongly marked ensemble passages and diverse sections where each vocalist has their own distinctive role. The album ends with an exciting workout on Meader and Eldridge's exotic original, "The Sultan Fainted".  Even with a generous running time of 75 minutes, this album seems way too short. And that's all the more reason for the New York Voices to release more recordings in the near future.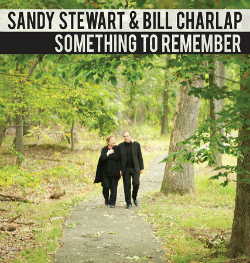 SANDY STEWART/BILL CHARLAP: "SOMETHING TO REMEMBER" (Ghostlight 3338)
One of the reasons that the Great American Songbook has endured for so many years is that the songs carry deep emotional content. While many young singers have successfully explored the subtext of the standard repertoire, there's nothing like age and life experience to enrich a vocalist's skill in storytelling. Mabel Mercer, Shirley Horn, Sarah Vaughan, Carmen McRae and Tony Bennett all renewed their interpretive powers in their later years. One can easily add Sandy Stewart to that illustrious roster. About 50 years ago, she left a promising career as a singer to raise her children, one of whom happened to be pianist Bill Charlap.  Stewart returned to professional singing a few years ago with an album for Blue Note called "Love Is Here to Stay". Naturally, Charlap was her accompanist. Stewart and Charlap have just released a new duet album "Something to Remember" and it is even more remarkable than its predecessor.
Stewart's vocal control is astounding. She shades dynamics like few other singers can, and she knows just how to phrase a line to bring out the inner meaning. The intimate style of her voice makes you believe that she's lived the stories of every one of these songs. And Charlap provides a master class in accompanying. At times he plays a single bass note, instinctively knowing that any more would detract from the vocal line or destroy the dramatic moment. Their rubato performances of songs like "Where or When" and "Where Do You Start" are breathtaking in their daring use of silence. And though upward modulations are nothing new in this style, listen to how Stewart and Charlap time them for maximum effect. Stewart includes the verses on many of the familiar standards on the album, and also performs lesser-known gems like "I Was Telling Him about You" (composed by the family's late patriarch, Moose Charlap) and "Stars" by Charles Sweeney.  If you love great songs sung with depth and conviction, be sure to pick a copy of this wondrous album.