MARSHALL GILKES/WDR BIG BAND: "KÖLN" (Alternate Side/WDR 8)
Don't ask trombonist Marshall Gilkes if the big bands are coming back. He's been regularly employed in professional jazz orchestras for several years. He played for four years with the WDR Big Band in Cologne, Germany, and also commuted to New York to perform and record with the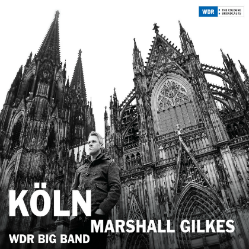 Maria Schneider Orchestra and Ryan Truesdell's Gil Evans Project. Gilkes' latest album was recorded in January 2014, shortly after his last concert as a member of the WDR ensemble. Here, he is not only the front man for the band, but also the composer of seven pieces, and arranger of one other composition. That piece, Harold Arlen's "My Shining Hour" is the opening track of "Köln", and it is treated to a light and swift setting which effortlessly modulates—most of the time in mid-phrase—through several keys. Gilkes used to practice this tune in all 12 keys (I haven't checked if the big band arrangement travels through all 12 keys, but I wouldn't be surprised if it did) and his solo is remarkably fluid and loaded with great musical ideas. As an arranger, Gilkes' sound is clearly indebted to Schneider's breezy orchestrations, but he finds ways to create original sounds, as in the four-clarinet ensemble that opens "Vesper" or the richly mixed brass colors in the intro to "Edenderry". "4711 Special" is a funky piece written for the WDR band and named for the original Eau de Cologne fragrance. I'm not sure how Gilkes' jumpy melody relates to the perfume, but the band's performance is brilliant, with outstanding ensemble work by bassist John Goldsby, and energetic solos by trombonist Ludwig Nuss and alto saxophonist Johan Hörlan. Goldsby is featured with guest trumpeter Michael Rodriguez on the rollicking blues "Plant Bassed". Rodriguez and pianist Frank Chastenier play delicate solos on Gilkes' dedication to his mother, "Mary Louise" (the opening of Rodriguez's first flugelhorn solo against the clarinet choir is another highlight of Gilkes' orchestrations). "End in Sight" has a pastoral introduction and then moves into a broken time feel with the melody passed around the sections. Alto saxophonist Karolina Strassmayer and tenor saxophonist Paul Heller create superb solos around the unusual backgrounds. The WDR Big Band, one of Europe's finest ensembles, is in top form throughout this album, and they are fortunate to have talented alumni like Gilkes writing music for them to perform.
ODED LEV-ARI: "THREADING" (Anzic 52)
Best known as a producer and arranger, composer-pianist Oded Lev-Ari's debut album as a leader, "Threading", features an unusual 11-piece group with three cellos, three woodwinds, trumpet, rhythm section, plus two guest vocalists. The cellos enrich the lower register of the group on the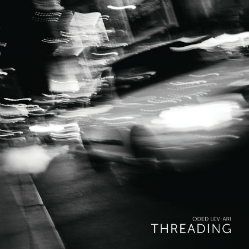 title track, and Lev-Avi skillfully voices them with the bass clarinet of Brian Landrus and the bass of Joe Martin. The track has an irresistible South American groove on which Anat Cohen (clarinet), Will Vinson (soprano sax) and Nadje Noordhuis (trumpet) overlay passionate solos. The minor blues, "Lost and Found", evokes Oliver Nelson's "Stolen Moments" with its mysterious mood set by Matt Wilson's brushes. The celli make only a small appearance here, but they provide a lovely background to Alan Hampton's soulful vocal on Gordon Jenkins' "Goodbye". Another version of "Goodbye" appears at the end of the album, this time featuring Cohen's clarinet, and in the tradition of great arrangers, Lev-Ari creates a significantly different setting, altering the instrumental colors and shifting melodic placement without changing the overall mood. "Voices" is the album's longest track, and certainly the most complex, with Lev-Ari utilizing the instrumental palette to great effect, while leaving room for collective improvisation in the center section of the three-part work. "Black Crow", which like "Voices" was inspired by contemporary Latvian composer Peteris Vasks, is a simpler piece, setting Cohen, Noordhuis and Vinson individually against the traditional-sounding Hebrew melody of the cellos. Later in the work, there is a brief ensemble passage which reminds me of the Liberation Music Orchestra's Spanish folk songs. While there is considerable geographic distance between Spain and Israel, Lev-Ari shows that the musical traditions are not that far apart. "E and A" is a spare and heartfelt waltz for Lev-Ari's children, which builds to a majestic climax before calming down to the accompaniment of Gilad Hekselman's guitar. "The Dance" (with music and lyrics by Lev-Ari) is a vocal duet for Hampton and Jo Lawry which juxtaposes a romantic narrative over a surging 5/4 rhythm. Between the two statements of the melody, Lawry performs an impressive scat solo against Vinson's soprano sax. At just under 45 minutes, "Threading" seems a little short, but in that time, Lev-Ari provides us with a fine sampling of his current work.
MYRA MELFORD: "SNOWY EGRET" (Enja/Yellowbird 7752)
Pianist-composer Myra Melford is an explorer, in both geographical and musical terms. Over the last few years, she has written pieces based on the musical traditions of India, the paintings of Don Reich, and now, a three-part history of the Americas by Uruguayan author Eduardo Galeano. Originally performed as a multi-disciplinary performance called "Language of Dreams", Melford's suite (minus parts for dancer, video artist and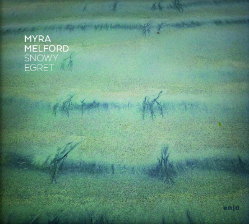 vocalist/reciter) has been recorded on her latest CD, "Snowy Egret". Opening with the rhythmically propulsive "Language", the quintet of Ron Miles (cornet), Melford (piano and melodica), Liberty Ellman (guitar), Stomu Takeishi (bass) and Tyshawn Sorey (drums) displays a flexible approach to jazz rhythm during the solos and unerring precision on Melford's tricky melodic line. Ellman's solo guitar opens "Night of Sorrow" and Melford skillfully brings in the instruments one at a time to maintain the quiet mood. Melford uses this effect several times in the suite, and also sets off the members of the group in duet settings. And while this band could certainly blow the roof off of any club, there is a sense of control and restraint throughout the CD that shows that these musicians are focusing their efforts on realizing Melford's vision of the music. What I find particularly notable about this work is that it has an undeniable sense of unity. While there are plenty of other jazz suites where the order of tracks is seemingly arbitrary, the dramatic arc of this work demands that the work be performed in the album's precise sequence. Arguably, the peak of the suite occurs in the fifth movement, "The Kitchen", where Melford and Sorey cook up a torrent of rhythmic intensity, and listening to the work as a whole, it seems that everything before this episode has built up to this particular moment. And as the suite comes to a close, Miles and Ellman perform poignant and expressive extended solos on the penultimate track, "The Virgin of Gualalupe". I'm a little perplexed by the final movement, "The Strawberries". At the beginning, it seems to be much more tonal and accessible than the progressive free playing which preceded it. Yet, as the movement progresses, the rhythmic intensity builds to the same heights as the earlier movements. It is certainly an effective end to this work, but I wonder if it might have been better for the group to retain the style of the earlier movements. Still, this is a very impressive recording by Myra Melford and her extraordinary ensemble.
As this article was going to press, we learned of the death of Eduardo Galeano, the principal inspiration for Myra Melford's album. Requiescat in pace.