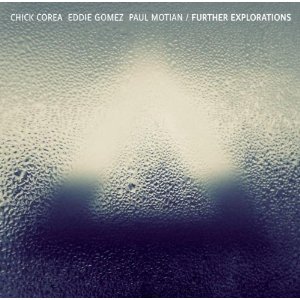 A template is a starting point. It's not exactly a blank page, but an adaptation of one. It sets a few constants and leaves the rest free for creativity. If you're good enough, you can make your own template and decide exactly where you want to start. In his notes to the new Chick Corea/Eddie Gomez/Paul Motian album, "Further Explorations", Bob Belden states the trio approached the music of Bill Evans as a template rather than a tribute. By listening to this extraordinary double CD, one gets the point rather quickly. Only about half of the music was associated with Evans, and while one of Evans' most famous LPs was titled "Explorations", not one of the tunes from that album are included here. Indeed, it could almost be said that Corea, Gomez and Motian were exploring the very concept of the piano trio, since some of the non-Evans tunes include music associated with Thelonious Monk, Red Garland and Chick Corea himself.
Certainly Evans' concept of free interplay between piano, bass and drums is here. Motian was with Evans when he and bassist Scott LaFaro found their method of overlapping instrumental voices in the early 60s. And later in that same decade, Gomez helped Evans define that style to a greater degree. Meanwhile, Corea was finding his own approach to the piano trio, which was captured on the seminal album "Now He Sings, Now He Sobs". Compare the improvised "Off the Cuff" from "Further Explorations" to any of the tracks on "Now He Sings" and the continuity is unmistakable.
This new album was recorded live over a two-week engagement at the Blue Note in New York, and it's clear that the group gave itself a lot of leeway in interpreting the music. Monk's "Little Rootie Tootie" is given a wild ride, starting with a free introduction, string plucking by both Corea and Gomez, and no feeling of tempo. Corea finds the melody through his improvisation, and several intriguing ideas emerge as the performance evolves. The trio kicks into a straight-ahead groove after a casual rendition of the melody, but after a couple of minutes, Motian starts to break up the time and the groove becomes elastic. Gomez takes a brief busy solo, before Corea plays a strongly syncopated block chord passage, then a New Orleans street beat creeps into the groove. Motian keeps away from establishing that rhythm pattern, and his drum solo seems to evolve from his efforts to break away. Performances like this can only happen with great improvisers, and the success of this cut is due to the tremendous flexibility of the musicians.
Since Bill Evans is the template for this album, it should be noted that his influence as both pianist and composer can be heard throughout this recording. Evans was a primary influence for Corea, and while Corea has a distinctive style of his own, he drops in little bits of Evans into his solos. There's a moment in the trio's version of "Alice in Wonderland" where Corea inserts a block-chord locked-hands sequence that sounds just like Evans. Here and there, we hear one of Evans' famous "crunch chords" or rhythmic filigrees that come from Evans' vocabulary. It's rather surprising to hear these allusions in Corea's playing, but Corea never overdoes the effect; it's just another way to salute the master. Corea and Gomez went through Evans' discography and selected several Evans compositions (including his rarely-heard piece "Laurie"). One of their best finds was "Song No. 1", an Evans sketch presumably designed for a Broadway show, but rejected for its harmonic sophistication. There is also Corea's own tribute "Bill Evans", the lead sheet of which Corea presented to Evans in the 70s.
Gomez spent 11 years as part of Evans' trio. He was an astounding bassist when he joined Evans (listen to their recording at the 1968 Montreux Jazz Festival for a reminder), but his time with the pianist deepened his musicianship, and he remains one of the most-respected bassists on the jazz scene today. He can play flurries of notes in a solo, but working with Evans taught him the skill of accompanying, and Gomez' deep instinct serves him when moving between the foreground and background in any musical situation. On "Further Explorations", he has several fine moments, including his stunning arco introductions to "But Beautiful" and "Turn out the Stars", and his beautifully-structured solo on "Very Early".
The album also serves as a memorial to Paul Motian, who passed away last November at the age of 80. If Motian was the most understated member of Evans' trio with LaFaro, he was nearly the opposite 50 years later with Corea and Gomez. It is fascinating to listen to Motian throughout this recording to hear how he instigates and reacts to the constantly changing musical atmosphere. His solos are constructed on a loose concept of time and the cross-rhythms he creates against the implied pulse are both exciting and fascinating. As has been said many times since his passing, Motian was a true jazz original whose presence will be deeply missed. Pick up this album and revel in the mastery of Motian, Gomez and Corea.