DEE DEE BRIDGEWATER/IRVIN MAYFIELD: "DEE DEE'S FEATHERS" (Okeh 33285319)
Since I first heard her with the 1972 edition of the Thad Jones-Mel Lewis Jazz Orchestra, I've always enjoyed hear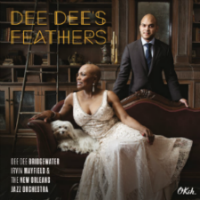 ing Dee Dee Bridgewater sing with a big band. On the opening track of her new CD, "Dee Dee's Feathers", she coos and flirts through Harry Connick's "One Fine Thing", trading improvised ideas with trumpeter Irvin Mayfield, and drawing energy from the 18 instruments of the New Orleans Jazz Orchestra. Yet when she sings Louis Armstrong's anthem, "What a Wonderful World" surrounded by the warm voicings of Edward Peterson's arrangement, there is genuine warmth in her voice reflecting the simple but heartfelt sentiments of the lyric. The album is a tribute to the musical worlds of New Orleans. Dr. John appears on an energetic version of his hit "Big Chief" where Bridgewater—who is also a gifted actress—takes on a gritty caricature when she sings the lyrics. "St. James' Infirmary" is a wild romp in a barroom, while the title tune takes a familiar children's song and transforms it into a multi-leveled chant. Both of New Orleans' namesake songs appear here: the emotionally overwhelming version of the Hoagy Carmichael standard finds Bridgewater emulating a growl trumpet in her scat solo, and "Do You Know What It Means…" gets a sultry treatment with a lovely solo by Mayfield (Apparently, some discs also contain a bonus version of another New Orleans classic, "House of the Rising Sun", but that track was not included on my review copy). There's a nod to the HBO series "Treme", a soulful version of Duke Ellington's "Come Sunday", a sassy encounter with percussionist Bill Summers on "Congo Square" and a great second line parade number, "Whoopin' Blues", to close the program. This is one of Bridgewater's finest albums. Get yourself a copy!
LAINIE COOKE: "THE MUSIC IS THE MAGIC" (Onyx 5)
As the only instrument located within the human body (and the only one used for something other than making music), the human voice can be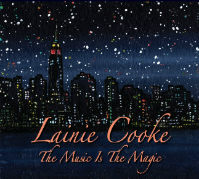 easily damaged or abused. So I'm very impressed when I hear an older singer who still has exceptional control of their instrument. Lainie Cooke is 73 years old (and I wouldn't mention it, except that it's touted in the liner notes and the publicity material), and on her new CD, "The Music is the Magic", she sounds like a singer three decades younger. She has a bright, wide voice reminiscent of the late Anne Marie Moss, and she exudes a sense of wonder as she sings lyrics by Abbey Lincoln, Leslie Bricusse and Johnny Mercer. She tackles the angular melody of Thelonious Monk's "Ask Me Now" (here retitled "How I Wish") with aplomb, displaying superb intonation and a fine sense of melodic variation. Only a touch of wobbly vibrato reveals her age, but the maturity she brings to every lyric makes up for this technical issue. She is accompanied by an excellent group, including her longtime pianist Tedd Firth, saxophonist Myron Walden, bassist Luques Curtis and producer/drummer/trumpeter Ralph Peterson. The band's tasty arrangements truly lift Cooke's performance, and Cooke—who does not scat—wisely gives the instrumentalists plenty of room to blow. The only real misstep is Peggy Lee's "Manaña", which was rather offensive to Latinos seven decades ago and has not aged well. It seems a shame that the inventive setting was wasted on this undeserving song. Thankfully, the next song makes us forget what came before: a splendid version of Dave Frishberg's "Our Love Goes On" with an expressive vocal and a brilliant trumpet solo. While the current jazz scene has plenty of older singers who really shouldn't be working anymore, Lainie Cooke proves that she still has plenty of good music to offer.
JOANNA PASCALE: "WILDFLOWER" (Stiletto 2015)
From the opening vocal entrance on "Forget Me" from her new CD, "Wildflower", one is struck by the intensity in Joanna Pascale's voice. She adds a subtext to the lyric that seethes with anger and disappointment towards the lover who bids her to go. When I first heard Pascale at th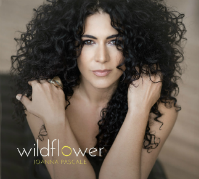 e Vail Jazz Party, that burning intensity wasn't prominent, but it's obvious that she has brought this part of her style to the fore. This quality reinforces the songs she has picked for this album, including J.J. Johnson's "Lament" (with a fine new lyric by Tony Haywood), the inexplicably obscure Jerome Moross/Carolyn Leigh gem "Stay with Me", and the Johnny Green standard "I Wanna Be Loved". Pascale has a remarkable sense of rubato, and she stretches the lines out whenever it serves the song best. Lesser singers have nearly ruined George Gershwin's "Do It Again" with orgasmic moans and cries, but Pascale's version is the perfect antidote: it's slow, sexy and—above all—mature. She's clearly enjoying this rendezvous, but she knows that it's better when you take your time. Cyrus Chestnut guests on this track and his sly improvisations are a great match to Pascale's romantic vocal. For the rest of the tracks, the accompanying group is led by one of Pascale's longest-standing musical associates, pianist Orrin Evans. At the beginning of Stevie Wonder's "Overjoyed", Evans and harmonica virtuoso Gregoire Maret work seamlessly with Pascale as she elegantly paces her way through the opening lines. Such an exposed passage is fraught with danger, but Pascale, Evans and Maretmake it sound easy.  Vicente Archer, Luques Curtis and Christian McBride trade duties on bass, with Obed Calvaire alternating on drums with Donald Edwards. Guitarists Kurt Rosenwinkel and Tim Motzer are added on the title track, along with neo-soul vocalist Bilal. Even with all of these superb musicians surrounding her, Pascale's expressive voice stands out. Pay attention to her now, and watch her in the coming years—she is a major talent!