The tiny hamlet of Delaware Water Gap, Pennsylvania lies in the Pocono Mountains approximately 75 miles west of New York City. It is the home of the Deer Head Inn, one of the East Coast's finest jazz venues and it is also the headquarters of COTA, a jazz support organization now in its 36th year. COTA, which stands for Celebration of the Arts, is a multi-faceted group that offers year-round concerts, a jazz camp for students and an annual jazz festival. The camp has fostered the talents of several up and coming jazz musicians, and the festival brings in about 2000 listeners per day. The area has also attracted several prominent musicians, including Phil Woods and Bob Dorough, both of whom have lived in the area for years and are active members of the COTA family. To raise money for this worthy organization, Dorough has gathered several friends from the local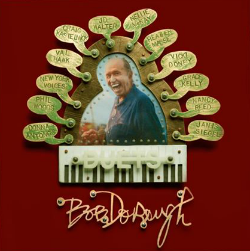 and national scenes to create "Duets", a new CD available only online. The recording, made at Red Rocks Studio in Saylorsburg, PA, was funded through a grant, so all of the money raised through sales of the CD will go directly to COTA.
Dorough, who turns 90 in late 2013, chose only to sing on this album, leaving the piano duties to a rotating group of musicians, including Phil Markowitz, Eric Doney, Jesse Green and Bobby Avey. Bassists Tony Marino, Paul Rostock and Evan Gregor, and drummers Bill Goodwin, Marko Marchinko and Sherrie Maricle round out the solid rhythm teams, with guest appearances by guitarists Spencer Reed and Vic Juris, and saxophonists Phil Woods and Dave Liebman. But the stars of this show are the vocalists, starting with Dorough himself, whose quirky voice is still in very good shape except for a rather wide vibrato. All of the songs were composed or co-composed by Dorough, and he also wrote most of the arrangements. The duet format has become quite familiar over the past few decades, but Dorough and his friends enliven the old formulas as they create these sparkling recordings.
The opening track, "Devil May Care" features the New York Voices (is it really a duet when there are five voices?) and a splendid arrangement by Darmon Meader. The chart cleverly integrates the quartet, Dorough and Woods' superb alto. There's a great shout chorus—partially a cappella—and it's wonderful to hear a new recording by the Voices. Nellie McKay is an alumnus of COTA's jazz camp, and her collaboration with Dorough on "I'm Hip" is one of the album's highlights. In addition to the fine chemistry between the voices (and a few new lyrics), McKay and Dorough bounce across the stereo soundscape with a cute bit of spoken banter. The vocal tones of JD Walter and Dorough are quite similar, and it takes some close listening to determine who is singing at any given time. Their version of "I've Got Just About Everything" starts with an extended rubato section which offers a fine contrast to the expected medium tempo groove.
Heather Masse recently recorded an album of standards with Dick Hyman. I wasn't enchanted with her vocals on that CD, but here she sings a very convincing duet with Dorough on "Love Came on Stealthy Fingers". With its extended verse and chromatic melody, it's not an easy song to sing. Dorough has a few pitch issues on this track, but Masse's cool intensity maintains the focus on the original melody. "The Song of the Mourning Dove" is set in a lounge style and opens with a James Bond-styled introduction. Val Hawk's bright, airy voice works well in this context, but it seems to have less character than the other voices in this set. Craig Kastelnik doubles on vocals and Hammond B3 on "Comin' Home, Baby", and the combination of Kastelnik's soulful voice and the tight funk groove produce a definitive performance. I'd never heard the jazz waltz "Up Jumped a Bird" before this recording, but Janis Siegel and Dorough do a marvelous interpretation of Dorough's vocalese-styled lyric. And addition to a swinging soprano sax solo by Liebman, there's a spirited scat exchange between the solo voices.
Donna Antonow's sensual voice fits beautifully into the lazy groove of "Small Day Tomorrow", and the addition of Juris' blues guitar is the perfect addition to the arrangement. Alto saxophonist Grace Kelly sings and plays with great warmth on "I'm Waiting for Someone" and like Masse, I'm more impressed with her singing here than on her most recent album. A five-horn backup lends a big-band sound on the delightful "Sunshine Morning" which also features Vicki Doney as Dorough's duet partner.  Like the duet with McKay, the pairing with Doney works well despite an obvious age gap between the singers. There's also an age gap between Dorough and his final partner on the CD, Nancy Reed. However, it is the maturity in Reed's voice that makes the collaboration on "There's Never Been a Day" such an appropriate finale. Here, we can believe that Dorough and Reed are truly singing a love song to each other. Although all of the duets on this disc are superb, the added dimension of the lyrics on this track makes it extra special. With a retail price of $20, Bob Dorough's "Duets" is a little more expensive than most CDs, but the music is superb, and it was all made for a good cause. Put this album at the top of your shopping list.