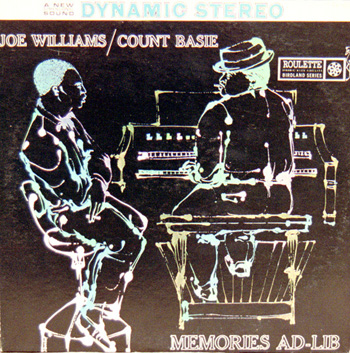 Usually, our Retro Reviews discuss classic recordings that are easily available on Compact Disc. Not so this time. The 1958 Count Basie/Joe Williams Roulette LP "Memories Ad-Lib" is a small group masterpiece, and a true rarity that has never been reissued on CD.
How rare? Well, this album contains several guitar solos by Freddie Green! Green was a nonpareil rhythm guitarist. He always played unamplified acoustic guitar and the high action of his guitar strings was not designed for solo work. In the course of his 50-year career (nearly all with the Basie band), he recorded just over a dozen solos and introductions, which if edited together, would add up to less than five minutes of music. So, the concentration of four solos and two solo introductions on one album is cause for celebration. According to Leonard Feather's liner notes, it was the relaxed atmosphere of the recording session that led Green to agree to brief solos. Green takes a full single-string chorus on "Ain't Misbehavin'" which, like the guitarist himself, is quiet and unassuming. On "The One I Love Belongs To Somebody Else", Green and Basie play a charming full-chorus duet where each plays their own improvised lines, but the leader keeps his volume below his reluctant guitarist.
The album features Williams' vocals with Basie on organ, Green, George Duvivier on bass, and Jimmy Crawford on drums (On two tunes, Harry Edison is added on trumpet and Green is absent). At the time, Williams was best known for shouting the blues with the Basie big band. This album was one of the earliest examples of Williams singing standards with a small group. Here are the beginnings of the relaxed intimate ballad style that was a hallmark of Williams' later work. All of the songs were written before 1930, and Williams relishes the opportunity to sing these chestnuts. He sings them in a loose swinging manner, takes plenty of chances with the melodies, and rarely raises his voice above a conversational level. And what magic he wrings from the old barroom standard, "Call Me Darling"! With the utter simplicity of his interpretation, Williams reveals that the old warhorse has unexpected emotional depth. Green is a perfect musical partner for Williams on this cut, picking out just the right notes to compliment (but not compete with) the singer.
For the most part, Basie's organ style is similar to his piano, except that Basie used the electronic instrument to sustain chords for a longer period. His organ interjections propel Williams on a sexy "Honeysuckle Rose" and his solo on "All Of Me" shows his effective use of dynamic contrast. Yet, Basie always had more technique than he usually displayed. On "Dinah", Basie surprises us (and probably the other musicians) with a stunning set of powerful horn-like organ riffs played against Williams' vocal. It is like Basie summoning his whole band to help out with this one number. Duvivier gets a few choice solo parts over the course of the album, and Crawford kicks the band along with simple punches on his bass drum and crisp accents on the snare.
I've listened to this album several times since first encountering it in a used record store, and I'm always surprised by the subtle rhythm work, Green's thoughtful solos and Williams' versatility. However, I am equally surprised that this album isn't better known. There are plenty of copies of the LP at ebay and Gemm. Tom Lord's discography also says that there are a couple of unissued tunes from this session. These tracks must be somewhere in the EMI vaults, and they should be found and reissued on CD with the original album. Because it is a small-group session, Mosaic has not included this album on their Basie Roulette boxed sets. Wouldn't this be a wonderful addition to their series of Mosaic Singles?
And just because you're dying to know, here's a list of Freddie Green's guitar solos (please let me know if I've missed any!): "Honeysuckle Rose" (Benny Goodman Carnegie Hall Concert, 1938); "On The Sentimental Side" (Billie Holiday, 1938); "Dinah" (Pee Wee Rusell's Rhythmmakers, 1938); "Who?" (Glenn Hardman & His Hammond Five; 1939); "Little Red" (introduction) (Freddie Green & His All-Stars, "Mr. Rhythm", 1955), "Ain't Misbehavin'", "Sweet Sue", "Call Me Darling", "The One I Love Belongs To Somebody Else" (solos) and "Baby, Won't You Please Come Home", "All Of Me" (introductions) (Count Basie/Joe Williams, "Memories Ad-Lib", 1958); "Don't Cry Baby" (introduction) (Billy Eckstine/Count Basie, "Basie/Eckstine, Inc.", 1959); "The Elder" (Count Basie, live and studio recordings, 1962), "Cute" (Count Basie, unknown live date) and "Green's Blues" (a joke where Basie played an extensive introduction to a single guitar chord) ("Basie & Bennett Together, PBS, c. 1982).