Performing for a highly enthusiastic crowd, The Manhattan Transfer played a rare Denver concert at the Oriental Theatre. The group's founding member, baritone Tim Hauser, was unable to travel due to back surgery, but his place was ably filled by Trist Curless, a superb vocalist who usually sings wordless bass lines with the group m-pact. After being introduced to the audience by the Transfer's tenor Alan Paul, Curless explained that subbing in the Transfer was intimidating not only for filling Hauser's shoes, but also in singing in the high part of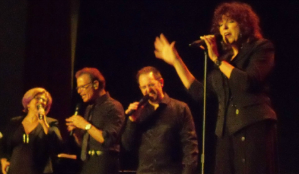 his range and learning arrangements with lyrics.
Curless had little reason to worry. He seemed to have the arrangements down cold—lyrics and all—and he displayed an impressive command of scat and vocalese. On his solo feature, "Billie's Bounce", he effectively sang Eddie Jefferson's intricate lyrics to the original Charlie Parker solo. Then, imitating an acoustic bass, he scatted several blues choruses with no accompaniment whatsoever. In addition to flawlessly holding the key center, his solo clearly denoted the unheard chord changes. He then traded choruses with the band's bass player, Gary Wicks, and the exchanges were notable for their wit and competitive spirit.
Janis Siegel has long been the group's strongest scat singer, and in Curless, she had an adventurous foil. Near the end of "Jeannine", she and Curless started a collective scat chorus and the ideas flew back and forth with great abandon. Siegel was also spectacular on an up-tempo version of "Air Mail Special" where she somehow evoked the sound of a plunger-muted trumpet without using the typical method of cupping a hand over her mouth. Her solo feature was Tom Jobim's "Useless Landscape", taken from her new album "Night Songs", and its relaxed Brazilian groove was a welcome respite from the high energy of the rest of the show.
Before Hauser's medical problems had forced him to take a sabbatical from the group, Cheryl Bentyne had been away due to a battle with cancer. She is now fully recovered, animated as ever, and in fabulous voice. She was most impressive on a stunning version of Miles Davis' "Tutu", where she sang Davis' solo (lyricized by Jon Hendricks) with drama and panache. Within the Transfer, she usually acts as the lead voice, and she has added several filigrees to the ensemble choruses of well-known Transfer standards like "Birdland". That piece, one of the best-known selections in the group's repertoire, also featured a very effective reduction in dynamics a little after the arrangement's halfway point, and this allowed the group to build once again as it approached the ending of the chart.
Alan Paul's deepest love is for Jersey doo-wop, and his solo number was an emotionally charged version of "Only You".  But Paul's range is much wider than that, and his self-penned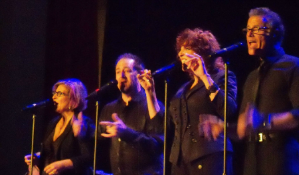 vocalese on "Air Mail Special" was one of the night's highlights. He was also in excellent form on two Transfer favorites, "The Duke of Dubuque" and "Candy". Near the end of the concert, Paul led the group through a brilliant chorus of rhythmic counterpoint on "Bahia de Todas as Contas", the only selection on the concert from the Transfer's acclaimed album "Brasil". 
As a group, the Transfer's 4-part harmony was solid and tight. As usual, they sang perfectly in tune, not only in relationship to the instruments behind them, but more importantly, in relationship to each other. With Curless in the group, the blend was necessarily different than with Hauser, but the time that Curless has spent as a sub with the group (including recent tours of Australia and Japan) has been well-spent in creating a unique blend with a seemingly softer edge. The group was backed by a fine rhythm section, headed by pianist and musical director Yaron Gershovsky. In addition to Wicks on both acoustic and electric bass, the band was booted along by the powerhouse drumming of Steve Hass.
While the Manhattan Transfer tours regularly (and has performed acclaimed joint concerts with the New York Voices and Jon Hendricks), they haven't made an album in several years. As the cheering reactions of the Denver crowd demonstrated, there is still an enthusiastic audience for jazz vocal groups. Once Hauser returns to the group, they should create a batch of fresh arrangements and record a new album, even if they have to release it themselves. And keep your eye on Trist Curless. I'm confident that he will be an important voice in the vocal music of the future. 
Photos by Thomas Cunniffe.