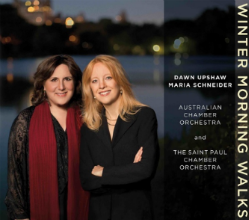 Since her 1994 debut release, "Evanesence", Maria Schneider has become one of jazz's most influential composer/arrangers. Echoes of her original concepts of harmony and melody appear in many big band arrangements of the last two decades, and at least two female bandleaders, Chie Imaizumi and Asuka Kakitani, have created their own big bands based on Schneider's New York orchestra. Schneider was also a leader in producing and controlling her own recordings through the ArtistShare model. For her first album in five years, Schneider has taken another new direction. "Winter Morning Walks" is not a jazz album, but a performance of Schneider's two song cycles written for chamber orchestra and the voice of soprano Dawn Upshaw.
Listeners familiar with Schneider's previous recordings will doubtlessly hear elements of jazz in her orchestral writing. On the title piece, Schneider added three key members of her New York orchestra to the ranks of the Australian Chamber Orchestra. The parts Schneider created for these musicians (alto and bass clarinetist Scott Robinson, pianist Frank Kimbrough and bassist Jay Anderson) are partially improvised, and provide brilliant counterpoint to Upshaw's vocal lines. While the second piece, "Carlos Drummond de Andrade Stories" (performed by the St. Paul Chamber Orchestra) is thorough-composed, some of Schneider's arching melodies hearken back to the Latin-flavored pieces on her big band albums. However, these elements are not at the forefront of the music, and classical listeners unfamiliar with Schneider might not recognize those elements at all.
Prior to composing these works, Schneider had never set lyrics to music, nor had she ever written for orchestra. It was Upshaw, a longtime fan of Schneider's big band, who encouraged Schneider to write these pieces. Schneider's orchestral scores retain her original voice, but they are not adaptations of ideas written for her big band. Her string writing is quite idiomatic, and she's very good at enhancing the verbal images with orchestral sounds. The first movement of the title piece, "Perfectly Still This Solstice Morning" captures the feeling of a cold Midwestern morning with a simple drone, piano arpeggios, and Upshaw's clear voice. The next movement describes insects fluttering near an electric light, and Schneider's score contains several jagged intersecting lines that suddenly cease when the light is turned out. As the compositions play out, Schneider's rich orchestral palette astonishes with its variety and freshness. And while Schneider had never conducted an orchestra before, I'm sure that her highly expressive conducting style is responsible for the richness of these interpretations.
Upshaw, one of classical music's most flexible and versatile performers, is in exceptional voice on this recording. Although she has been singing professionally for nearly three decades, her voice shows no signs of aging, and her communication of texts remain unequalled by any vocalist in any genre. She brings a genuine sense of wonder to these texts, and while her voice is clearly feminine, she can still deliver Ted Kooser's text "My Wife and I Walk the Cold Road" without the slightest sense of gender confusion. And when she swoops up to her high register (notably on the Drummond "Dead in their Frock Coats"), she brings the listener on an emotional high with her.
Like the finest jazz, this album provides new delights each time it's played. Each time I've heard it, I've found a new favorite track and discovered fresh touches in the orchestrations. Thankfully, Schneider has not abandoned the jazz world, and I'm sure her next big band album will be full of new surprises. However, I hope she doesn't abandon the classical world either. I suspect that her continued work for orchestras could be as rewarding as her music for big band.