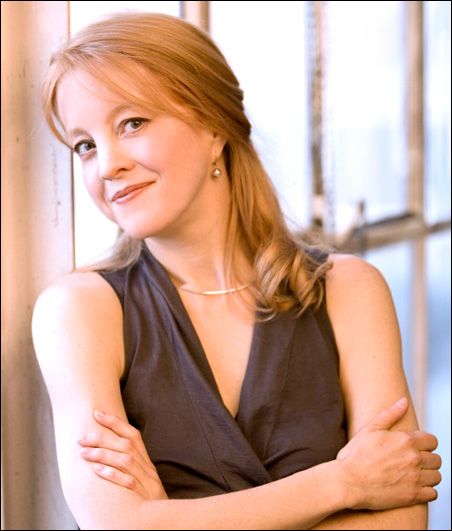 At a concert in Boulder's Macky Auditorium, Maria Schneider beamed with pride as flugelhornist Chris Oliver soloed on her composition, "Last Season". Oliver is a member of the University of Colorado's Jazz Ensemble I and not a professional musician, but his fine tone and fluid solo style complimented Schneider's music. The performance concluded a four-day visit by Schneider which also included several clinics and rehearsals. By all indications, the New York-based Schneider was very impressed with the Boulder students.
Schneider is one of the most innovative of all big band composers. She has a unique approach to this genre, creating music that paints more than it blasts. Some of her scores incorporate the intricate cross-rhythms of Brazil and Peru, while others offer tender memories of her childhood in Minnesota. Her pieces call for extensive woodwind doubles, delicate balances between brass and reeds, the addition of an accordion in the rhythm section, and wordless soprano vocals adding to the trumpet lines. She is an elegant conductor, bringing out the nuances of her compositions with expressive and precise movements of her hands and fingers.
The CU band, led and prepared by John Davis, is much more polished than the ensemble I heard last fall. They played Schneider's demanding arrangements with precision and spirit. On stage, Schneider made sure to introduce them all by name and, in some cases, praise them for their exceptional musicianship. I can only agree that trumpeter Daniel Jonas had earned his doctorate for his skillful playing of the lead parts, and that Stephen Thurston's lush piano solos had enriched the band's performances of "Last Season". Tenor saxophonist Carl Schultz impressively navigated the waters of Schneider's sailing opus, "Coming About". After a slow start, alto saxophonist Amy Peck soared in her solo on "Journey Home", and Chris Herald offered a superb solo turn on soprano sax on "Last Season". Percussionist Ben Christianson provided excellent support on the cajon on one number, and through the entire concert, drummer Ed Breazeale amused with his animated facial expressions and impressed with his rock-solid time. What I heard of vocalist Suzanne Morrison, accordionist Annie Booth and bassist Patrick McDevitt was very good, but all too often, they were buried in the sound mix.
The best solos of the night came from guest artists John Gunther and Brad Goode. Goode's trumpet feature on the standard "My Ideal" was the final piece on the concert, and in both muted and open horn episodes, he found surprising new solo avenues through the standard chord progression. Alto saxophonist Gunther was featured on a new piece called "Nimbus", and  from the powerful wailing opening chorus through his extraordinary solo, he increased the intensity at every turn. While he was in complete control at all times, I've never him play with such raw emotional power.
As a composition, "Nimbus" deserves extra comment. The newest composition on the concert, it is the only piece not yet recorded by Schneider's New York orchestra. While all of Schneider's pieces show the influence of Gil Evans, "Nimbus" was particularly reminiscent of Evans' comment about the Claude Thornhill band: "The sound hung like a cloud". It's not just the title of Schneider's composition that elicits those memories, but the music itself, which in its opening and closing segments seems to float in midair rather then marching through time. And while I can understand the need for a steady pulse during the solo section, I felt that the rock beat introduced at that point lessened the effect that had been so well built up in the opening chorus. Perhaps Schneider will find a different solution for this section before recording it with her band.
Like the choral and band composer Eric Whitacre, Schneider has enhanced her exposure to the public by performing her works with college and professional performing groups. While both Schneider and Whitacre have their own ensembles for recording and local performances, both are able to elicit outstanding performances from other groups through their extraordinary communication and conducting skills. The audiences get to hear their local groups shine through the music of their guest conductor, but it is the musicians who gain the most from interacting with and learning from these superb musicians. These are truly experiences that will enhance the musician's lives forever.