Colorado jazz fans were offered a rare treat with two performances by composer/bandleader Maria Schneider in just under two weeks. In addition to a four-day workshop with student musicians from the University of Colorado in Boulder, Schneider brought her entire New York-based orchestra to the Lakewood Cultural Center for a sold-out concert. The combination of the February 15 concert at Boulder's Mackey Auditorium and the February 27 Lakewood performance presented listeners with a unique overview of Schneider's compositional evolution. Schneider is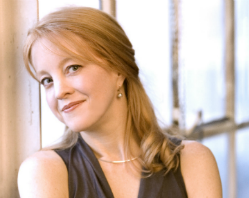 undoubtedly the most influential of all contemporary big band composers. Go to a typical college big band concert, and you're likely to hear some of Schneider's charts alongside several arrangements (written by professionals and students alike) which sound like Schneider's work. Schneider has remained ahead of the competition by enlarging her creative scope and developing new methods to express herself within—and, in one notable case, outside of—the big band medium.
As in her 2011 workshop at CU, Schneider's program focused on her earlier, more accessible works. Half of the concert featured music recorded on her debut album "Evanesence". "Last Season," sporting one of Schneider's most haunting melodies, included a lyric piano introduction by pianist Victor Mestas and an exploratory trumpet solo by Jonathan Saraga. The Concert Jazz Ensemble, prepared by Paul McKee, expressed all of the deep emotion present within Schneider's delicate part-writing. The band roared through two of Schneider's "monster" pieces, "Wyrgly" and "Dance, You Monster, to My Soft Song", with tenor saxophonist Daryl Gott and Jonathan Zimny portraying the phantom creature in the former piece. Another fine tenor saxophonist, Wyatt Wear, played a memorable solo on the minor blues, "Gumba Blue".
On the pieces from later in Schneider's career, the band (with guest vocalist Kathryn Radakovich) soared through the extended masterwork, "Cerulean Skies", and CU alumni Annie Booth contributed a memorable accordion solo on "Home", the most recent composition on the program. In addition to Booth, the CU band was augmented with two musician/educators, trumpeters Greg Gisbert and Hugh Ragin. Both were featured on "Gumba Blue"—Ragin playing blazing straight-ahead bop lines, and Gisbert graciously trading fours with Saraga. The concert ended with jazz department chair John Gunther featured on alto clarinet on the sublime "Walking by Flashlight", a piece Schneider originally composed for classical soprano Dawn Upshaw and string orchestra.
At the Boulder concert, Schneider assured me that most of the Lakewood concert would feature different music, and true to her word, only two pieces were played by both ensembles. The Lakewood concert opened and closed with Schnieder's relatively traditional settings of the standards "That Old Black Magic" and "My Ideal". Those accessible pieces, along with the return of "Gumba Blue" and "Walking by Flashlight", plus two of Schneider's nature works, "Sky Blue" and "The Monarch and the Milkweed" were a necessary calm from the storm of two highly intense (and as yet unrecorded) Schneider works, "Don't Be Evil" and "Data Lords". These two works represente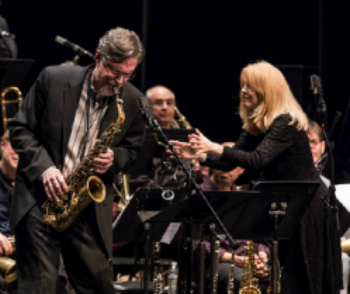 d a new direction for Schneider's muse. A longtime critic of the music industry and technology giants, Schneider has funneled her anger into a frightening musical universe. The flowing pastoral countermelodies of "Cerulean Skies" and "Sky Blue" have been transformed into a dark and menacing wall of sound where melodies cease to exist, and orchestral phrases assault the listener with tremendous force. This is a far cry from the amiable settings of pop melodies played by the big bands of yesteryear, but also a powerful statement of the artistic evolution of Maria Schneider. I can't predict the overall reaction of the jazz audience to these new works, but I can say that I've never heard anything remotely like it from a jazz orchestra.
And what an orchestra Schneider brought! Eighteen of New York's finest musicians were on hand, and nearly all were featured within the program. The trumpet section was lead by Augie Haas with Nadje Noordhuis, Greg Gisbert (featured on "Monarch" and "My Ideal") and Mike Rodriguez ("Data Lords"). Trombones were Tim Albright ("Gumba Blue"), Ryan Keberle ("Don't Be Evil"), Marshall Gilkes ("Monarch"), and George Flynn. The reeds were lead by Dave Pietro ("Data Lords"), Steve Wilson ("Sky Blue"), Rich Perry ("That Old Black Magic"), Jon Irabagon ("Gumba Blue") and Scott Robinson ("Walking by Flashlight"). The rhythm section featured Gary Versace on accordion ("Gumba Blue"), Frank Kimbrough on piano ("Don't Be Evil"), Ben Monder on guitar ("Don't Be Evil" and "Data Lords"), Jay Anderson on bass ("Don't Be Evil") and Kendrick Scott on drums ("Data Lords"). Each solo seemed to bring a new dimension to Schneider's charts, with Wilson's lyric soprano, Keberle's imaginative trombone, Monder's edgy guitar, Irabagon's incisive tenor, Robinson's expressive baritone and Gisbert's singing flugelhorn being the concert highlights. Big bands like Schneider's aren't able to tour too often, as the cost can be prohibitive and schedules rarely conform. However, the full house in Lakewood and the enthusiasm garnered by the CU students should signal Maria Schneider that bringing her orchestra back to Colorado is well worth the effort.
Band photo (Dave Pietro, soloist) taken at the Lobero Theatre in Santa Barbara, CA on Feb 20, 2017 by David Bazemore. Used with permission.