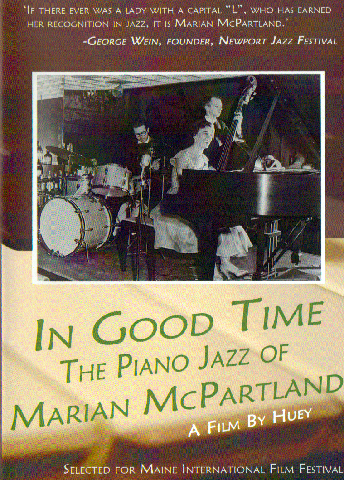 One evening between performances at the first annual Kennedy Center Mary Lou Williams Women in Jazz Festival, I walked out to the lobby and suddenly saw Marian McPartland sitting alone on a couch. I was surprised to see her and felt compelled to introduce myself. I remember telling her how much I appreciated her music, and her radio show "Piano Jazz".  I'm sure I also complimented her on her set of Mary Lou Williams compositions that she had played earlier in the evening. She was very gracious, suffered me gladly, and I am eternally grateful.
There is a brief segment in the new documentary "In Good Time" which reminded me of our impromptu meeting. McPartland, conducting a piano master class, asks if anyone would like to come onstage and play a duet. A student, Jenna McSwain, is volunteered by her friends to play. While McSwain is obviously nervous, McPartland calms her by saying "This will be just like 'Piano Jazz'". Interviewed after the duet, McSwain speaks of being intimidated by McPartland and her long list of duet partners. But the footage of the duet shows that McPartland is a very supportive player, doing all she can to make her partner sound good.
It's almost as if McPartland is intimidating in spite of herself. She is not one to crow about her own accomplishments, or make grand pronouncements about the music. She simply tells her own story and leaves the epiphanies to others. In that same unassuming way, "In Good Time" is an accurate portrait of McPartland. Directed, edited and produced by a man professionally known as "Huey", the documentary offers McPartland's biography in a simple, uncluttered manner, and lets McPartland's musical colleagues explain her importance. McPartland offers her own commentary and insights throughout, telling of the support she received from her husband, Jimmy, and of how she composes her own music.
For good reason, "Piano Jazz" receives the most attention. In addition to offering glimpses of McPartland in the recent past (she just retired from the show after 30+ years), it also shows McPartland doing some of the best work of her career. No one says this in the documentary, but one of the key reasons for the success of "Piano Jazz" is that McPartland learns as much as we do from her guests. Certainly anyone who has followed this program has noted McPartland's own growth as a pianist and composer as a result of these weekly master classes. The film includes performances of several McPartland musical portraits, but none is as impressive as the orchestrated "Portrait of Rachel Carson". Like many of McPartland's other portraits, this one started as an improvisation, but the harmonic acuity and melodic strength of the piece would not have been possible without her regular musical interaction with other musical greats.
The film includes several duets with other pianists, including Dave Brubeck, Renee Rosnes and Dr. Billy Taylor. McPartland's original compositions dominate the soundtrack including "Twilight World", "In the Days of Our Love" and "Threnody", but there are also brief renditions of songs like "Love Is Here to Stay", "Swingin' Till The Girls Come Home" and "The World Is Waiting For The Sunrise". The last-named tune is from a Jimmy McPartland memorial concert, and McPartland offers another tribute to her late husband, a beautifully conceived medley of "When the Saints Go Marchin' In" and "The Blue Bells of Scotland".
In a way, it's appropriate that Marian McPartland was in her mid-80s before someone decided to make a film about her. McPartland has been patient enough to let the world catch up to her and her accomplishments. The rewards she has long deserved have come, all "In Good Time."
The film is currently being shown in film festivals across the country. For information on future screenings or to purchase a copy of the DVD, please visit www.filmsbyhuey.com