DAN CRAY: "MERIDIES" (Origin 82609)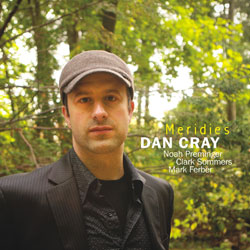 Dan Cray was part of the Chicago jazz scene before moving to Brooklyn in 2009. "Meridies" is his first album since receiving a Master's degree from New York University. Except for two standards, "Meridies" is a collection of originals. Cray's compositions and his playing are deliberate and clear, and there is a strong influence from Brad Mehldau in both harmonic language and legato touch. For the opening cut, Cray performs a 7/4 arrangement of the Charlie Chaplin tune "Smile." Cray's left hand ostinato sets a subdued mood maintained through the entire performance. Tenor saxophonist Noah Preminger joins the band on "Worst Enemy." Cray's solo features a primarily single note texture, but the end of the solo lacks direction. After Cray concludes, drummer Mark Ferber and bassist Clark Sommers switch from a straight-eighths groove to swing. The band doesn't play many swing grooves, but the ones they play are exceptional. Preminger plays a probing solo that experiments with time and harmony. He plays phrases that lay behind the beat while others flow over the bar line. "Amor Fati" is a sensitive ballad , and the duo setting is a welcome contrast. Cray is attuned to the nuances of Preminger's playing. He gently nudges the tune forward while creating different harmonic shades. The future is bright for this young artist.
ARI EREV: "A HANDFUL OF CHANGES"  (Ari Erev Music 885767262577)
"A Handful of Changes" is Israeli pianist Ari Erev's second album as a leader. Initially, he was trained as a classical pianist. Around age 17, harmony sparked the pianist's interest and he was hooked—turning his main focus to jazz. In recent years he has heightened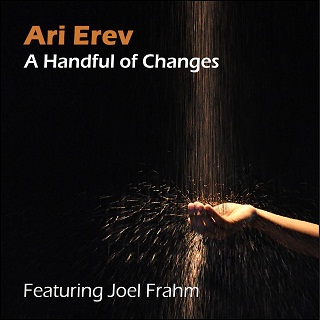 his sensitive expressive playing with active Latin rhythms. Israeli bassist and drummer Arie Volinez and Eitan Itzcovich join Erev for most cuts, with Tal Ronen replacing Volinez on three tracks. Percussionist Gilad Dobrecky adds rhythmic fire to the Latin influenced tunes. However, the star of this record is tenor saxophonist Joel Frahm. His blazing playing elevates the record by creating distinction from Erev's ardent style.  "Open Possibilities" is a Latin flavored tune that commences with a danceable groove pulsating from the bass and drums. Frahm solos first, and his forceful playing molds the tune into a formidable opening statement. Erev follows with a thoughtful solo that leaves space for rhythm section to enter in the dialogue. The pianist possesses a refined technique that produces a warm rounded sound. Erev acknowledges his childhood musical influences with a unique take on Fredric Chopin's "Prelude in E Minor" (Op. 28 No. 4). The piece begins with piano and bass (played pizzicato) stating Chopin's melody almost exactly as he composed it. Once the initial statement concludes, Erev plays a lyrical statement of the melody complemented with a Latin rhythm in the bass and drums. "Simple Melody" is a sensitive, heartfelt ballad that highlights Erev's patience and care with such a delicate melody and accompaniment. There is a veritable earnest feeling in this recording that is well worth your consideration.
ORRIN EVANS: "FLIP THE SCRIPT"  (Posi-Tone 2012)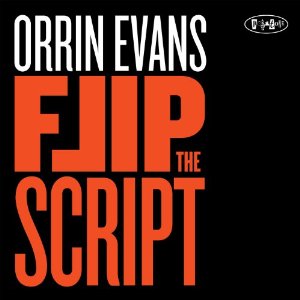 Orrin Evans is a complete musician. He has worked with Bobby Watson, Ravi Coltrane, and Wallace Roney, and he composes for and leads the Captain Black Big Band. As a pianist, Evans is a poised player with a deft technique,with roots in McCoy Tyner and Chick Corea. Evans' new recording "Flip the Script" is an exceptional example of jazz piano in the modern setting. There's a sort of nostalgic Blue Note vibe about this recording, which has a natural unprocessed quality. The powerhouse trio, with bassist Ben Wolfe and drummer Donald Edwards plays with an aggressive tenor on Evans' up-tempo tunes like "Flip the Script," "Question," and  "TC's Blues". "Clean House" is a powerful modal composition in 3/4 time. Evans crafts an authoritative solo that balances his raw power and technical prowess. The two ballads on the record starkly contrast the fireworks of the uptempo tunes. Here, Evans allows the music to breathe. The harmonic movement is slow and allows melody to standout. "The Sound of Philadelphia" is gorgeous melody that sounds like it comes from a movie soundtrack. Highly recommended!
ARTURO O'FARRILL: "THE NOGUCHI SESSIONS"  (Zoho 201205)
Arturo O'Farrill's new solo album, "The Noguchi Sessions" is a diverse collection of material that ranges from minstrel songs to politically inspired originals and free improvisation.  O'Farrill recorded this project after closing time at the Noguchi Museum in Long Island City, NY.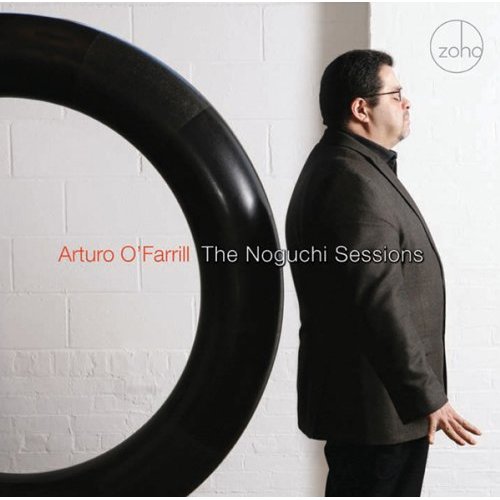 What ensued was an inspired night of playing that emphasized O'Farrill's deep understanding of the jazz piano tradition. The pianist boasts a monstrous technique punctuated with a powerful rhythmic sense. "The Sun at Midnight" is a free improvisational piece, based on an intervallic relationship. The piece was inspired by the Noguchi sculpture seen on the album's front cover.  In the liner notes, O'Farrill writes that the circle of black stone is "seamless and eternal…like picking up a conversation with the cosmos in midstream. There is no start or end point, just entry." O'Farrill begins with contrapuntal  texture that explores the lower register of the piano before gradually ascending for a brief lyric melody. "Oh Danny Boy" carries great significance for O'Farrill. His ancestors were originally from Longford County in Ireland. The tune is also a tribute to the New Yorkers who lost their lives on 9/11. "Their spirits weigh heavily in the hearts of any true New Yorker, not those that use their memory for political or personal gain, but for those of us who couldn't bear the hole in the ground for years afterwards." There was an unplanned siren that sounds during O'Farrill's first playing of the melody which was intentionally left in. The tune traverses through moments of beauty to gospel blues and fades to a somber ending. Charles Mingus' tribute, "Jelly Roll" concludes the recording. It is a light hearted tune, played in stride style, and incorporating the styles of both Mingus and Morton. "The Noguchi Sessions" is a first-class solo piano record. More please!