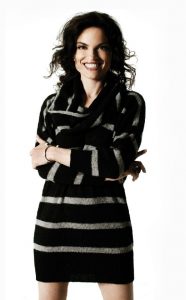 Like many Italian-Americans, Roberta Gambarini is very proud of her musical heritage. As she introduced her version of Bruno Martino's haunting song "Estaté", she noted that João Gilberto's recording of the song led some to believe that it was written by a Brazilian. Then she just shook her head and performed a moving rendition of the ballad in Italian. In the past, Gambarini's ballad readings have left me cold, but here, the emotions of the song came through without translation. After her opening chorus, she cupped her hand around the microphone and improvised an extended solo in an understated impression of a trombone. When she had finished, trombonist Mark Patterson silently offered her his horn.
"Estaté" was the highlight of Gambarini's second set at the Denver jazz club, Dazzle. It was the first of a four-night stand for Gambarini and the local band Convergence. Since being a finalist in the 1998 Thelonious Monk Institutevocal competition, Gambarini's star has steadily risen, with outstanding CDs and concerts with legends like James Moody and Hank Jones. She is abundantly talented with a wide vocal range, impeccable pitch and diction, and impressive skills in both scat and vocalese. Gambarini's late set at Dazzle was long and rather unfocused, but it displayed many of the facets of her amazing talent. Some of her favorite set-pieces were included, like her vocalese settings of the Dizzy Gillespie/Sonny Rollins/Sonny Stitt "On the Sunny Side of the Street" and Monk's "Little Rootie Tootie". There were several scat vehicles like "That Old Black Magic" and "Honeysuckle Rose", plus a rousing blues at the end, which started out untitled but eventually morphed into "Blue 'n' Boogie". In between, there were several surprising song choices: a heartbreaking Astor Piazzolla composition "Oblivion" (sung in French), an undeservingly obscure Cy Coleman song "With Every Breath I Take", and a soulful ballad by Amy Winehouse, "Love Is A Losing Game".
Convergence is a sextet that plays regularly at Dazzle and who frequently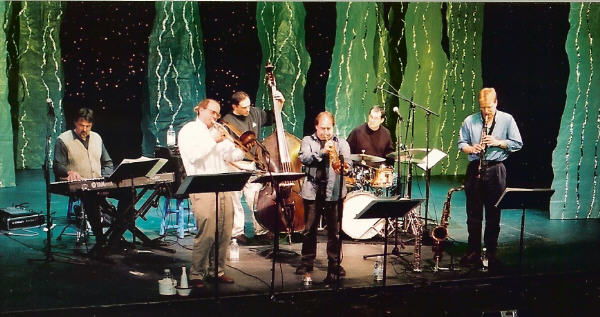 performs with visiting artists. The rhythm section of Eric Gunnison (piano), Mark Simon (bass) and Paul Romaine (drums) offered exemplary support with Gunnison sparking the proceedings with gutsy, funky solos on "Blue 'n' Boogie" and the Stylistics cover "People Make the World Go Round". The front line featured Gabriel Mervine (subbing for Greg Gisbert on trumpet), Patterson on trombone, and John Gunther on reeds. Gunther was the star soloist throughout the set, with fiery muscular solos on tenor that overwhelmed everyone on stage and in the audience. The horns played the arrangements flawlessly, and, with Gambarini, created spontaneous backgrounds on the blues and juggled solo sequences during the performance.
For this engagement, Convergence wrote or adapted 22 different songs to backup Gambarini. Romaine told me that they had not played all of the charts by the end of the first night. So, with an abundance of fresh music and extremely talented musicians to perform it, it seems clear that Denver jazz listeners should to hear several sets by Roberta Gambarini and Convergence. The group plays at Dazzle through Sunday night. Reservations at (303) 839-5100.