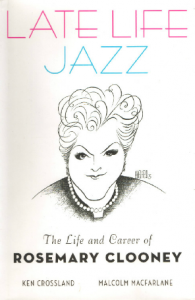 The title of the new Rosemary Clooney biography, "Late Life Jazz" (Oxford), is something of a misnomer. Clooney was never truly a jazz vocalist. She neither improvised nor scatted, and she preferred to sing melodies as written. Yet in the last 25 years of her career, she worked exclusively with jazz musicians and recorded on one of the top independent jazz labels. This environment may not have made Clooney a jazz singer, but it made her a more nuanced and sensitive vocalist than she had ever been. The book's title also suggests that it focuses on her final quarter-century, when it actually covers Clooney's entire life and career.
With only 186 pages of text, the book is brief, but it adequately covers all of the relevant topics of Clooney's life. Authors Ken Crossland and Malcolm MacFarlane discuss Clooney's hard-scrabble childhood in Kentucky, her early partnership with her sister Betty, and her rocky marriage to actor José Ferrer. They are actually quite generous to Clooney's producer, Mitch Miller, as they recognize both his shortcomings and his brilliance in creating hit recordings. While under Miller's direction at Columbia, Clooney had hits in pop, country and children's music. Crossland and MacFarlane detail all of these recordings, both in the text and in the discography in the back of the book. They also discuss Clooney's many duet recordings featuring such diverse partners as Marlene Dietrich, Frank Sinatra and husband Ferrer. Clooney's favorite duet partner was Bing Crosby, and there is extensive coverage of Crosby and Clooney's life both on and off stage.
The combination of a collapsing marriage, a dwindling singing career and dependence on prescription drugs and alcohol led Clooney to a nervous breakdown in 1968.  Clooney discussed this episode in a ghost-written autobiography called "This For Remembrance", so Crossland and MacFarlane only provide the basics of the story, climaxing in a harrowing engagement in Reno where she refused to sing and stood onstage defiantly facing her audience. Following treatment at LA's Mt. Sinai Hospital, Clooney faced a long road back to stardom including hotel bar gigs in Holiday Inns, occasional TV appearances with friends like Merv Griffin, a nostalgia tour called "4 Girls 4" with Rose Marie, Helen O'Connell and Margaret Whiting, and finally reunions with Crosby and her signing with Concord Records. The authors deal with this difficult period with great sensitivity, discreetly pointing out Clooney's triumphs and missteps.
Considering the title of the book, I think that the authors should have spent a little more time discussing Clooney's recordings for Concord. While they offer plenty of details about how the recordings were made (the songwriter concept albums, head arrangements for the jazz octet, Clooney singing live with the band), they seem all too eager to accept the critical opinions of the time rather than evaluating the albums for themselves. Further, they abandon their approach of discussing all of her albums from the period (an approach that worked quite well for Clooney's earlier career). As a result, the leisurely pace of the earlier chapters gives way to a rushed feeling near the end of the book, as if Clooney's schedule was so busy with recordings and concerts that the individual details seem less important.
Following the text is nearly 100 pages of appendices, including a complete discography, a listing of Clooney's television appearances, and a chronology of her life. The TV listing is quite detailed, including original air dates and the songs Clooney sang on each program. The chronology necessarily duplicates material in the main text, but it includes several extended quotations that might have slowed the pace of the principal narrative.
These days, the surname Clooney is more associated with George than his Aunt Rosemary, and there's a danger (unfortunately common to most celebrities of the 20th century) that Rosemary's work will be forgotten. Hopefully, "Late Life Jazz" will encourage listeners young and old to explore the work of Rosemary Clooney, the self-styled "girl singer".