It's been nearly 20 years since bassist Mark Dresser has released a quintet album under his own name.  While he has played as a sideman with other groups, his own albums have focused on solo work. Dresser's new quintet album, "Nourishments" (Clean Feed) reveals several different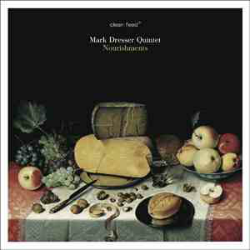 concepts, displayed both individually and in combinations. Through a program of seven original compositions, Dresser re-imagines jazz performance from the ground up, offering complex metric modulations, competing time signatures and unusual harmonic progressions. "Aperitivo" is harmonically a blues, but the rhythm section changes its pulse from bar to bar, creating a swirling, tempestuous background for the solos. Dresser's forms lead to unexpected delights, as on "Rasaman", an Eastern Indian motive which somehow morphs into an uneven Latin groove! The quintet features the exquisitely paired front line of alto saxophonist Rudresh Mahanthappa and trombonist Michael Dessen. Mahanthappa is one of the most imaginative musicians working today. His explosive style and surprising note choices follow in the tradition of Eric Dolphy. Through most of the CD, Dessen provides the calm to Mahanthappa's storm, but during a dual improvisation on the title track, he shows an incisive knowledge of the avant-garde, and like Mahanthappa, he makes subtle changes to his tone to reflect the emotion of his improvisations. Denman Maroney performs on both prepared and standard piano. The assortment of items placed on the piano's soundboard create a wide range of unusual sounds. Tom Rainey and Michael Sarin alternate on drums, both providing colorful rhythmic counterpoint and an astonishing command of unusual pulses. As a bassist, Dresser is impeccable, with flexible but solid support for the band and beautifully played solos both bowed and plucked. As a composer and leader, he's thrown a lot of challenging music at his band and at the listener. It's a lot to absorb in one sitting, but it is clearly a recording that will reward repeated listening.
Representing an almost direct opposite of Dresser's approach is bassist Tom Kennedy's powerfully swinging CD, "Just Play" (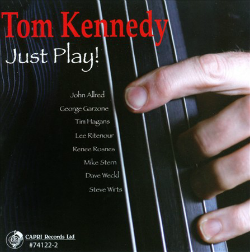 Capri). For a day-long session, Kennedy assembled a stellar group including trumpeter Tim Hagans, trombonist John Allred, tenor saxophonists George Garzone and Steve Wirts, guitarists Mike Stern and Lee Ritenour, pianist Renee Rosnes, and drummer Dave Weckl. Kennedy aimed for a comfortable atmosphere in the studio so that the musicians could focus on solos instead of complicated charts. With Weckl and Kennedy locking in on an energetic groove from the get-go, the rest of the band responds with fiery, inspired solos. Garzone gets a large portion of the solo time, and uses it well with spectacular solos on "Airegin", "Bolivia" and "What Is This Thing Called Love". Rosnes' glistening piano ranges from a fiercely aggressive turn on "One Liners" to a gently pulsating version of "Ceora". Wirts, Allred and Hagans all acquit themselves well on a fine version of "The Night Has A Thousand Eyes", while Ritenour and Stern (who both appear only as soloists) display their radically different approaches on "Moanin'" and "One Liners", respectively. In addition to being a solid anchor of the rhythm section, Kennedy is a fine soloist, projecting a rich tone and horn-like improvisations. Not all of the musicians play on each track (unfortunately, the personnel does not specify who plays when, but most of the puzzle can be worked out with Bill Milkowski's liner notes). Some of the finest moments on the CD come in the smaller ensemble pieces, including the Garzone-and-rhythm version of "In A Sentimental Mood", Rosnes' piano trio arrangement of "In Your Own Sweet Way" and the closing Garzone-bass-drums free-bop rendition of "What Is This Thing Called Love".
Staking out the vast middle ground between Dresser and Kennedy is drummer Jack Mouse's new Origin CD, "Range of Motion". Mouse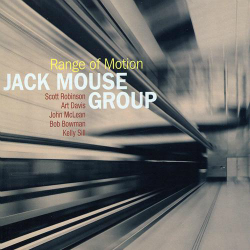 composed all of the pieces on this album, but the structures are considerably looser than on Dresser's album. He also closes his album with an impromptu duet with his tenor saxophonist, Scott Robinson, but the results are much more low-key than on the Kennedy CD. Of course, Mouse's album stands up on its own without comparing it to the other albums. Excepting New Yorker Robinson, the other musicians—trumpeter Art Davis, guitarist John McLean, and alternating bassists Kelly Sill and Bob Bowman—are, like Mouse, Chicago musicians. There's obvious familiarity between these Windy City instrumentalists, and to his credit, Robinson fits right in to the group. The opening track "LaPorta", includes several sections of collective improvisation, and there's a great give-and-take to each player's contribution. Davis' straight-forward tone contrasts well with Robinson's opaque sound, and their improvisations reveal the wide range of their influences. At times, McLean relies too heavily on the guitar effects, but his solos are well-constructed and he ably supports the other soloists. Each of the bassists get a single solo, but their main role is as accompanists and they do that exceptionally well. Mouse makes his presence known throughout with ongoing commentary with the other musicians, and he has a great brush spot on the Mancini-inspired tune "The Breezeling". Mouse's compositions include tributes to influences John LaPorta and Shelly Manne, pieces he wrote while in the Chicago Jazz Quintet and Bunky Green's group, plus tunes inspired by Chicago winter storms, Kansas prairie dances and hockey star Bobby Orr. While the compositions cover a variety of styles (blues, cool, jazz waltz, New Orleans strut), there's a unified feeling to the repertoire which strengthens the album as a whole.