SARA GAZAREK: "BLOSSOM AND BEE" (Palmetto 2155)
Sara Gazarek is quick to point out that her new album "Blossom and Bee" is not a Blossom Dearie tribute album, but that much of the music was inspired by Dearie's repertoire and style. It's an important distinction: Gazarek hasn't recorded under her own name in five years, and she wanted to create an album that would capture the spirit of her band's live performances. She was surprised to see how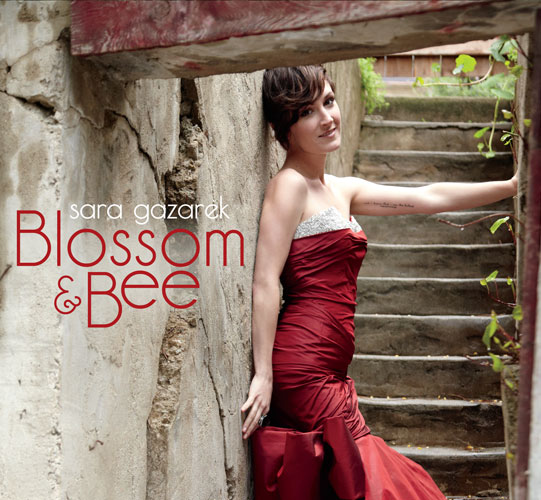 many of the album's selections were associated with Dearie, but it was essential for Gazarek to include several pieces that were part of her own experiences. Gazarek has a clear voice with superb diction, and she makes lyrics come alive, regardless of whether the words originated from Lorenz Hart, Ben Folds or her own pen. She captures the devilish wit in "Everything I've Got", proclaims unconditional love in "The Luckiest", and offers an inspirational message in "Fly Away Birdie". Her version of "The Lies of Handsome Men" is simply definitive, as she communicates the vulnerability in Francesca Blumenthal's heartbreaking lyric (See a concert video here).
The arrangements were created by Gazarek and her band, including pianist Josh Nelson, bassist Hamilton Price and drummer Zach Harmon, and their fresh approaches to standard material yield stunning, inspired performances. Their subtle use of mixed meter offers constant rhythmic surprises to a sly, sexy "Tea For Two", and Gazarek's simple glockenspiel obbligato over the pulsating rhythm in "I'm Old-Fashioned" gives a taste of new and old styles at the same time. Gazarek creates inventive melodic variations on the slightly off-kilter "Down with Love" and her only scat solo appears on the pleasantly grooving "So This Is Love". John Pizzarelli guests on two tracks, a saucy remake of "Some of These Days" (which also features the album's producer, Larry Goldings, on organ), and the title track, a lightly-swinging piece co-composed by Gazarek and Goldings. As an album, "Blossom and Bee" serves a dual purpose: it showcases the brilliant work of a young singer while bringing forth the spirit of a past master. Blossom Dearie would have dug Sara Gazarek. You will, too.—THOMAS CUNNIFFE
CAROL SABOYA: "BELEZAS" (AAM 704)
Although Carol Saboya has already recorded eight albums, "Belezas" (Beautiful Things) is her first to be released in the US. The album features the music of Ivan Lins and Milton Nascimento, among the best known post-bossa nova Brazilian composers/singers. Saboya's sweet and engaging voice is somewhat reminiscent of Stacey Kent. I rarely enjoy hearing Brazilian vocalists sing in English, but it's a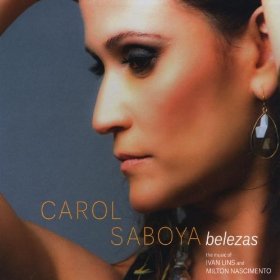 delight to hear Saboya because sings equally well in both Portuguese and English and she moves seamlessly between the two languages. The excellent band was led by Saboya's father, Antonio Adolfo, who also played piano, produced the album and wrote all the arrangements. Adolfo brings out the similarities between Lins and Nascimento, by highlighting some of Nascimento's traits in Lins' tunes, and vice-versa.  The result is a delightful album that is the epitome of good taste and impeccable musicality.
Saboya sings Lins' "Doce Presença" with a new English lyric penned by Jane Monheit (plus captivating backing and solo by guest Hendrik Meurkens' harmonica), and it works perfectly. Lins' "Abre-Alas," with a vibrant overdubbed vocal by Saboya on the refrain, is a song that has the spirit of Carnival and was written as a protest against the Brazilian dictatorship of the 1970s. Claudio Spiewak takes a lovely acoustic guitar solo on Saboya's flawless rendition of Lins' "Velas Içadas." Jorge Helder's acoustic bass line neatly captures the essence of a moving train in Nascimento's "Três Pontas," while guest musician Dave Liebman takes a brilliant tenor sax solo on Nascimento's lovely ballad "Tarde."  Saboya's sassy, insinuating treatment of Lins' "Soberana Rosa," sung in both English and Portuguese, is a definite charmer, and Rafael Barata's nimble, swinging percussion stands out on Nascimento's lilting samba "Beleza e Canção," punctuated by Adolfo's piano. With the ever-growing interest in Brazilian music in the US, I predict that "Belezas" will be a smashing success.—AMY DUNCAN
NICKY SCHRIRE: "FREEDOM FLIGHT" (Circavision 884)
There's a fearless quality in the music of Nicky Schrire. She sings of it in her original song, "Journey" with lines like Even if I fall down/Even when I stand up/Still my destination stays in sight, and she embodies it throughout her debut album "Freedom Flight" with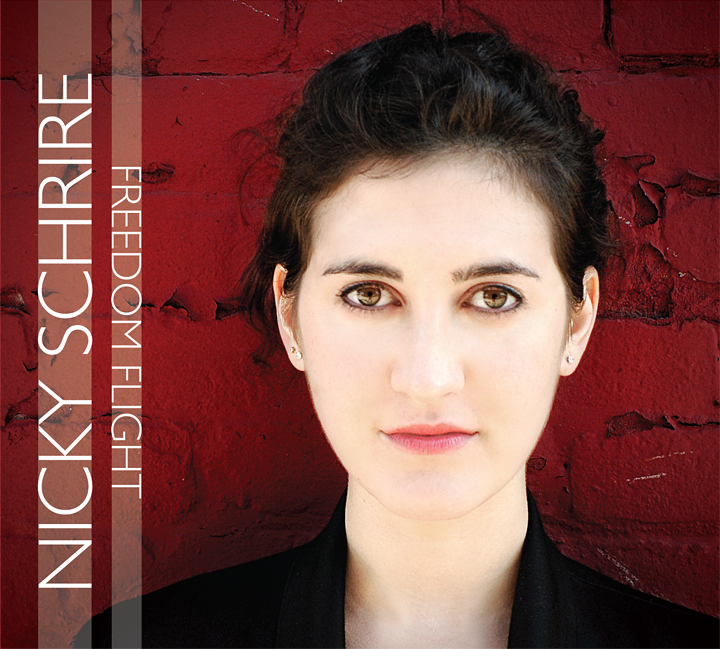 several wordless vocal passages, daring improvisations and minimalistic accompaniments. Schrire's voice is incredibly pure and flexible, and her harmonic sense is sure, allowing her to flawlessly sing a complex melodic line like the David Linx/Maria Pia de Vito song "Sleep Away" without taking away attention from the lyric. She doesn't require much instrumental support, as evidenced by her duet version of "If Ever I Would Leave You", where her mentor Peter Eldridge plays a simple piano ostinato and lets Schrire carry the song with its powerful emotional message intact.
Where the lyrics are less important, as on "Me, the Mango Picker", Schrire offers stunning wordless unison and contrapuntal lines with clarinetist Jay Rattman. On a fascinating arrangement of Loudon Wainwright's "The Swimming Song", she incorporates percussion, a drone instrument and her own overdubbed background vocals, and then weaves her solo voice through with astonishing dissonances and cross-rhythms. And on a cover of James Taylor's "Shower the People", Schrire and Eldridge create an impressive overdubbed chorus of interweaving vocal parts. Schrire has studied with many of the best vocalists and coaches in jazz today, including Theo Bleckmann, Dominique Eade, Gretchen Parlato, Norma Winstone and Kate McGarry. She's obviously learned well and added her own individuality to the mix. Her strong and brave musical persona will serve her well in what will certainly be a remarkable career in jazz.—THOMAS CUNNIFFE
SARA SERPA: "MOBILE" (Inner Circle Music 22)
Sara Serpa is best known for her wordless musical explorations, so it might be a shock that her most recent album, "Mobile" is inspired by literature. Authors as varied as Homer, Melville, Naipaul, Steinbeck and Kapuscinski—all united by the common theme of solitary travel—provided the spiritual impetus for Serpa's original music. Several of the tracks are wordless, but Serpa and her musicians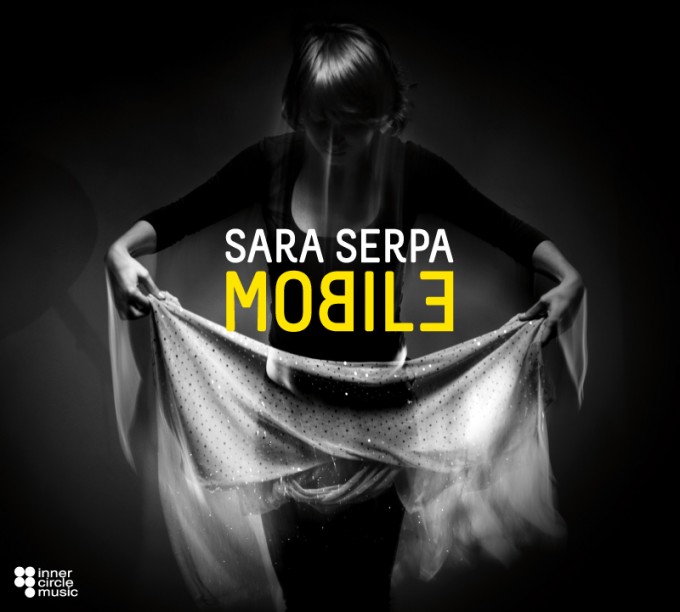 successfully recreate the atmosphere of each scene, as in "Gold Diggin' Ants" where a collective improvisation evokes the scurrying fox-sized ants from Herodotus' "Histories". Her use of words is dramatic, with wide melodic leaps highlighting e.e. cummings' text on "If" and a stark spoken reading of a Steinbeck passage on the opening track, "Sequoia Gigantis". On "Sem Razão" and "Corto" she sings plaintive melodies in her native Portuguese. There are few vocalists that can match Serpa as an improviser, and her extraordinarily wide range, pure vocal tone, unexpected leaps and harmonic acumen make her extended solos like superhuman feats. And on the final track, Serpa's overdubbed voice in tight harmony does seem out of this world. It acts as a recurring motive on "City of Light, City of Darkness", inspired by a Rodrigues Migueis passage about a subway janitor who sees daylight through the ceilings and collects the rice that falls from weddings occurring above.
Serpa and her instrumentalists, guitarist Andre Matos, pianist Kris Davis, bassist Ben Street and drummer Ted Poor, are an adventurous group, and their uncompromising music makes few concessions for novice listeners. For those new to Serpa's music, a better introduction might be "Camera Obscura" (Inner Circle Music 15), a program of duets with pianist Ran Blake. The album features several standards and a few originals, but is far from traditional considering the wide-reaching imaginations of both vocalist and pianist. The album is short—only 29 minutes—but it is budget-priced, and the pair has a second duet album scheduled for release in November.—THOMAS CUNNIFFE
JUDI SILVANO: "INDIGO MOODS" (Jazzed Media 1058)
In the press release to her new album, "Indigo Moods", Judi Silvano credits her personal interpretations of standards to "having lived a little longer, from experience". Silvano may be the eldest of the vocalists featured here, but her performances show an unrestricted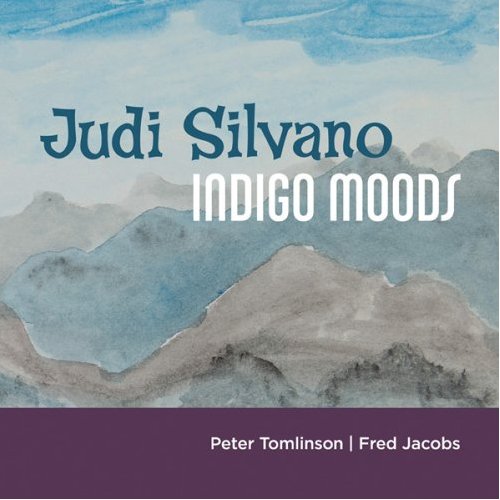 imagination and eagerness to experiment. On "Indigo Moods", she sings with pianist Peter Tomlinson and trumpeter Fred Jacobs, and the three musicians let the arrangements evolve during the recording sessions.
While Silvano takes great musical risks (including a remarkable melodic variation on "Mood Indigo"), she's also concerned with telling stories through the lyrics. She sings the verses on several selections, including "But Beautiful", "If I Had You" and "If You Could See Me Now" (and how many knew that those songs had verses?) On the other hand, she opens "Embraceable You" and "If You Never Come to Me" wordlessly because as she says "I want people to tune into the melodic and rhythmic movement before they hear the words." She doesn't perform many scat solos on this album, but her exchanges and duets with Jacobs display a strong musical affinity with the trumpeter. Tomlinson's piano style features rich full harmonies and strongly rhythm pulsations that make up for the absence of bass and drums. Musically, this album may not be as technically fluent as the others in this survey—Jacobs fracks several notes, and Silvano's slightly wobbly voice doesn't always hit pitches accurately—but the emotional depth of the interpretations may outshine all the others.—THOMAS CUNNIFFE