SARAH ELGETI: "INTO THE OPEN" (Your Favorite 20)
Sarah Elgeti has pulled off a rather amazing feat on her debut recording, "Into the Open." She has explored a wide variety of styles, but the project comes across as a unified whole. Her personality is like a golden thread tying all of her work together, with absolutely no sense of fragmentation. Although the Danish saxophonist/flutist/composer hasn't been on the jazz scene all that long, she has already found a powerful and engaging voice. In addition to being an accomplished, inventive player, Elgeti is a prodigious composer, as she proves here with twel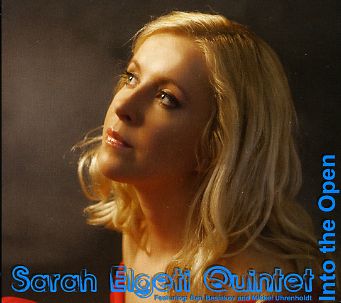 ve of her own pieces.
The opening track, "Home," is a soaring melody on tenor sax with an ad lib accompaniment on bass and drums, reminiscent of some of Ornette Coleman's early work. "Bossa among the Trees" is a moody minor motif for the full quintet, with Elgeti on tenor and Marianne Markmann-Eriksen on alto sax introducing the melody in both unison and harmony. Elgeti's riveting solo is funky and modal, and reminiscent of John Lurie's music. Christian Bluhme Hansen's nylon string guitar offers the perfect balance on "Out in the Fields," a pretty ballad that features a stunning interplay between Elgeti's tenor and Eriksen's alto. Then there's "Finge I Vand," loosely translated "let it rain." This is my favorite track: I love the playful counterpoint between Eriksen's alto and Elgeti's flute on the melody. The marimba adds a nice touch to the overall rainy mood.
"Trying to Forget" is a melancholy ballad interspersed with mini forays into avant-garde chaos that sound like human cries of agony. The contrast between these brief interludes and the smoothness of the melodic refrain is startling and evocative. "Blustering Waves" opens with a joyful, exuberant line played by the saxes, leading into a swinging, hard-boppish horn line and a cooking, punctuated piano solo by Ben Besiakov. "Clouds" is a delightful dialog between Elgeti's flute and Eriksen's alto, followed by further conversations among bassist Jens Kristian Andersen, the guitar and horns. The piece has a light, ethereal feel, and is a great vehicle for individual expression by the band members. The playful, punchy soprano sax melodic line of "Night Moves" bounces along over a bass vamp and then leads into wailing free bag madness before it reprises over a jumping baritone sax vamp. Overall,  a very impressive debut by Elgeti.—AMY DUNCAN
JESSICA JONES/MARK TAYLOR: "LIVE AT THE FREIGHT" (New Artists 1052)
"Live at the Freight" is one of the most intriguing albums I've heard in recent months. Recorded at the Freight and Salvage coffeehouse in Berkeley, the album features co-leaders Jessica Jones on tenor sax and Mark Taylor on French horn and mellophone, with bassist John Shifflett and drummer Jason Lewis. The instrumentation and recording location might lead the listener to believe that the music is an homage to the cool jazz of the 1950s, and indeed, the opening seems to borrow heavily from the original Gerry Mulligan Quartet with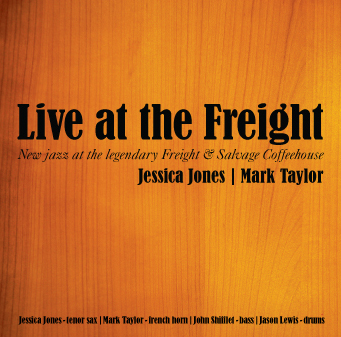 Chet Baker. But closer listening to that opening track, Taylor's minor blues "Furious George", reveals later stylistic influences than Mulligan and Baker.  And as the program continues, Jones and Taylor gently lead the listener from Mulligan into music that evokes early Ornette Coleman, progressive mid-60s Blue Note LPs and the Miles Davis Quintet with Wayne Shorter. The intimacy of these styles was tossed aside amid the increased volume of avant-garde and fusion music of the late 60s, and it is refreshing to hear musicians exploring these genres.
This is a group that listens. The horns' improvised dialogues were an important part of the Mulligan/Baker style, but Jones and Taylor use them in both "Furious George" and the progressive numbers to illustrate the unity between these seemingly disparate styles. The instrumental voices are a stunning match, with Jones' serpentine lines (more from Wayne Shorter and Joe Henderson than John Coltrane) working well off Taylor's blunt direct lines. Shifflett and Lewis have worked together for the past quarter-century and they have a flexible lean sound as a team. All of the compositions are by Jones and Taylor, with two of Taylor's pieces chronicling the adventures of his fictional muse, Osmium Zamindar (the second piece, a catchy 5/4 number called "The Zamindar Gambit" would be perfect soundtrack music for a low-budget black-and-white spy film). Jones' pieces include "Waynopolis" and "Manhattan", which evoke the styles of Shorter and Coleman, respectively. The low-key conversational style of the album makes the styles easy to absorb, and the CD can even be recommended to those who say they don't like free jazz. It may be the last of its kind: soon after this recording was made, Taylor was diagnosed with a neurological condition called focal dystonia, and he may not be able to play brass instruments anymore. This tragedy makes "Live at the Freight" all the more important. Pick up a copy and be amazed at the linear beauty of free jazz.—THOMAS CUNNIFFE
VIRGINIA MAYHEW: "MARY LOU WILLIAMS—THE NEXT 100 YEARS" (Renma 6402)
Tenor saxophonist Virginia Mayhew has a strong affinity for jazz history, and her straightforward style fits easily into genres from swing to free. She's been featured at several editions of the Kennedy Center's Mary Lou Williams Women in Jazz festival, and at the 2010 festival, she helped celebrate Williams' centennial by playing several of the pianist's compositions. Later that year, she took her quintet into the studio and recorded "The Next 100 Years", a tribute to Williams that expands upon the original compositions in astonishing ways. It is a testament to Mayhew's deta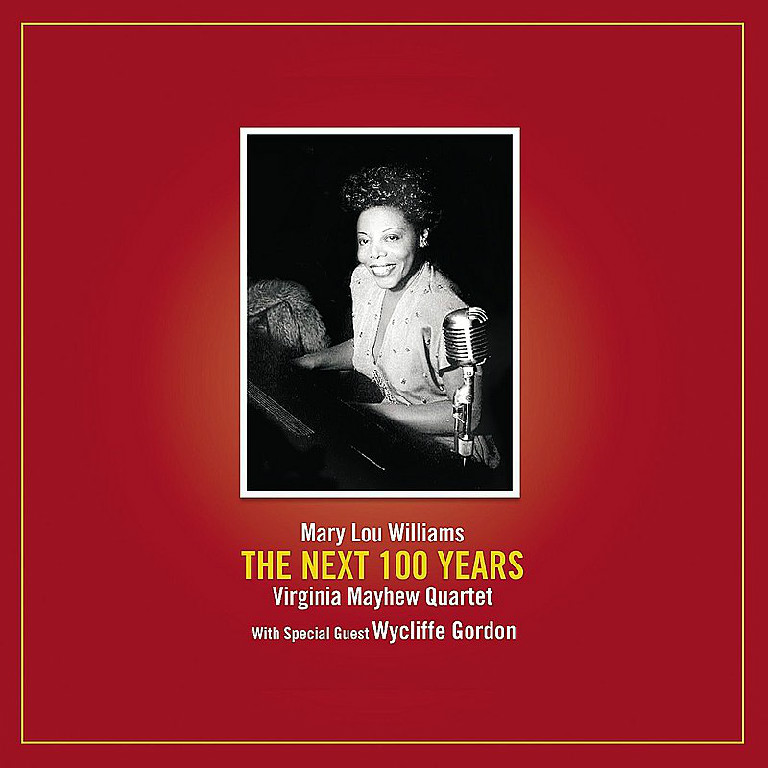 iled research that she included several of Williams' later works (many of which had not been recorded since the pianist's original versions) and that her research on Williams led her to the Institute of Jazz Studies at Rutgers, where she found several of Williams' recordings and manuscripts. One of those scores included a melodic line to "Medi I" which receives its first recording on Mayhew's album. Mayhew also arranged several of Williams' solos on "Medi II" to create a new melody, and she expanded "Cancer" from Williams' "Zodiac Suite" to include an up-tempo improvisation section.
In addition to Mayhew's swinging tenor, the band includes trombonist Wycliffe Gordon, whose warm and humorous plunger work enlivens "What's Your Story, Morning Glory", guitarist Ed Cherry, good throughout but especially fine on a pair of 3/4 blues, "JB's Waltz" and "Waltz Boogie", Harvie S, who swings mightily through his solo on "NME", and drummer Andy Watson, whose solo effectively bridges the rubato and up-tempo sections of "Cancer". The ensemble creates a booting swing on "Medi II" and on Mayhew's original blues "One for Mary Lou". In the liner notes, Mayhew says that she originally conceived "a 'modern' take on [Williams' music], but…without a strong swing and feeling for the blues, something would be missing". Thankfully, she found the right combination, and "The Next 100 Years" is a worthy and profound tribute to a great jazz master.  [Concurrent with the release of "The Next 100 Years" is "The Single Petal of a Rose" an album by the Duke Ellington Legacy, a cooperative unit which includes Mayhew on tenor and clarinet. While the Ellington album is less-focused than the Williams, it is further evidence of Mayhew's love for classic jazz, and it includes several fine performances by Mayhew, Norman Simmons and Houston Person].—THOMAS CUNNIFFE
ROBERTA PIKET: "SOLO" (Thirteenth Note 4)
There are inevitable parallels between solo jazz piano and a classical piano recital. Most pianists learned to play by studying the classics, and years later, when they play a solo jazz set, the old criteria returns: use of rubato, tone, touch, pedal, et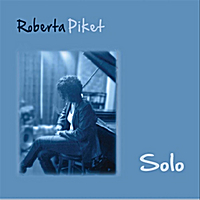 c. On Roberta Piket's new CD "Solo", she embraces these ideals and adds a few more. She freely borrows from Erik Satie's "Gymnopedie" to set the stage for her version of "I See Your Face Before Me", and alludes to Claude Debussy's "Engulfed Cathedral" as background to "Something To Live For". And while the melody to "Monk's Dream" is present throughout her free "Variations on a Dream", the dense harmonies and counterpoint could have come from a composition by Bela Bartok or Paul Hindemith. However, Piket's album is not a simple matter of classical meets jazz. Her imaginative versions of Bruno Martino's "Estate" and Chick Corea's "Litha" are simultaneously thought-provoking and swinging. She brings it all together in her version of Marian McPartland's "In The Days of Our Love", starting with a sensitive rubato theme statement that reflects her classical training, followed by a bright-tempoed improvisation that works strictly within the jazz tradition. The transition between the two styles is simply flawless, and the return to the original tempo is a brilliantly-played ritardando that stretches over several bars and continues to the last note of the piece. The album closes with tributes to two important mentors. Her version of Sam Rivers' "Beatrice" is both delightful and swinging, and her simple, thoughtful rendition of "Improvisation Blue" written by her father, the classical and liturgical composer Frederick Piket, is a perfect tribute from daughter to dad.  Roberta Piket is not as well-known as she should be, but "Solo" gives plenty of examples of her deep, rich talent.—THOMAS CUNNIFFE
ANNE SAJDERA: "AZUL" (Bijuri 2082)
A classically trained pianist and composer, Anne Sajdera developed an interest in Brazilian music through fellow musicians, and then began gigging around the Bay Area with her own band, Pelo Mar. She has also been influenced by classical Hindustani music, and the sound of ragas tends to pop up in her playing from time to time. The opening tune of her debut album "Azul" is an original, "Rashid," a lively jazz-samba tribute to Hindustani classical singer, Ustad Rashid Khan. Sajdera wrote it as an offering to Iemanjá, the sea goddess, in response to the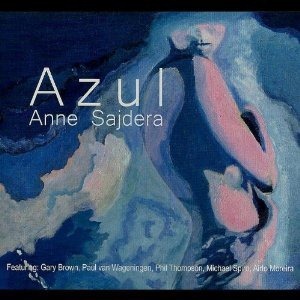 Gulf oil spill. Airto Moreira and Michael Spiro's impeccable percussion adds a light, swinging feel to the piece. Sajdera interprets Wayne Shorter's "Ana Maria" as a breezy, meandering bossa nova. A moody solo dialogue between the drums and piano over a bass pedal brings the tune to a close. She paints an enchanting musical landscape with the title song, playing the melody in octaves over the percussion and leading into a carefully crafted solo that gradually morphs into a slow bossa groove. Sajdera offers a reharmonized bossa treatment of the standard "I Should Care," which ends with a conga solo by Spiro over an ingenious piano-bass vamp. Ivan Lins' "Love Dance," a favorite of American jazz musicians, gets a lovely treatment here, with some subtly effective altered chords and a switch to a samba rhythm as Sajdera vamps out with the bass and percussion.
"Sambinha" is a simple little ditty that is the most Brazilian-sounding of all of Sajdera's pieces. Egberto Gismonti's "Frevo" gets a classical-style intro and a raga-like improvised section that flows quickly into a jazz feel. "He's right down the middle," Sajdera says of Gismonti, "like classical music that's improvised." "Tema em 3," a lively waltz by Brazilian guitarist/composer Chico Pinheiro, features Phil Thompson on drums in a creative solo punctuated by Sajdera's chordal comping. "Time Passes" is a repeated chordal motive that echoes its title, and Sajdera provides some very creative comping behind Gary Brown's quietly energetic bass solo. "Touch" is a gentle, yearning bossa-ballad with a probing melody, sensitively accompanied by Brown's bass and Paul Van Wageningen's drums.  Sajdera has a natural musical ability, an incisive touch and is a deft improviser. This first album whets our appetites for more of her interpretations of Brazilian composers, and especially for more of her own compositions.—AMY DUNCAN