PAT BIANCHI: "A HIGHER STANDARD" (21-H Records 001)
Hammond B-3 organist Pat Bianchi has been a favorite sideman on the CDs of many musicians including Ralph Peterson, Ed Cherry, Bill Goodwin and even fellow organist Joey DeFrancesco. However, his recorded appearances as a leader have been less frequent. His newest disc, "A Higher Standard" was supported through crowd-funding, and is Bianchi's first album as a leader in five years. While the last disc, "Back Home" featured an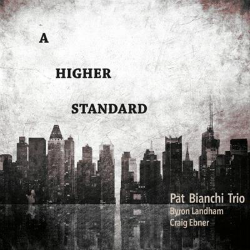 all-star lineup, the new album is a trio date with guitarist Craig Ebner and drummer Byron Landham. While Bianchi and Landham are longtime colleagues, this appears to be the first time that Ebner has recorded with them. Still, the chemistry is electric between the three musicians, and they certainly play very well as an ensemble. On the opening track, "Without a Song", Bianchi and Ebner dive into the changes, creating brilliant solos over Landham's highly interactive drumming. The deeply grooving arrangement of Horace Silver's "Blue Silver" seems a natural fit for this group, and Ebner's switch from electric to acoustic guitar on Sergio Mendes' "So Many Stars" is very effective. Bianchi has always been a very sensitive player, and on the Mendes, he picks a less edgy registration and reduces his volume so that he is even with the guitar and drums. And what a gorgeous solo he plays, full of poignant ideas and well-placed silence. The burning "Will of Landham" includes a drum solo over a vamp, but Landham plays a crucial role throughout the track, with fiery Elvin Jones-like percussion commentary. And on the next track, "Some Other Time", Landham works wonders with his brushes. Oscar Pettiford's "Bohemia After Dark" gets an intriguing rhythmic transformation, and Bianchi continues to play with unusual phrase lengths in his lightning-fast solo. While most of the contrasts occur between adjoining tracks, sometimes they happen within the same piece, as on Bill Evans' "Very Early", where the low-key opening chorus and guitar solo give way to a dramatic organ solo which threatens to completely break the mood. The band creates a lot of intensity on the rapidly shifting chords of John Coltrane's "Satellite", and Bianchi's "Blues Minus One" has a delightful and unexpected stop-time episode built into the theme. This fine recording, which closes with a dancing version of Stevie Wonder's "From the Bottom of My Heart", is proof that Bianchi is a superb leader with an outstanding trio. He should record on his own more often.
MARIA SCHNEIDER ORCHESTRA: "THE THOMPSON FIELDS" (ArtistShare 137)
The concept of "home" permeates Maria Schneider's new album, "The Thompson Fields". Although Schneider has lived in Manhattan for over half of her life, she still holds a special feeling for southwest Minnesota where she grew up. The hardback book which encloses the CD is filled with glorious color photos taken on the Thompson farms not far from her childhood home, and from Schneider's relaxed countenance in the photos, it's clear that there is no place she'd rather be than on the plains. It was the vibrant jazz scene of New York that allowed her the opportunity to realize her compositions with a top-flight orchestra, but Schneider's music so envelops the Midwestern atmosphere it's hard to believe that such tranquil sounds could be made within America's largest city. The gently swaying rhythm of the opening track, "Winter Morning Walks" evokes the ever-present winds o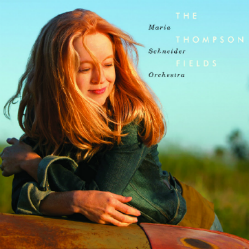 f the prairie, and Scott Robinson's breathy alto clarinet was the perfect choice for the melody statement. There is profound fragility within "The Monarch and the Milkweed" with delicate interweaving lines setting the stage for solos by trombonist Marshall Gilkes and trumpeter Greg Gisbert. Schneider gradually increases the intensity through Gisbert's solo, making Gilkes' return (both in duo improvisation with Gisbert and as a solo voice) a natural climax to the piece. "Arbiters of Evolution" opens with shifting rhythms punctuated by George Flynn's bass trombone. Donny McCaslin solos on tenor sax over the rhythm for a while before the background starts to break down, and this segues into a richly-scored slow section (with Gary Versace's accordion adding remarkable colors) before Scott Robinson (now on baritone sax) starts his solo with free interplay from Frank Kimbrough's piano and Lage Lund's guitar. And as Robinson's solo finishes, Schneider brings the band back in and gradually fuses the two contrasting sections of the composition. The title track has a quiet majesty that invokes deep emotions usually associated with classical music, and the combination of Rich Perry's sensitive tenor solo and Schneider's slow but insistent background on "Home" creates an overwhelming musical experience. Many Midwesterners have survived their share of tornadoes, and Schneider's score (along with Steve Wilson's alto) recreates the remarkable vortex of a twister in "Nimbus". The band's late lead trumpeter, Laurie Frink, is remembered in the tender portrait, "A Potter's Song", and in her extensive liner notes, Schneider recalls an evening of choro and samba with Brazilian clarinetist Paulo Moura that was the inspiration for the stunning closer, "Lembrança". Not only does this piece bring vivid images of Rio to the listener's imagination, it also illustrates that Moura's home in Rio was as special to him as Schneider's home in Windom, Minnesota. I think that Schneider's writing for chamber orchestra has broadened her scope as a composer. There are plenty of big band arrangers who have learned Schneider's earlier style, and with this album, Schneider may well be leading the way to an exciting new world of big band music. "The Thompson Fields" is an amazing testament to the ever-evolving talent of Maria Schneider.
TERELL STAFFORD: "BROTHERLEE LOVE: CELEBRATING LEE MORGAN" (Capri 74138)
The state of Pennsylvania has produced many legendary jazz musicians, including Earl Hines, Roy Eldridge, Mary Lou Williams, John Coltrane and Art Blakey. While Terell Stafford was not born in the Keystone state, he's become an important part of the Philadelphia jazz scene, through his position as Director of Jazz at Temple University, and as founder of the Jazz Orchestra of Philadelphia. Stafford's last album was a tribute to Pittsburgh's Billy Strayhorn, "This Side of Strayhorn", and now, four years later, he brings the same quintet (and the same producer, John Clayton) to a celebration of Philadelphian Lee Morgan on his new disc "Brotherlee Love". Stafford's choices for this tribute are some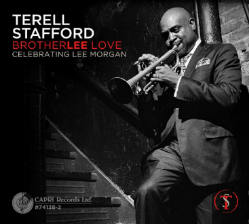 what eclectic, steering away from favorites like "Sidewinder" and "Ceora" for gems like "Mr. Kenyatta" and "Petty Larceny". Unlike his Strayhorn album, Stafford hews closely to Morgan's original style and tempos, opting for small changes like the staccato phrasing on "Speedball" or the delayed entrance of the intertwining horn lines on "Carolyn". Stafford's solo on the opening "Hocus Pocus" is remarkable: it starts with melodies that could have come from Clifford Brown—who was one of Morgan's teachers—and gradually moves into the more daring note choices that were characteristic of Morgan and Freddie Hubbard. Yet these distinct influences are effortlessly fused into one through Stafford's commanding trumpet presence. As on the Strayhorn album, the rest of the quintet is outstanding: Tim Warfield's tenor solos are filled with intricate twists and turns that never seem convoluted or forced. The piano lines of Bruce Barth radiate with their clarity and logic, while Peter Washington's rich tone and rock-solid time anchor the rhythm section with Dana Hall providing a rich and varied commentary from the drums. The rhythm section plays a crucial role on "Petty Larceny", a tune Morgan wrote during his first stand with the Jazz Messengers. About halfway through Stafford's solo, Barth, Washington and Hall start to turn up the heat. Barth plays staccato block chords in the style of Bobby Timmons, Hall whacks the cymbals like Blakey, and Washington digs further into the groove. As Stafford repeats a phrase in the top range of his horn, it's almost sounds like an alternate take of "Moanin'"! The effect is stunning, partially because the re-creation is so accurate, but mostly because this rhythm section (and Stafford) usually play in their recognizable and unique personal styles. While I enjoy the swing numbers, the highlights of this album are the ballads, "Candy" and "Carolyn". Stafford's warm tone, his expressive use of rubato and his broad range of jazz history are all readily apparent when he plays ballads, and I think an all-ballad Stafford album should be next on his recording agenda.  While we wait for that possibility—and please, Terell, don't make us wait for four years for your next album!—this superbly played and deeply swinging tribute to Lee Morgan is a fine showcase for Terell Stafford and his extraordinary quintet.