In 1968, Howard and Cathy Stone made their first visit to Vail, Colorado. After looking around a while, Howard said "You know, we could live here". To which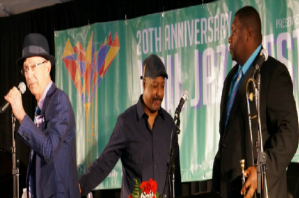 Cathy replied, "Over my dead body". Howard (left, introducing Eric Reed and Wycliffe Gordon) recognized Cathy's point: there wasn't much to the town—a few businesses, gravel streets, and no medical facilities. Cathy was pregnant at the time, and she didn't want to stay in Denver (the location of the nearest hospital) for the final 6 weeks before giving birth. The couple agreed to a compromise, where they would spend part of each year in Vail, and the rest in Los Angeles. Since then, Vail has become a major skiing destination with lots of retail stores and a highly developed (and very wealthy) community. The Stones have played an integral part in building Vail's cultural life, both in their work with Bravo! Vail, which brings the orchestras of New York, Philadelphia and Dallas to town each summer, and the Vail Jazz Festival, featuring dozens of world-class jazz musicians.
The Vail Jazz Party is now the closing event of the summer-long festival. It started in 1995 as a two-day event closely modeled on the parties hosted by Dick and Maddie Gibson. The 2014 edition (the twentieth) spreads out nearly a week, starting with outdoor concerts on Wednesday and Thursday evenings and a film screening on Friday afternoon. But the party really gets going on Friday night, and it only stops for a few hours each night until the final performance on Monday afternoon. All of the daytime performances are held under a large open tent at Vail Square in Lionshead, while the evening shows are at the Lionshead Marriott Grand Ballroom. Sets run between 45 minutes and 2 hours, and represent a mixture of working bands and groups assembled from the approximately 40 available musicians. There are several established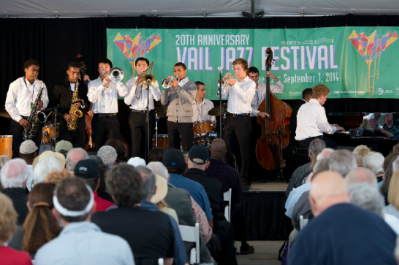 features including the Sunday morning Gospel Prayer Meetin', and the nightly multi-media tributes which merge archival video clips with live performances to salute the great jazz masters. The 2014 edition also included a brilliant set of piano duets, and a charming daytime tribute to drummer Mel Lewis.
Education has played an important role in the Vail Jazz Party since its second year. Each year since then, bassist John Clayton has selected and lead a new group of talented high school musicians, gathered from schools across America. These young musicians are a constant presence at the Jazz Party, playing sets on their own, and attending the other performances. They show remarkable poise as soloists, playing classic hard bop from the Fifties and early Sixties, along with their own original compositions and arrangements (all learned without written music). They learn the basics of the jazz language and start to develop their own solo voices. Dubbed the Vail Jazz All-Stars (right), the 2014 members included Chris Fishman, Morgan Guerin, Anthony Hervey, Kevin Jiang, Nick Lee, Christian McGhee, Kanoa Mendenhall, Chris Palmer, James Robertson, Jared Silverstein, Isaiah Thompson and Michael Werner.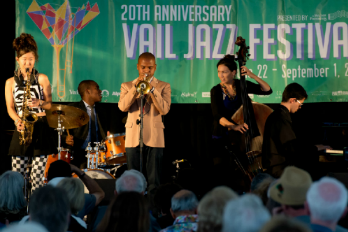 Clayton and Stone have both said that the Vail Jazz All-Stars represent the future of the music, and on several occasions, Stone has brought the more illustrious alumni back to the Jazz Party. The alumni quintet that played at the 2014 party performed as a cohesive unit, even though they only played together for the first time on the Wednesday before! By far, the biggest name among the alumni was alto saxophonist Grace Kelly, who consistently performed intense, daring solos that reflected the influence of her mentor, Phil Woods, but showed a noticeable stylistic difference between teacher and student. Trumpeter Alphonso Horne was a dependable spark plug throughout the festival. I first heard him at the Friday night after-hours jam session, where he and clarinetist Ken Peplowski raised the roof with a blazing rendition of Thelonious Monk's "Rhythm-A-Ning". I heard Horne several times over the weekend, but he was never given the opportunity to play a ballad—too bad; that would have been interesting. The blind pianist Justin Kauflin has appeared at the party before, and he played finely crafted solos, especially when paired with Eric Reed, Tamir Hendelman and Bill Cunliffe in Saturday afternoon's piano duets set. Bryan Carter showed his talents as a supportive drummer, an exciting soloist and a promising singer. His vocal duet with Kelly on "Straighten Up and Fly Right" was one of many highlights of the Alumni Quintet's Saturday afternoon set. For me, the standout member of the group was bassist Katie Thiroux. She played on several sets during the weekend, displaying a fine tone, superb note choices, well-developed solos, and a seemingly inexhaustible energy reserve (She was part of the rhythm section on the "Rhythm-A-Ning" jam, and she and drummer Lewis Nash kept up the blazing tempo throughout its roughly 10 minute duration). When she played with trumpeter Terell Stafford's group on Sunday afternoon, she charmed the audience with a lovely vocal rendition of "This Can't Be Love".
The educational staff includes several respected jazz musicians. In years past, their group performances were billed under the name of the Clayton Brothers, but someone realized that only half of the musicians were regular members of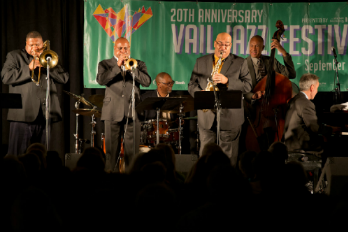 the Clayton Brothers Quintet, so the group is now known as the "Vail Jazz Party House Band". The group includes alto saxophonist Jeff Clayton, trombonist Wycliffe Gordon, Stafford, Cunliffe, John Clayton and Nash, and while their sets were highlights of previous parties, they only played one short set during the entire weekend. Two of their four tunes paid tribute to the recently departed Horace Silver. Gordon played great "talking trombone" on "Señor Blues", and Jeff Clayton's arrangement included an extra theme statement before bass, drum and collective improvisations led the way out. Stafford was brilliant on the Lee Morgan original, "Petty Larceny" and the rhythm section sparkled during their feature, "Old Devil Moon".
Every year, the standard rises for the multi-media artist tributes. This year's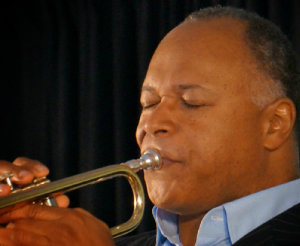 entries—trumpeter Byron Stripling (left) on Clark Terry, vocalist Ann Hampton Callaway on Sarah Vaughan, and Peplowski on Benny Goodman (below right)—were the finest I had ever seen in Vail. As he had when saluting Louis Armstrong a couple of years ago, Stripling made Terry a bigger-than-life hero, focusing on his struggles for acceptance in both the jazz world and the network TV studios. Stripling also shared his own experience as one of Terry's students. The clips and the live music showed the lighter side of Terry's spirit, with Stripling's expert version of "mumbles" scatting, Terry's exuberant filmed performance of "Lady Be Good" with the Johnny Carson-era "Tonight  Show" band, and a virtual quote-fest on the live version of "Satin Doll" (with  Hendelman inserting "Love You Madly", bassist Christoph Luty referencing "Just Squeeze Me" and a bit of "Corner Pocket" added within the final chorus). I provided the video for the Terry and Vaughan presentations, and I also wrote the liner notes to Callaway's CD of the Vaughan salute, "From Sassy to Divine", and while I had listened to all of the music Callaway performed at the Vail show, I was genuinely moved by her live performances. As on the CD, Callaway displayed a remarkable control of vibrati on her wordless version of "Chelsea Bridge". Yet the somber mood vanished  on the next tune, as she flirted with several men while vamping "Whatever Lola Wants". Later, her stunning version of "Send in the Clowns" reflected her impressions of Vaughan at the very end of her career. Callaway's ensemble of Stafford, Jeff Clayton, Cunliffe, bassist Martin Wind and drummer Tim Horner played the detailed arrangements with great precision and energy. Cunliffe added a subtle imitation of Erroll Garner on "Misty", Clayton played brilliantly on "In a Mellow Tone" and Stafford added a lovely solo on "Clowns". The Sondheim anthem also turned up at the end of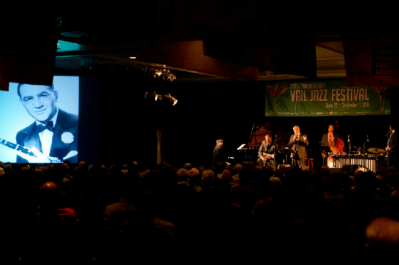 Peplowski's Goodman tribute. Noting that Goodman was especially fond of "Clowns", Peplowski and John Clayton played a gorgeous duet with the lush  tones of Peplowski's clarinet and Clayton's arco bass resonating throughout the ballroom. Peplowski's band used the same instrumentation as the first Goodman Sextet, and in a practice all too rare in jazz reconstructions, they all played in authentic swing style. Eric Reed nimbly performed the breakneck piano part on "Who", Chuck Redd played the vibes with great energy (and also proved an expert comic foil for the raconteur Peplowski), and Dave Stryker and Nash showed their respective appreciations of Charlie Christian and Gene Krupa while retaining their own distinctive styles. In his remarks, Peplowski noted that even when performing in an old style, contemporary musicians must be able to express their own musical identity. When the group segued from a film clip of "Sing, Sing, Sing" into a live performance, their significantly different note choices eloquently proved Peplowski's point.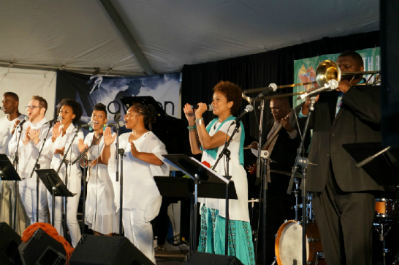 The Gospel Prayer Meetin' has been a part of the Jazz Party for nearly 15 years, and it has evolved considerably over that time. In the years since vocalist Niki Haris took over the project, it has gradually turned into a gospel music concert, with lots of classic hymns and inspirational messages added between the tunes. There were plenty of highlights, including Eric Reed's opening hymn medley, a Reed/Gordon duet on "Precious Lord", a contemplative pairing of "In the Garden" and "Softly and Tenderly" by Haris and the women of the Mile Hi Chapter Gospel Ensemble, Haris' solo version of Bill Withers' "Grandma's Hands" and Callaway's rich interpretation of "Blowin' in the Wind". There were also solo opportunities for Stripling, Jeff Clayton and Gordon, pianist/arranger Karen Hammack, and B3 organist Akiko. Yet, what seemed missing was any sense of spontaneity. Several years ago, Callaway became part of the GPM when she suddenly sprang up from the audience to join the gospel choir onstage; the format now seems to discourage any of that behavior. And it just seems strange to sit through a two-hour gospel performance without passing the peace or hearing "The Lord's Prayer" (Reed and Gordon opened their duet set Sunday afternoon with a version of Albert Hay Malotte's setting of the "Our Father"; it would have made more sense to include it within in the GPM). I'm not advocating that the GPM be turned into some kind of universal ecumenical service, but I think it might benefit from following a general order of worship. There are plenty of common elements between the different religions, and there's plenty of gospel pieces to fit within that structure.
Haris was back for the final set on Sunday night's show. It was a very entertaining set with nearly as much comedy as music. Haris and her ensemble (tenor saxophonist Jerry Weldon, Hammack, Thiroux and drummer Ernie Adams) played music from an early 1960s LP called "Songs for the Jet Set". Haris had a lot of fun satirizing the culture of the time and she swang mightily on songs like "You'd Be So Nice To Come Home To", "What Can I Say After I Say I'm Sorry" and "Wrap Your Troubles In Dreams". But the ballads were the best parts of the set. Haris found the emotional core of "I Could Have Told You" and "I'm Thru With Love", and she brought the lyrics to life with her straight-forward approach. Callaway's set on Sunday afternoon also included some light-hearted moments along with stunning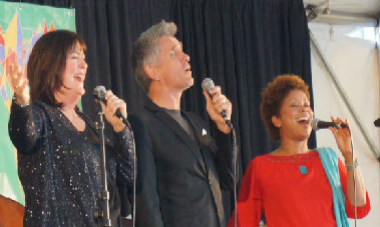 music.  Peplowski started the set with a breezy "Will You Still Be Mine" with the rhythm section (Cunliffe, Wind and Horner); Callaway found her "ex-husband" in the audience (a stage gag she's used in many of her live sets) and changed the words of "All Or Nothing At All" to reflect their "relationship"; Tim Horner sang a scat chorus from behind his drums on "Oh, Lady Be Good";  Kelly joined the group for a funky version of "Lover Man" and a lush "Summertime"; and  Gordon duetted with Callaway on a boogaloo version of "Ain't Misbehavin'" and a romantic turn on "At Last". Curtis Stigers was the other featured vocalist at the party, and he appeared with his working band augmented by Stafford. On Friday night, a stage light blew during Stigers' set, and the ensuing fire alarms were enough to drive several audience members from the ballroom. There were no such problems on their Monday afternoon set as they played a combination of standards and originals. Stigers has a unique sound, and his music effortlessly fuses blues, R&B, jazz and pop. To my ears, Stigers was the least convincing of the three vocalists, but there were plenty of fans in the audience who did not share my opinion. The three vocalists combined their talents for a Monday afternoon jam session (above), highlighted by group versions of "Bye Bye, Blackbird" and "You've Got a Friend".
There were many other great sets during the weekend. The piano duets were set up as a roundelay where each of the four pianists was paired with the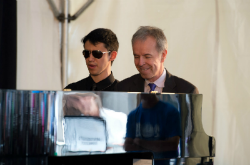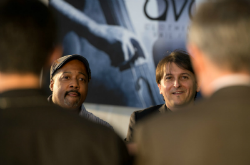 others in turn. Tamir Hendelman and Eric Reed (left) pushed the tonal centers on a stomping "Juicy Lucy"; Justin Kauflin and Reed probed the depths of "Body and Soul"; Reed and Bill Cunliffe played a graceful 5/4 version of "In Your Own Sweet Way"; Kauflin and Cunliffe (right) performed a medley of "How My Heart Sings" and "My Shining Hour"; and Hendelman and Cunliffe played Kenny Drew Jr.'s "Passionata". At the end, all four pianists joined for a rousing version of "Sister Sadie". It's rare enough to have two grand pianos on an outside stage, and rarer still for the pianos to be in tune with each other. The tribute to Mel Lewis (below left) featured two of his greatest students, Jeff Hamilton and Tim Horner. In addition to music from the Thad Jones/Mel Lewis Orchestra, they also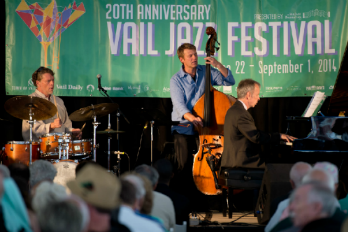 recreated Bill Holman's arrangement of "Stompin' at the Savoy" (courtesy of Cunliffe, who wrote the chart from memory the night before). For the first part of the set, Hamilton and Horner alternated in the drumchair, but since both of their kits were onstage, it seemed only natural that they would play together by the end of the set. Both men developed their brush technique from Lewis' examples, and it was wonderful to hear these two masters playing brushes together. Between numbers, both drummers told hilarious stories about their experiences with Lewis, and that brought the spirit of the late drummer to the stage. Monty Alexander brought the spirit of another musical great during his Monday afternoon set. After a typically energetic collection of performances, Alexander produced a melodica (below right), and played the melody of "Strangers in the Night". The Jamaican pianist then told the audience about his first big break in America, when Frank Sinatra heard him playing in a Florida bar, and invited him to play an engagement at Jilly's, a New York nightclub owned by Sinatra's henchman,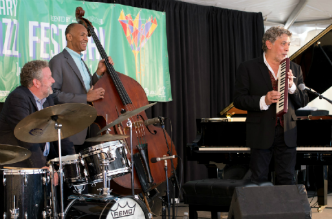 Jilly Rizzo. Alexander's trio then played a collection of Sinatra songs, with John Clayton's rich arco bass playing the mournful "Only the Lonely" and Hamilton's brushes lighting up a stop-time version of "My Kind of Town". Hamilton's trio played fine sets on Friday night and Sunday afternoon. The group performed spirited versions of their tightly-arranged repertoire. Luty played a gorgeous arco solo on "Someone to Watch Over Me", Hamilton produced great overtones as played his tom-toms with hands and brushes on "How Long Has This Been Going On", and Hendelman romped through his solos on "Bennissimo" and "Sybil's Day". The Japanese B3 organist Akiko also led delightful sets on Saturday night and Monday afternoon. Her style is an interesting mix of Jimmy Smith(in solos) and Larry Young (in comping), and her repertoire includes many standards, such as a bossa nova version of "Polka Dots and Moonbeams", and a jaunty "Smile". The latter was a particularly appropriate song for the organist, whose smile beamed from behind the instrument. While the other musicians had very serious countenances, Akiko seemed to revel in the joy of making music.
When Dick Gibson hosted his jazz parties, he was adamant that none of the music would be rehearsed, all for the sake of spontaneity. Howard Stone understands that some of the more complex sets require an hour or two of rehearsal, with the obvious results of a better overall musical experience for both the musicians and the audience. This year there was a lot of onstage banter about sets that were played without rehearsal. However, the music maintained a consistent high quality. That speaks a lot to the advanced level of the musicianship onstage. For every rough edge, there were several moments of inspired playing. That's been a good formula for success over two decades of Vail Jazz Parties, and while Howard and Cathy Stone make a few changes for each year's festivities, they know that the musicians will create the magic that keeps the parties vital. This is an event that seems to get better every year, and that explains why so many musicians and fans return to Vail every Labor Day weekend.
Photographs of Stone/Reed/Gordon, Stripling, Gospel Prayer Meetin', Callaway/Stigers/Haris by Kari Strand.
All other photographs by Kallie Winners for the Vail Jazz Festival. DWinnersPhotography@gmail.com