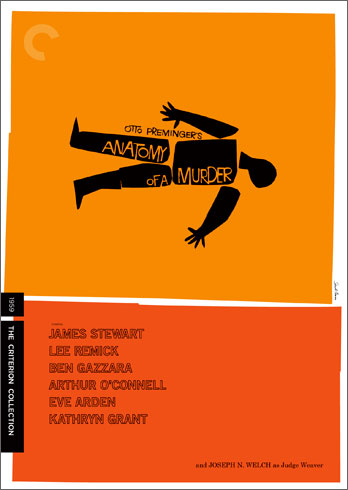 By 1959, Duke Ellington had appeared in several films with his orchestra, but had never been commissioned to write a film score. So when Otto Preminger's brother Ingo sent Ellington a script for their latest film project, "Anatomy of a Murder", Ellington accepted the assignment to compose the music. The Preminger brothers were looking for something different for their film's soundtrack and Ellington delivered. The recorded score featured his full big band (and a small group culled from the band), and it was a jazz score throughout, even though jazz only played a tangential role in the film's storyline. Many jazz critics panned the score at the time, but now it is considered to be one of Ellington's greatest works. The Criterion Collection has issued a new DVD edition of "Anatomy" with an audio option that makes the music stand out.
The film was based a true story, and was based on a book by a Michigan Supreme Court justice, John Voelker (writing under the pen name, Robert Traver). The film was shot entirely on location in Ishpeming, Michigan, and some of the scenes were shot in the locations where the real story had taken place. Paul Biegler (James Stewart) is a former District Attorney who runs a private law firm from his home in Michigan's Upper Peninsula. Struggling to stay focused on his new role as a defense attorney, Biegler takes the case of Lt. Frederick Manion (Ben Gazzara), who shot and killed Barney Quill, a local bar owner after he heard that Quill had raped Mrs. Manion (Lee Remick). The Manions have a tense relationship: she is young, sexy and flirtatious while he has an inner rage that sometimes spills over into violence. We never really know how much of the Manion's story is true (even after the film is over), and the film shows how Biegler tries to get Manion acquitted by pleading temporary insanity. Biegler is assisted by former attorney Parnell (Arthur O'Connell) and secretary Maida (Eve Arden) as he prepares to do battle in the courtroom with current DA Mitch Lodwick (Brooks West) and hotshot lawyer Claude Dancer (George C. Scott). Judge Weaver (Joseph N. Welch) presides over the courtroom sessions as each attorney displays his methods of trying to influence the jury. There is a wide range of acting styles: old school Hollywood (Stewart, Arden, O'Connell), Broadway (Scott), Method actors (Gazzara, Remick) and first-timers (notably Welch, who was a lawyer in real-life and who famously browbeat Sen. Joseph McCarthy on national television a few years earlier). Despite the differences in styles and experience, the acting is top-notch across the board, with Stewart, Remick, Gazzara and Scott providing stunning performances. Otto Preminger keeps the action moving so that the film seems much shorter than its 161-minute running time might indicate.
Ellington's music is used sparingly in the film, but it is very effective in enhancing the dramatic action. As Gary Giddins points out in a supplementary interview on the Criterion DVD, the sound of a wailing alto sax had been used in several films to portray a femme fatale, but when Ellington used a Johnny Hodges solo for the initial meeting between Stewart and Remick, it was both a sarcastic comment on the status quo and the ultimate example of the original concept. Later, when Stewart takes Remick home after finding her at a local bar, Ellington's cue "Midnight Indigo" heightens the loneliness Remick's character feels while her husband is in jail. While Ellington wrote specific themes for several of the film's characters, he did not always assign the themes to the same instruments. For example, the theme for Stewart's character is played at various times by Ray Nance, Paul Gonsalves and Johnny Hodges. Ellington also ghosted for Stewart for the few times when Stewart's character played piano (on one of those occasions, Stewart shares the piano bench with Ellington on screen). On the original mono film soundtrack, the music is back in the mix behind the dialogue, but Criterion's disc includes a 5.1 Dolby Surround track that isolates the dialogue and sound effects to the front center channel, and spreads Ellington's soundtrack (originally recorded in stereo) to the other speakers. This mix brings the music to the forefront and allows the viewer to play closer attention to the score while still following the film's storyline.
In addition to the interview with Giddins, the Criterion edition also includes interviews about Otto Preminger and Saul Bass, vintage footage of Preminger on William F. Buckley's "Firing Line", newsreel footage and Gjon Mili photos of the film's production, the original theatrical trailer, and excerpts from a work-in-progress documentary about the film. The package is available as a single disc Blu-Ray and as a double-disc standard DVD. As usual with Criterion, the picture and audio quality exceeds all previous video releases of the material. "Anatomy of a Murder" was a groundbreaking film in its day for its frank language and subject manner; today it is equally compelling for its brilliant acting and evocative score. Whether you buy it for the story or the music, eventually you're likely to be enthralled by both.