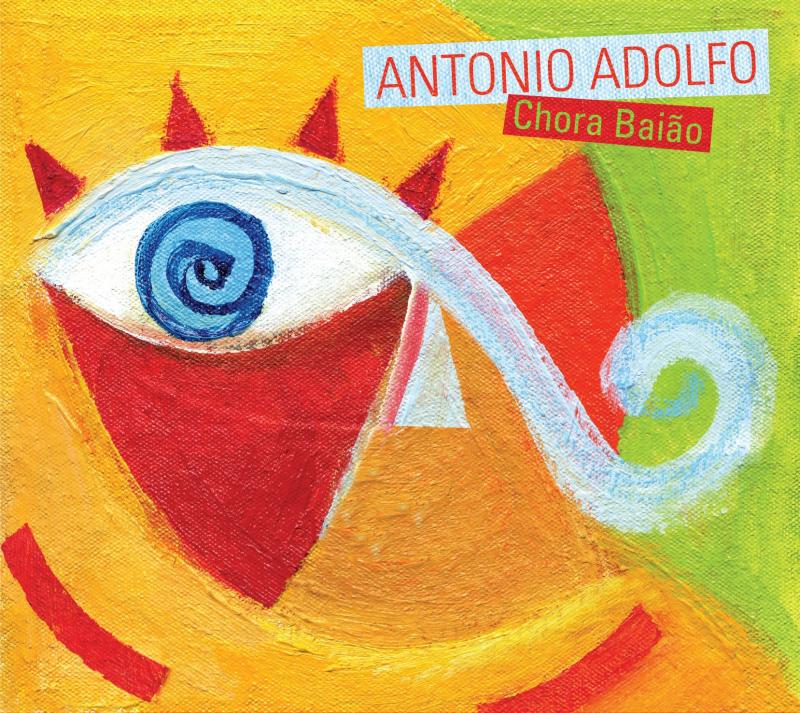 Antonio Adolfo is not very well-known outside of Brazil—yet! His beautiful new recording "Chora Baião" (Cry Baião) is a successful marriage of traditional northern Brazilian musical forms (which meld African, European and indigenous cultures) and jazz. Adolfo has taken the music of two beloved Brazilian artists, Guinga and Chico Buarque, whose fortes are choro and baião and arranged it with his own elegant flavor. He respectfully maintains the integrity of these two masters while infusing his own mastery of composition and arrangement.
The album opens with "Dá O Pé Loro" (Hey, Parrot, Give Me Your Foot!) which displays a fine maracatu percussion section including pandeiro, zabumba and triangle before the piece is joined by the remaining rhythm section. With lovely guitar work by Leo Amuedo, this Baião is steeped in jazz flavor and a respectful, exciting tribute to the work of Guinga. "Nó Na Garganta" (Lump in the Throat) is an elegant fusion of choro and samba canção and as is typical of Adolfo's work, contains beautiful chord changes. This piece illustrates the importance of musical rapport among the musicians. Adolfo has found this in the ensemble of guitarist Amuedo, bassist Jorge Helder, drummer Rafael Barata and percussionist Marcos Suzano.  Barata's brushwork is particularly effective when it intertwines with Suzano's percussion. The project's namesake, "Chora Baião" (Cry, Baião) is an intelligent, driving and fascinating meld of the sounds of choro and baião. If the listener is a fan of the 2-feel (binary type rhythms) of Brazil, this is a composition to move and sway to. Driving the tune is a clay-pot percussion instrument called a moringa that is played in concert with a triangle. It is an intriguing combination. The hypnotic "Você Você" (You You) is the only tune on the project with lyrics, beautifully interpreted by vocalist Carol Saboya. What makes this tune mesmerizing is the slow and strong tempo of this baião and a full-bodied richness in the chosen chords Adolfo uses.
"A Ostra E O Vento" (The Oyster And The Wind) is a composition by Buarque that Adolfo has reinvented as a jazzy waltz. With graceful brushwork by Barata, a steady drive is maintained while Saboya's wordless vocals are free to soar with the piano's harmonies.  Adolfo's chord changes are particularly interesting in this arrangement. According to Aldolfo's liner notes, "Chicote" (The Whip) contains the Brazilian chord progression known as "Brazilian Northeastern Blues". Although originally written as a school composition assignment, it is a very sophisticated arrangement. Of course, as Adolfo points out, it always helps to have the high caliber of musicians who play on this recording! "Chorosa Blues" opens with a rich, moody flourish on solo piano. The piece combines the essences of Buarque and Guinga's signature styles. Adolfo's lonely piano creates a vital blues statement in this brief 84-second arrangement. "Gota D'Água" (Drop of Water) begins with a dark and dangerous emotion, and then evolves into a tasteful samba punctuated with an understated bass solo by Helder and another distinct piano solo by Adolfo. Following that melancholy, soft piece, "Di Menor" (Underage) comes bounding in with all of the exuberance of youth the title suggests. This is my favorite samba piece in the project. With drive, verve and beautiful drumming by Barata, it again flows with understated solos from Amuedo's guitar and Adolfo's piano.
"Catavento E Girasol" (Windmill and Sunflower) is another refined nod to Guinga. A Brazilian style known as a toada, it's a lament with haunting cuica punctuation by Suzano. This and Amuendo's guitar work make the tune worthy of repeating again and again. "Morro Dois Irmãos" (Rio's Two Brothers Hill) closes the project with a well phrased, jazzy acknowledgement to Buarque. The voices of the cuica and variety of percussion usher in and color the tune throughout the piece. It is an exquisite finish to an unusual tribute to Brazilian composers who are not often heard or acknowledged outside of their home territory.