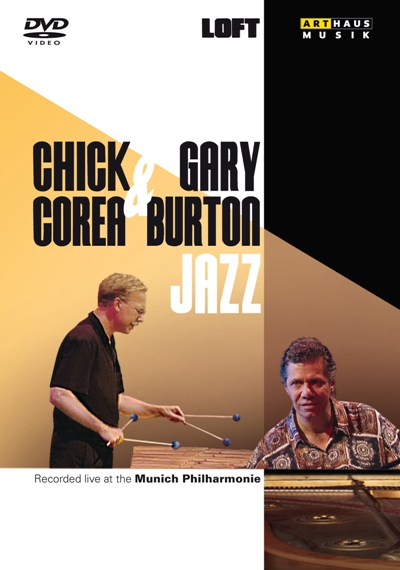 At nearly the center point of their 1997 Munich concert, Chick Corea and Gary Burton played a medley of three pieces. The outer pieces were two of the piano Bagatelles by Béla Bartók; in between was a piece written by Corea and inspired by the final note of the Bartók piece the duo had just performed. Before playing the medley, Corea told the audience that he had been trying to find a way to play Bartók, and that the medley was his solution. It's an inspired pairing, since the music of Corea and Bartók both feature sharply delineated melodies and strong percussive emphasis. There is no improvisation until the duo moves into Corea's central piece, but when they return to Bartók at the end, they launch into a spirited free double improvisation that raises the emotional level of the entire concert. A DVD of this superb performance has been reissued by Naxos as part of their new partnership with ArtHaus. The production was originally made for German television, and is top-notch in every way, with tasteful camera shots, clear sound and seamless editing. The DVD is mastered in 16:9 picture format, and presented with PCM, Dolby Digital and DTS soundtracks.
The concert was made shortly after the release of the album "Native Sense: The New Duets" and most of the repertoire comes from that CD. However, not all of the music was new. Corea reworked several pieces from previous recordings and, in one case, he rescued an original piece from an unused movie score. All of the pieces sound completely idiomatic in the piano/vibes format, and both Corea and Burton give energetic performances of the music.  Throughout the concert, the rhythmic power of these two musicians is simply overwhelming. Through repeating vamps and catchy bass lines, they maintain an implied pulse and add to the excitement of the music. And in the few moments when they suspend the rhythmic pulse, we're surprised to find it gone, but we can still keep the beat through the rhythmic precision of the improvisations. Of course, the music is more than just high-energy rhythmic showpieces. "Duende", originally written for an album with Lee Konitz, is wonderfully subdued, with finely shaded dynamics and a lovely melodic line. "Rhumbata" is an extended composition which goes far beyond the dance of its title, and the second encore, "La Fiesta" opens with a free duo improvisation before launching into the familiar theme.
This year marks the 40th anniversary of the first Corea/Burton album, "Crystal Silence", and a new album is due to be released this September. While we wait to hear the latest music from this exciting combination, pick up this DVD for a fine example of these masters in concert.